Here's a question for you: would you rather drive around hours searching for a 'For Sale' sign when looking to buy a new house or simply receive real estate updates in your inboxes?
Now, if you answered that you want to receive updates in your inbox, then you're not alone. In fact, 77% of people want to receive emails from companies they have an interest in!
This proves that real estate and email marketing with newsletters is one of the most efficient combinations!
Having the right real estate newsletters can help you keep updated on the latest news and trends in the real estate market and make your home-browsing experience much easier.
That's why we have created for you a list of some of the best real estate newsletters that you must subscribe to if you want to keep yourself informed and updated about the real estate industry.
Ready to find out which they are? Then jump right in!
The New York Times Real Estate newsletter is a weekly newsletter that is aimed at consumers and industry professionals. It offers all the latest real estate news, area insights, historical highlights, opinion pieces, entertaining features, and property information.
This real estate newsletter not only covers real estate news from the residential area of New York but goes all across America and the rest of the world.
The Insider Report is a real estate newsletter that presents data on the real estate market covering the San Francisco Bay Area. It offers knowledge that is normally accessible only to realtors and investors.
The Insider Report provides the daily price trends and market fluctuations, quick clicks on rare finds and price drops, trade secrets, break down of real estate jargon, and other news related to the real estate and housing market.

Realtor Magazine is the official magazine of the National Association of Realtors and the business tool for real estate professionals. It offers 3 high-quality newsletters about real estate news, practices, and trends.
The Realtor Magazine News provides all the major news in the real estate industry and the laws that govern it, while the Realtor Magazine Tips offer practical tips, how-to articles, and more about real estate technology, and their Young Professionals Network newsletter gives out new ways to do real estate business.
If you are into real estate technology, then you must subscribe to Geek Estate's Monthly Radar and Transmission newsletter. It is catered to real estate professionals and entrepreneurs and focuses mainly on real estate technology and marketing tools.
This monthly newsletter also deals with real estate news, startups, built world, marketing, and other real estate content.
Housing Wire is a leading source for in-depth coverage of the housing market and economy, mortgage-specific trends, and real estate content. It offers 4 different real estate newsletters.
Their Daily Update covers the latest news on the housing economy for the mortgage, real estate, and housing executives and professionals. Their LendingLife offers news and commentary specifically for Mortgage Loan Originators. The OpenHouse newsletter caters to real estate agents and brokers while their ClosingTime newsletter is aimed at title and escrow professionals.
Written by founder Jay Voorhees, JVM Lending's blog newsletter is a real estate newsletter that offers real estate case studies, scenarios, updates, news, insights, and more.
The contents of this newsletter are very crisp and concise and is useful for both seasoned professionals and consumers with an interest in the real estate business.
John Burns Real Estate Consulting is an independent research and consulting service for the US housing industry. Their Building Market Intelligence newsletter delivers info on housing analysis and topics in the housing industry.
It lets you choose from topics such as National Housing Market Intelligence, demographics and housing consumer, home design innovations, rental housing, remodeling, and lots more. Their monthly Flagship subscriptions offer analyses and forecasts of the housing market at the metro, regional, and national levels.
Subscribe to Union Investment to receive free personal copies of real estate newsletters that offer all the latest market developments and trends in the real estate industry.
This newsletter keeps you informed about all the latest content available through its places and spaces portal and also helps you discover new perspectives on the real estate markets.
Now that you know the different types of real estate newsletters available, we bet you're wondering how to go about creating your own.
So we want to want to introduce you to an amazing tool that can help you create your very own real estate newsletter in just a matter of minutes!
Intrigued? Then scroll down now!
elink.io: Just What You Need to Create Beautiful Real Estate Newsletters
You have a lot to compete within your subscribers' inboxes. That's why using a powerful newsletter creator like elink.io is critical to designing an email newsletter that people want to click through!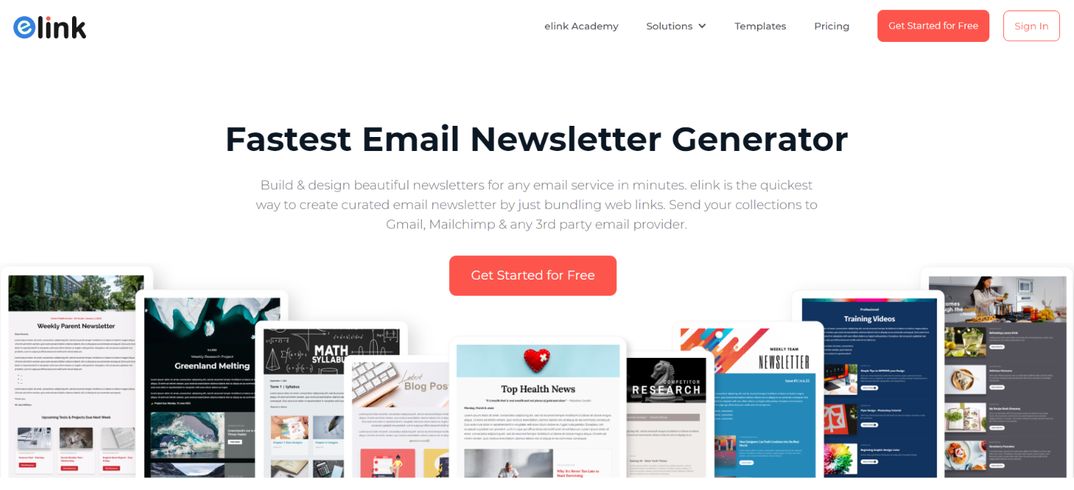 elink is a content curation platform that you need to have in your tool kit regardless of your industry. It is easy on the budget, simple to use, and comes with all the features you need to create and share beautiful newsletters, webpages, and more.
Simply put, elink is the fastest, coolest, and most efficient way to create and share newsletters on any topic in a visually appealing, smooth way. Just add links to the content you need to share, and elink will create a stunning newsletter for you in minutes.
The platform offers over 50 pre-built templates, so you don't need to think about the design aspect, and you can focus on growing your company. Moreover, you can add your own images, text, bullet lists, numbered lists, buttons, social icons, and dividers in your header and footer body. What could be better than that?
The best part? Unlike most other newsletter creators, elink.io lets you collaborate with your team in real-time. So you and your team can work together on bundling, creating, and sharing content. You can even add a search bar in the newsletter and make it easy for your readers to find what they are looking for.
There's more! elink has a robust RSS reader that lets you add RSS feeds of the publications you love. You can bundle links directly from the RSS Reader and create a stunning newsletter in seconds.
And, the most amazing feature of elink is – content automation! Using elink's nifty automation tool, you can automate content creation for your newsletters, websites, and more.All you have to do is pick sources and add filters in order to make your content more effective and relevant.
Okay, so now that we have convinced you to try elink (hooray!), let's understand how you can create a stunning real estate newsletter with elink.
Note: You can either choose to create a newsletter manually or using the automation feature. We are going to walk you through both these features. Let's roll!
Read more: Business Newsletter: Definition, Types, Steps to Create & Examples!
How to Create a Real Estate Newsletter on elink?
Step 1: Choose a Newsletter Template
The coolest thing about elink is that you don't have to worry about all the tricky design rules. With elink's stunning newsletter templates, you're already way ahead when it comes to designing.
Now, here's what you need to do: choose a template and customize it the way you want. We've quite a splendid collection to choose from, so take your time to find the one that fits your needs the best.
By the way, you can also create a newsletter from scratch. It's totally up to you.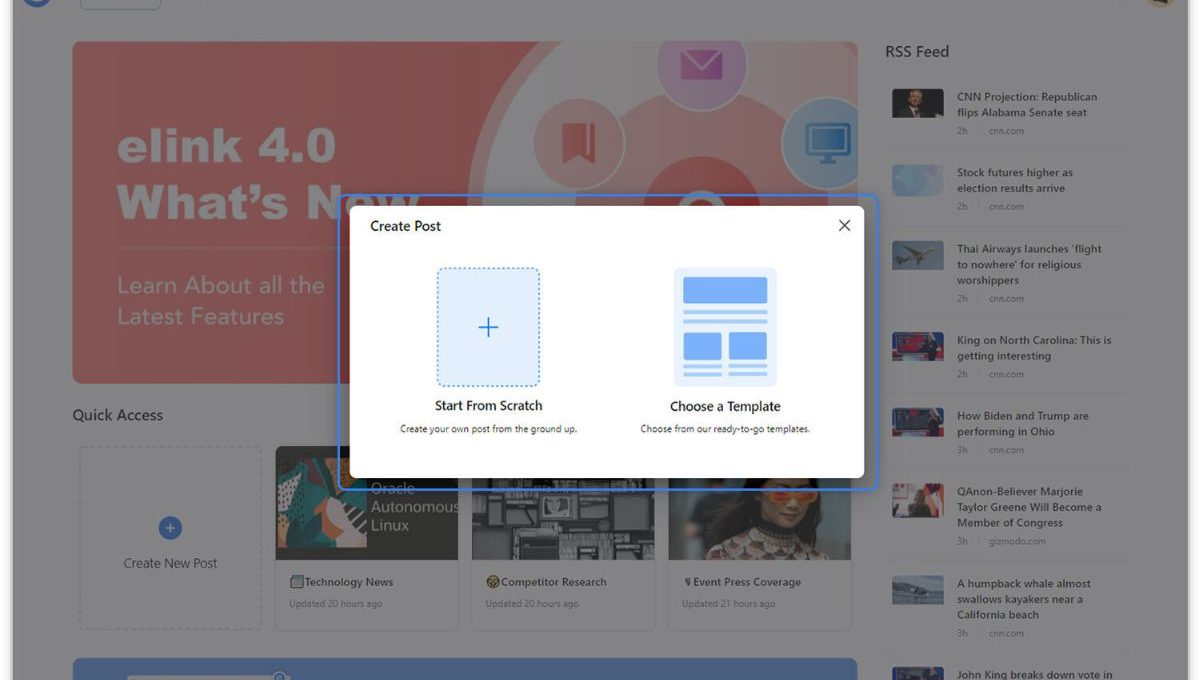 Step 2: Add Links to the Newsletter
Here comes the fun part. You can add links to the content (articles, videos, products, etc.) that you want to show up in your real estate newsletter.
elink is so robust that it will automatically generate an image, a title, and a short description with each link. Of course, you can modify and customize any of this information if you want.
elink is also an RSS reader and a bookmark manager so you can quickly select your preselected links directly from the link library or the RSS feeds or enter them manually.
Step 3: Add Header
We know that a compelling email header design decides whether the reader would read your entire newsletter or bail on it. That's why we've given you the option of designing your header body the way you want.
You can add images, text, bullet lists, numbered lists, buttons, social icons, and dividers in your header body. elink even lets you choose from over 6 font sizes for your header body.
What's more? You can also use elink's Canva integration and design an eye-catching banner directly in elink.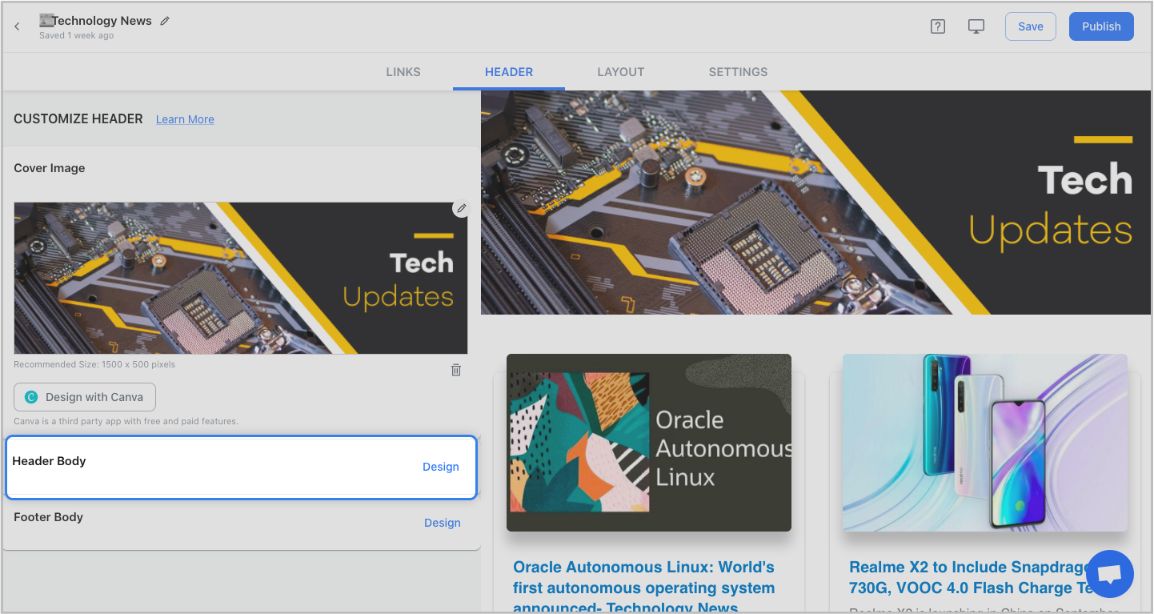 Step 4: Add Footer
An email footer is a place where the recipients would look for details about your brand. It is a place for transparency, clarity, and good design – exactly what elink provides.
You can add images, text, bullet lists, numbered lists, buttons, social icons, and dividers in your footer. Moreover, you can link the social icons with your own social media accounts in seconds.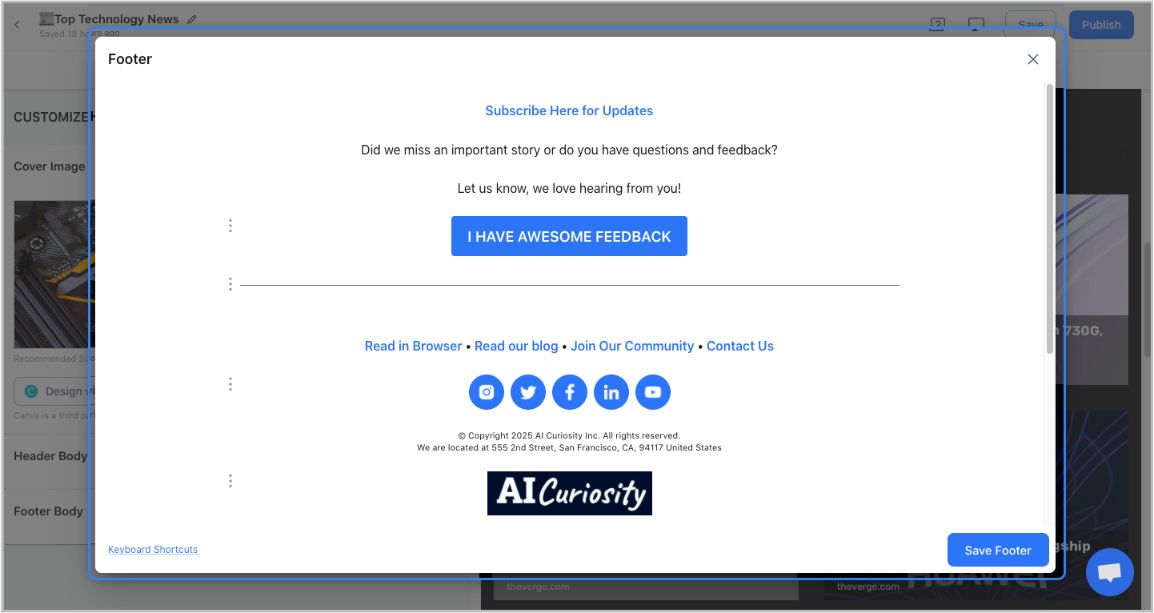 Step 5: Choose a Layout for your links:
Just jump right in and don't worry about wasting valuable time designing the layout of your real estate newsletter. elink has already done all the heavy lifting for you. You can choose your favorite layout from all the different options with a simple click of a button and elink will change the formatting of those tiles to your chosen style.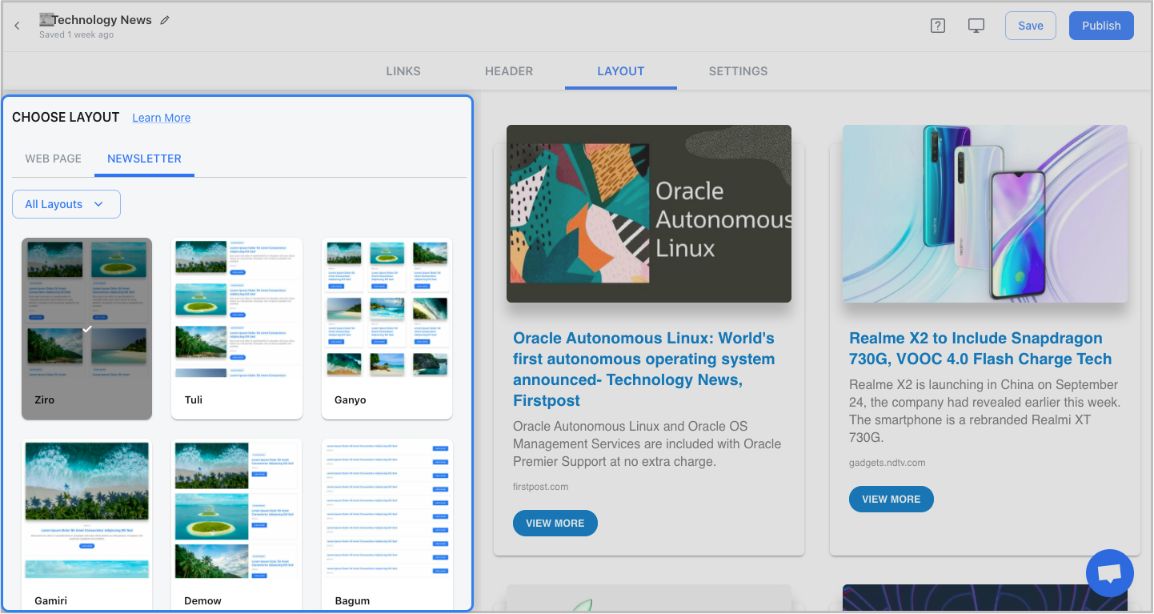 Step 6: Design and Customize
You'll get a perfect combination of colors in our templates. But, if you want to change the colors, you can do that too. Apart from that, you can also customize the font styles, button text, and more – in just a few clicks.
One of the most robust features of elink is that you can even add a search bar if you are adding a bunch of links such as resources etc.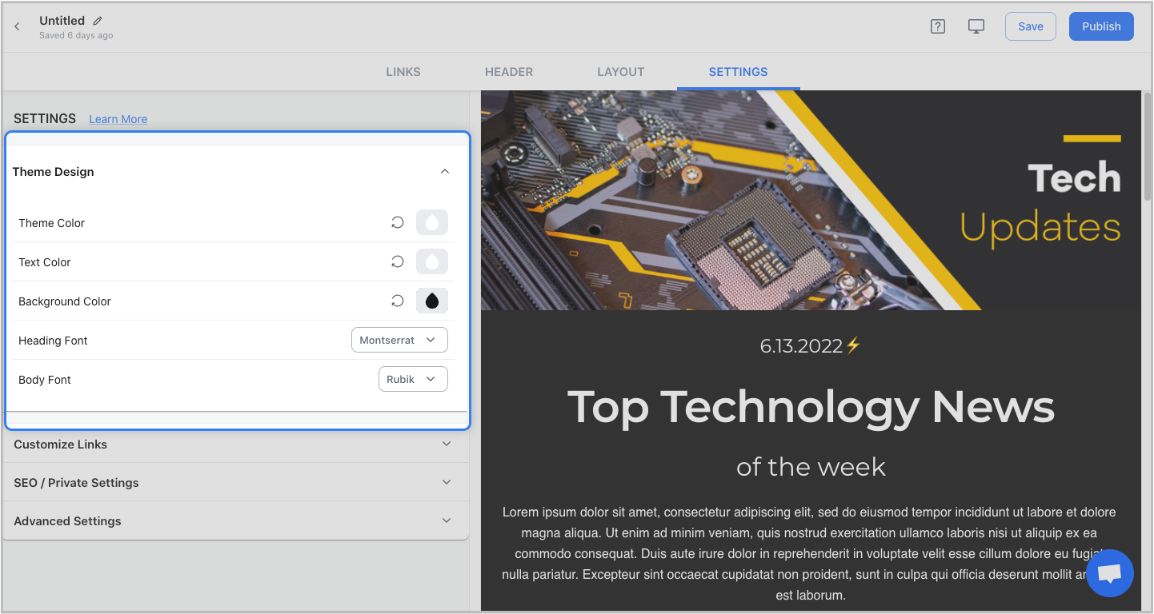 Step 7: Share Your Newsletter
Yay! You've now created a stunning real estate newsletter that is ready to be shared with the world. Now, hit the 'Publish' button on the far right corner of the screen, and a pop-up will appear, allowing you to customize your content URL.
Once you have customized the URL, another popup will appear where you need to select the 'newsletter' option. From there, you can share your masterpiece via Gmail, Mailchimp, or any other third-party email marketing tools like Get Response, Mailchimp, etc.!
Now here is the thing: there's isn't any specific sauce that you can add to the recipe of awesome newsletters. Nothing is ever truly guaranteed. But, there are a few tips and tricks that you can learn and implement. In fact, just pick them up and run with them right away.
Checkout our Templates!
Conclusion
In this blog, we have introduced you to a line-up of different kinds of real estate newsletters that discuss everything from consumer real estate content to niche real estate industry content.
So whether you're a realtor, a house hunter, or simply someone who is into home-browsing, there's something for you!
If creating a real estate newsletter is what you were looking for, then elink can help you out there!
Now go out there and subscribe to your favorite real estate newsletter! Happy browsing!
Further reads:
Real Estate Email Marketing: The Mega Guide!
How To Leverage Emails For Real Estate Marketing?
21 Real Estate Email Templates That Will Help You Close More Deals!
Best Ways to Market Your Real Estate Listings Online