You might be wondering, what is all this fuss over content curation tools? Before we share the top content curation tools list below, you have to understand why the heck content curation is so important.
Did you know that in 60 seconds the following content is being created and searched for online?
4.4 million blog posts are published by bloggers every day.
 20 billion pages were created on WordPress each month in 2019.
95 million photos and videos are shared on Instagram per day.
Google receives over 63,000 searches per second on any given day
Remember that's all in 60 seconds!
Take some time to let those numbers sink in…
No, we are not kidding. And YES, that's insane!
The sheer amount of content created on the web every second, every day, every week, every month, every year is staggering. Digital content is growing and accelerating exponentially.
The only way to make sense of the influx of information is through content curation.
What is Content Curation?
One of the simplest definitions of content curation is "to sift through, pull together, and select for presentation." 
When you curate digital content, you are sifting through content and adding your own unique voice to the content you're sharing. We believe becoming a great web content curator is one of the most important digital skills. Content curation saves you and your audience, the most crucial asset of all, time. Enticing, isn't it?
Content curation is something we all do.
Anyone with access to the internet is curating digital content. Each of us is trying to find the best way to consume and share the 'best of the web' with our peers. From curating the latest dance music, to sharing the funniest GIFs on Facebook with friends, content curation is happening in every corner of the web.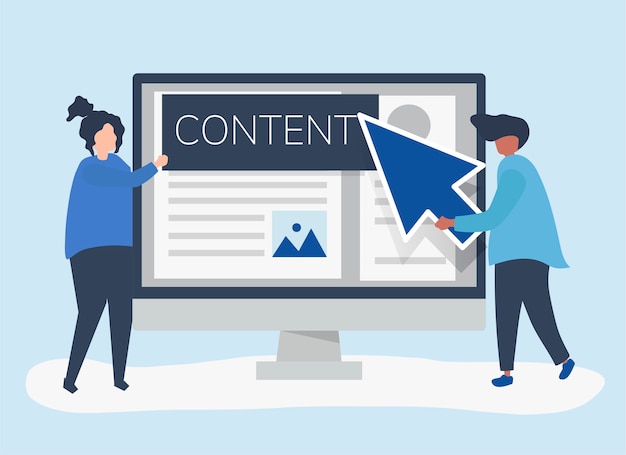 The interesting part is, most people don't realize that by collecting information and sharing information with others, they are in fact acting as content curators.
Curating content will not only benefit you in your personal life, but also your professional life, where saving time is one of the most important goals. If you master the 'art of content curation' you're going to instantly experience a boost your productivity.

Read more: Social Curation: The New Trend!
Who can Curate Content?
We've taken the time to provide some examples of how people in various fields curate content. These examples will help you understand how content curation is part of everyone's workflow.
If you don't see your particular field of work, don't worry, there are plenty of ideas mentioned below that you will relate to. Once you understand how you can or are curating content we'll dive into the top content curation tools.
1. Entrepreneur
If you run a company, you are likely juggling a bunch of hats. You have to be involved with your product/service, marketing strategy, sales goals, financials, and much more. To be an effective leader you need to be able to:
manage your time
be an effective communicator
Surprisingly, being a great content curator is one skill set that will help you do both. When you pull digital resources together and share them with others, it will help you:
Save time communicating ideas
Encourage creativity within your organization
Establish strong communication networks between you, your team and your customers
Here's a quick glimpse of a few content curation examples that you will change your entrepreneurial LIFE:
Curate and share relevant articles and videos with your employees to encourage creative thought.
Share timely company news, content and press coverage with clients.
Collect and share important industry news to help your employees stay ahead of the latest trends.
As a leader in an organization, everyone is looking at you to help guide the direction of the company. This encompasses everything from company culture, product vision, and goals.
When you increase your level of communication with employees and clients you're instantly helping build trust and credibility. That trust translates into being looked at as a 'thought-leader.' It's no surprise that a survey conducted by Curata showed that one of the main objectives of content curation is to establish thought-leadership.
Remember, as a leader, you're the visionary. When you share thoughtfully curated digital resources with others, you'll inspire creativity and trust. The top content curation tools listed below will truly help you and your company excel!
2. Educators
In this age of digital information overload, teachers are required to play the role of content curators. You have to ensure the information you present to your students is accurate and engaging. Often when it comes to engagement, many educators are including online content.
You likely spend time digging and curating the best videos, infographics, articles and digital visuals, to include in your lesson plans. Adding these visual elements help inspire your students to learn.
Here are just some of the many ways educators use content curation in the classroom:
Share various forms of digital content related to your lesson with your students to enhance the learning experience.
Send daily/weekly newsletters on top of industry news to enhance classroom discussions (required online reading).
Curate and email daily thought-provoking teaching practices to inspire colleagues.
In addition to curating digital content as an educator, it's important that those skills are passed on to students. It's a basic requirement in the digital age that all internet users have the skills to curate online information to:
Identify trustworthy sources
Curate the best information across various digital mediums and websites/applications
Take notes on why the information is important
Share curated research with others
Create reports, articles, blog posts, research papers, etc. to teach others.
One of the biggest goals for any educator is to ensure your students are equipped with the proper tools and skill sets to keep up with the digital world! Take a look at the top content curation tools described below to help you and your students become brilliant digital content curators.
Read more: The Best Curation Tool for Educators and Students
3. Bloggers/Influencers
Did you know that every single blogger and influencer is a content curator?
If you send out curated newsletters filled with blog posts, industry news, recommended products…you've curated content. If you select awesome digital content to put in front of your social media audience…you're a content curator.
If you have selected amazing products or services that you are recommending to your followers…you're a content curator. If you have ever made a top 10 list (listicle) about anything…you're a content curator.
Okay, you get the point of this CONTENT CURATION BAD BOY.
Whether you use the term curation or not, you've most likely built an entire audience and following because of your amazing curation skills. If you know what's cool, trending, newsworthy and interesting, you will gain followers. They support you, because you're providing them with information they can't access anywhere else.
It's hard…scratch that, it's nearly impossible to be an expert at everything. We all look towards influencers who can help us focus on what matters. There's a lot of content and a lot of noise, especially in the digital world. We tend to gravitate toward those who provide us with information we need to do our jobs, fill our passions and make us smarter.
In the digital world, there no is a bigger, 'badder' curator than INFLUENCERS.
Here are some of the ways influencers curate content:
Create an email of the best of roundups (daily/weekly/monthly/yearly) of content you've created and share it with your followers and subscribers.

Share important daily industry news with your audience and be looked at as a 'thought-leader.'

Curate list of press coverage where you have been mentioned, quoted or profiled to better inform your audience of your standing in your industry.
Identifying new topics to cover and keep your readers engaged doesn't happen without you researching.  You have to spend time sifting through to find the best of the web. Top bloggers and influencers, in fact, spend almost the same amount of time researching as they do creating the content itself.
The one way to save time and create more content is to use content curation platforms. They will help improve your productivity, allow you to create content faster and engage with your audience in new ways. Focus on the top content curation tools listed below that will help you deliver curated content to your audience, through social media, email and on your website.
4. Marketers
Did you know that 82% of marketers curate content?
We have a feeling that if there is any lingering thought that content curation is just a buzzword, it's about to get obliterated.
Digital content marketing is one of the most vital components of an overall marketing strategy. All marketers can attest that they are pushed to the limits when it comes to cranking out great quality content day-in and day-out.
Content curation is the white horse that will help you and your team save time and create great engaging content simultaneously. Imagine being able to solidify your brand's position as a 'thought-leader' and gain the trust of your target market? By curating the best of the web and sharing the best digital resources, news, videos and articles in your niche, you are helping keep your audience informed and inspired.
Content curation can be used for virtually all marketing goals such as:
Brand building
Customer education
Acquisition
Retention
Here are some of the ways marketers include content curation in their content marketing strategy:
Send daily/weekly industry news with followers, subscribers, users and existing customers.
Embed helpful digital resources (videos, articles, documents, anything online with a web link) on your company's blog or website.
Curate topical company resource pages, marketing assets, FAQs, etc. to help increase the lifetime value of your customers.

Bottom line, if you're a marketer, you need to include a content curation marketing strategy to help you reach your marketing goals quicker. The best way to get started is by using the top content curation tools for marketing that will help you, curate, publish and share digital content wherever your target audience is. Now let's dig into tools that will help you!
List of Top 26 Content Curation Tools:
Here are the top content curation tools in the market to help you achieve your digital content curation goals. They will help you amp up your productivity by saving time, help you to communicate effectively, building trust, engage with your audience and much more. Get ready to find and share the best content across the web in a smart way.
 Let's dive in into these time-saving top content curation tools!
elink.io is one of the top content curation tools that is a must-have in your tool belt regardless of your profession. It's the fastest and most professional way to share curated content on any topic in a visually appealing way. Think of it as a professional Pinterest.
The content you curate on elink can be shared via social media as a stand-alone web page, embedded onto any website or sent as a responsive newsletter via Gmail, MailChimp or any other email platform.
elink.io also offers a Chrome Extension and RSS feeds for faster curation. This tool pulls a title, description and image for each link that is entered; which can be further customized to add your own voice. elink offers 30+ beautiful prebuilt responsive layouts, so you never have to worry about design and can just focus on your content. The website is fully responsive allowing you to access it from any device.
There is no limit to how many elinks you can create; so give it a try today.
Cost: Free plan (includes unlimited web pages) and PRO plan: $15/month (annually); Education & Non-profit discounts available.
Bit.ai is a new-age document and content collaboration tool that helps teams collaborate, share, track and manage all company knowledge in one place. Apart from being a great documentation tool, Bit brings all your content in one place, making it a versatile content curation tool.
You can add any weblink- Youtube video, Spotify, PDFs, cloud files, social media content, maps, charts, spreadsheets and more to a Bit document and can even embed this document on your website.
If you curate content in a team or with a colleague, Bit provides a great way to collaborate and save content easily in one location. Bit also has robust workspaces to keep everything organized. In this way, your curated content can stay in separate folders, making it easy to locate and use when necessary.
Cost: Free plan (with limited features) and PRO plan: $8/month (annually); Education & Non-profit discounts available.
Dubbed as the save button for the web, Pocket is one the top content curation tools out there that helps you save articles, videos, or nearly any other web content in Pocket that you want to read, watch, or share at a later time.
It doubles as a discovery platform where users can browse through interesting new content posted by major publications and other content writers or curators. Pocket has apps and a responsive website that are accessible from every device.
You can also view content offline on the go! It's a great app to use collect information you want to read later, especially when you're traveling.
Cost: Free plan & Pocket Premium ($44.99/yr for no ads)
Flipboard allows you to collect content from the sources you trust. We added it to our top content curation tools list because it has a beautiful interface and presents your curated reading material in a magazine format.
It's a helpful way to keep up with your reading in a visually appealing way. Select our interests and your feed will be curated with articles and recommended stories on those topics. You can also follow others who share similar interests.
Flipboard offers a variety of tools like the Flip.it button, which is essentially a web bookmarklet that allows you to directly bookmark articles, videos, and directly links to your Flipboard magazine.
Cost: Free
5. Storify: Share stories, not just content
Storify is our fourth pick in the top content curation tools list, it helps you write and create stories using social media content. Quickly pull out information from a variety of web resources (Facebook, Twitter etc.), curate it and turn it into a story that you can socially share.
Collect and curate various digital content like photos, videos, and tweets to add to your stories. This top content curation tool makes it easier to find interesting social information and create engaging stories accordingly. Built-in features help place your stories in front of a community to increase the chances of your story going viral!
Cost: Free and for Enterprise: Contact for a quote
Are you having problems promoting your blog posts and getting traffic? Triberr is a social network that helps content marketers connect with industry leaders and curate their content. You need to join a tribe (area of interest), begin curating content, and then share your content.
It also helps brands find and connect with influencers through influencer marketing, and a self-serve top content curation tool. Add a unique way to get your content in the hands of people who can help promote your work!

Cost: Free, Lite $10/month and Prime $35/month
Curata is a top content curation tool focused on marketers in enterprises discover, organize, curate and share the best content from around the web.
Receive relevant content delivered automatically from hundreds of thousands of sources. It also has an added feature of a centralized calendar to coordinate with team members, programs, and organization-wide content initiatives.
Cost: Standard Package: Contact for a quote, Bulk Upload Package: $2,900,t and Gallery Launch with Bulk Upload Package: $3,500.
ContentGems is a content discovery engine. Every day, it scans hundreds of thousands of articles from the best online sources and presents you with a stream of relevant and timely content. With ContentGems, you can find and share valuable content.
Monitor any website with an RSS feed or any Twitter account to curate the best content on the web. It's a top content curation tool to your marketing toolkit.
Cost: Free, Business $99/month, and Agencies $199/month
Paper.li is a content curation platform for creating online newspapers using the content from Twitter, Facebook, Google+, YouTube, and RSS feeds.
This top content curation tool makes it easy for you to find, publish and share content on the web and social media by aggregating content from any web source. Your content appears like a newspaper. It's a fun way to share curated content that is important to you.
Cost: Free
SlideShare is the number one place to find PowerPoint and PDF presentations online. Editors take the time to curate the best SlideShare presentations.
It also has a great discovery engine allowing you to search, curate and save the best presentations. LinkedIn is one of the top content curation tools that also helps you curate, save and share infographics, videos and other types of professional visual content.
Cost: Free
List.ly helps you to find, create, curate, and share listicles on any topic. This top content curation tool is a great social way to engage your audience and share curated content publicly.
They have a great set of collaboration features making it a fun way to share the best of the web socially. It comes with a Chrome Extension to help you save information on the go and grow your 'lists.' Have fun creating listicles on anything and everything!
Cost:  FREE – 3 free lists for new users, Pro: $9.99/month or $99/year, and Team: $9.99/month/user or $99/year/user
With Snip.ly, you can increase your web traffic when you share curated content. It automatically adds a personalized call-to-action button to every shared link. You can curate as much content as you want and drive conversion rates from external content you share.
This top content curation tool is a great way to keep your audience engaged with content you recommend and have a way for them to still interact with you and act accordingly. Snip.ly allows you to easily monitor your audience engagement metrics and track results.

Cost: Basic: $29/Mo, Pro: $79/Mo, Business: $149/Mo, and Agency: $299/Mo
Quora is a top content curation tool focused on a community who answer curated answers based on their expertise and interest. Anyone who has an account on Quora can ask a question and community members answer the question in detail.
All answers are searchable and well organized for anyone to access. Quora pays attention to your interests and user-behavior on the platform and displays content based on your reading and engagement habits.
Cost: Free
Scoop.it increases your online visibility by helping you discover, curate, and publish quality content. You can 'Scoop' any content that you find useful and it will automatically be added to your page.
The content you curate can be shared socially within the network or shared on your social media channels. This top content curation tool helps you link content directly from Twitter and Facebook streams.

Cost: Free, Pro: $11/Mo paid annually and, Business: $67/Mo paid annually
15. Juxtapost: Your favorite things in one place
Juxtapost helps you save and keep track of web content you want to save. Everything you bookmark is categorized into pasteboards. Members of this top content curation tool can follow one-another and find inspiration of the best curated content.
One of the best parts is that you have the ability to preview your content in detail without needing to leave your browser. Juxtopost also provides an option to export all of your bookmarked data in case you need to organize it via spreadsheets, etc.
Cost: Free
Trap.it is a top content curation tool and marketing automation software that puts your employees' social media presence to work. It's a platform that helps brands tap into their employees networks and reach a wider audience.
This top content curation tool makes it easy for marketing teams to curate industry-relevant content across multiple verticals. Built-in analytics and reports provide valuable insight to shape your employee advocacy and social selling strategies.
Cost: Request for Quote
Pinterest is a visual curation bookmarking tool that helps you discover and save creative ideas. It is a creative way to discover and share your tastes, interests and hobbies with others in the community. Users can follow boards, like, comment and re-pin other users content.
This top content curation tool is a great place to collect visual inspiration for a wedding, recipes, etc.
Cost: Free
Delicious is a content curation tool that discovers, remembers, and highlights selected content across the internet. You can collect and organize the best content and follow other users on the platform. It's a great way to discover new content and build your collection of links for future reference.

Cost: Free
NetVibes is a top content curation tool that offers real-time monitoring, social analytics, mobile alerts, and systems integration.
It monitors social media and sends alerts about content that is relevant to you. Users follow subjects that matter and receive new articles on that topic. It makes staying on top of the most important information of the day easy.
Cost: Free and, Premium: $649/Mo
PublishThis combines search and content production to helps businesses discover, create and personalize content. This curation tool helps identify content across the web that your target market would find insightful.
This top content curation tool focuses on helping enterprise companies create editorial content that can be published and posted via email and social media.
Cost: Contact for Quote
CurationSoft is a content gathering, authoring and publishing platform. Use top content curation tool to search blogs, Twitter, YouTube, Google News and Flickr for content your audience would find interesting. Save time researching and collecting the best of the web with this useful tool.
Cost: Free and, Pro: $47/Yr
Feedly is another one of the top content curation tools out there that helps you organize all your favorite publications, podcasts, and YouTube channels into collections. Users receive updates when new stories and videos are published.
This content curation tool collects content from your favorite sites and packages it in a personalized magazine. It's one of the most popular ways to curate content for your own personal use.
Cost: Free, Pro: $5/Mo and, Team: $18/Mo
PostPlanner is a Facebook app for marketers and bloggers to curate and automate Facebook content. This top content curation tool helps you find the best articles to share with your audience.
It also includes photos, status ideas and much more. It's a smart way to grow your Facebook marketing team by just adding this tool to your marketing tool belt.
Cost: Love: $9/Mo, Guru: $19/Mo and, Master: $49/Mo
DrumUp helps users "energize their social media presence." You can think of it as an intelligent social media manager. This top content curation tool allows you to add multiple social media accounts to your dashboard.
DrumUp mines content across the web and helps you schedule and share curated content to Facebook, LinkedIn, and Twitter.

Cost: Starter: $15/Mo, Pro: $39/Mo and, Small Business: $79/Mo
25. Bagtheweb: Backpack full of content
Bagtheweb creates focused bags, containing the best links on your favorite topics. A bag is a hybrid media container that allows you to organize the links you find the most interesting. It supports embeds from the web's most popular sites. Users organize their bagged items by topic.
Cost: Free
BundlePost is a top content curation tool and content marketing tool that makes it possible for you to "discover, distribute, and promote in less time." Bundle Post aggregates and schedules social media content. It helps you to streamline your scheduling and in about 20 minutes you can schedule out posts with hashtags for 3-5 days out.
Cost: Personal: $20/Mo, Expanded: $50/Mo and, Pro: $100/Mo
Conclusion
We hope that this list of top content curation tools makes you better equipped to find the perfect content curation software to match your needs. Please comment below and share with us if you're using any of these top content curation tools or if you have any others you recommend using. We would love to hear how you plan to focus on content curation!
Further reads:
Don't want to forget this information?
Pin it for future reference!