Content curation is adding your voice to a handpicked collection of content, from a variety of sources around a specific topic, that you publish and share on various platforms. These pieces of content can be in any form like blogs, newsletters, or webpages.
Before the digital age, marketing channels were pretty cut and dry. In today's digital world over 40% of the world's population is on the internet. There are over one billion websites and applications. Digital marketing as a result is becoming more and more complicated.
I'll bet that throughout the year, you are adding additional popular platforms to your marketing strategy. You want to hit those marketing goals, and the only way to do that is to turn towards the channels your customers are on.
The problem is that unless you are able to increase your marketing budget, you have to work with the resources you have. That means stretching your marketing operation to the limits with regard to time and resources.
In a study by Linkedin Technology Marketing Community, the two biggest content marketing challenges are:
Lack of time and bandwidth to create enough content
Producing enough content in variety and volume
Regardless of the size of your marketing department and budgets, every marketer deals with the same set of issues.
So what's the solution? It isn't magic, however to a marketer…it is just as spectacular! It's content curation.
What does Content Curation Mean For Marketers?
Content curation is adding your voice to a handpicked collection of content, from a variety of sources around a specific topic, that you publish and share on various platforms. These pieces of content can be in any form like blogs, newsletters, or webpages.
Content marketers, social media marketers, and digital marketers are turning towards content curation to help them engage their customers. In fact, 82% of marketers have already added curated content to their marketing strategy.
Related: Content Curation Examples for Marketers
What are the benefits of Curating Content?
Rather than worrying about how you're going to compete with all the content present across the internet, let's just embrace it. Here are three benefits that might encourage you to curate content.
1. It saves time

It takes a lot of time to produce quality videos, white papers, infographics, long-form articles, etc. You and your team have to spend countless hours researching, writing, creating visuals, and editing to make fresh, engaging content.
However, studies have shown that for every hour invested in content curation, small to medium-sized businesses see 3.7x more volume and 1.6x more traffic. By supplementing your in-house content with content curation pieces, you will not only be able to increase the amount of content you share but also end up with higher engagement levels!
Related : 3 Reasons Why Visual Content Marketing Is Better Than Boring Text
2. Helps you in becoming a Thought-Leader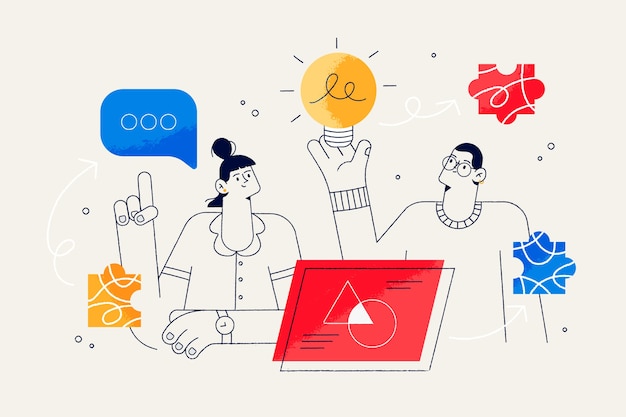 Your audience may be interested in topics that you either don't have the expertise in or the resources to cover. Curation is a great way to pull quality in-depth content from experts and organizations that have covered topics you are unable to. By bundling the best resources intelligently, you will be able to provide your customers with valuable information that would have otherwise taken them hours to research! It's a great way to keep your customers coming back to you and become brand advocates.
3. Helps in growing your network
Curation is a fantastic way to expand your reach by including content from other companies, experts, and influencers. You'll want to make sure you properly give credit and notify your sources of their inclusion in your content.
It is a useful catalyst to create new partnerships, have your content shared with a larger audience, and lastly, an excellent way to build up your professional network.
What type of digital content can we curate?
Although there are a number of ways you can curate content through your marketing channels, some of the most popular methods marketers use include curated newsletters, web content, and social media.
1. Curate Email Newsletters
One of the most popular ways to curate information is through newsletters. You can collect and share the most relevant industry news, weekly roundups, case studies, listicles, and more. By choosing from a range of topics and sources, you have the ability to create engaging emails consistently. You are also able to share a wide variety of topics within your industry to engage your customers.
2. Curate Web Content & Blog Posts
You can increase the frequency of the content you post on your website through curation. Figure out what topics will resonate with your audience and create content around key resources, informative videos, webinars, reading lists, etc.
If your marketing goals are to drive traffic to your site, you should find ways to curate your brand's content. You can either curate only your brand's content, or you can include your brand's content intertwined with other sources. Some ideas include curating content around your most popular posts of the month, the best posts about a particular topic, collections of product offerings, and interesting articles about your company.
3. Curate Social Media Posts
An excellent way to engage your audience on social media is to share various types of content. By adding curated posts to your social media calendar, you'll be able to tag brands, experts, and influencers. It's a great way to get noticed and have your content shared by some powerful social voices. Depending on how good of a job you do with your curation piece, you have the potential of getting in front of their audiences.
Read more: Social Curation: The New Trend!
How to Curate Content?
1. Define a Topic
The first step brands and marketers have to take is to choose a topic their customers would find interesting. This can range from industry news, cool tools, customer reviews, top 10 lists, interviews, presentations, product recommendations, and more. The bottom line is that you are going to want to collect and curate information that is both meaningful and incredibly useful to your customers.
For example, if I were going to target the audience (you) reading this blog post, I could curate content around Top Content Curation Tools for Marketers.  I know that my audience has an interest in content curation and can assume by the end of this guide, they will likely start researching content curation tools. By providing my top picks (after endless hours of research), I'm helping my audience save time and potentially view me as a thought-leader. Example of a Curated newsletter:
2. Collect Content
Every marketing team has its set of expertise and areas of strength with the types of engaging content they produce. One of the main advantages of curating digital content is that you have various mediums of content to choose from: videos, articles, podcasts, webinars, social media posts, infographics, etc. By tapping into these online channels, you can select the very best content and put them together in a smart and engaging way to share with your audience.
By utilizing the best content out there, you will help your customers find answers to their questions, create new thought processes, incorporate efficient tools, and much more.
Ultimately, your audience will appreciate your efforts and reward you with higher engagement levels. It's a win-win!
Read more: 12 Facts About Content Curation You Might Not Know!
3. Add Your Voice
As you curate content, it's important that you add your voice. Tell your customers why they should pay attention and care about the curated content you are sharing; this will help your audience get the most out of your curated content and view you as a thought-leader.
One way to think about this is to imagine being a professor. Your lectures consist of curating and delivering information on a specific topic from a variety of sources. You aren't going to read books out loud; you will be inspiring your students through your delivery, opinions, and thoughts. Make sure you focus on the way you deliver your curated content to your customers.
4. Publish & share your curated content with your customers!
The final step is to publish & share your curated content, but not too much to look more real! remember that your audience knows you, so let the magic of web-o-sphere turn your curated content into must read/watch. Try to share your content on various social media and other online web-based platforms.
So, let your curated content move & groove around a little! 😉
Conclusion:
By now you should have a good understanding of what content curation is, reasons why you should employ a curating content strategy, and how you can start curating content today. The best way to get started is by looking at your current marketing strategy and identifying key areas where you can start curating content.
Do you have any additional content curation strategies that you have found to be successful?
elink.io is an all-in-one content curation tool that allows you to curate and publish content as a newsletter, web page, or website embed. It's every content marketer's dream tool.
Watch this video to learn how to curate content in less than 10 minutes with elink!
Further reads:
Don't want to forget this information?