Behind your publishing schedule? Master the power of video curation and learn how to embed YouTube videos in WordPress in less than 5 minutes!
YouTube is the holy grail of videos. From thought-provoking TED talks to silly cat videos, YouTube has you covered for your every mood and need.
When it comes to videos, nobody comes close to beating YouTube. Here are a few stats that will blow your mind:
Businesses, marketers, and bloggers have realized the power that YouTube holds on all of us and are increasingly pro-active about using videos to engage new audiences. If you want to get serious about video content, YouTube is the place to start.
Creating Youtube Videos is hard work!
Did you know that businesses on average create 18 videos a month?! Even though videos are highly effective in getting the message across and entertaining visitors, they require a lot of time, effort, and skill to produce high-quality videos.
If you are a solopreneur or have a small team, creating and publishing engaging videos regularly on your WordPress site or blog is a far-fetched dream. So how can you leverage this awesome distribution channel without having to do all that work?
Related : What is Video Curation and How To Curate Video Content
Embed Youtube Videos with Elink.io:
Let's say you have a WordPress site or blog about your favourite sport, snowboarding. Instead of creating your own snowboarding videos every day (which can be pretty time-consuming, to be honest), you can go to YouTube, watch a bunch of cool snowboarding videos, and share only the best ones on your WordPress website. In this way, you don't have to wait for weeks before publishing new videos on your website and at the same time, keep your fans happy with fresh content.
This process of researching and sharing only the best of the best videos from the internet is called video curation.
elink.io is an all-in-one content curation tool that allows you to curate and publish video (or any other form of content) as a newsletter, web page or website embed. Imagine, collecting all the best videos on a particular topic, creating a beautiful looking feed and then embedding this on your WordPress website for your fans and followers to enjoy!
Let's see how you can embed YouTube videos and share it with the world in less than 5 minutes!

5 Steps for embedding your Youtube Videos:
Let's look at the steps for embedding youtube video collections into your wordpress website.
Step 1: Select a Layout.
Elink has a variety of visually appealing templates to choose from. Each template is responsive, so you don't have to worry about the appearance of your curated content on different devices with varying screen sizes.
Step 2: Add Your Videos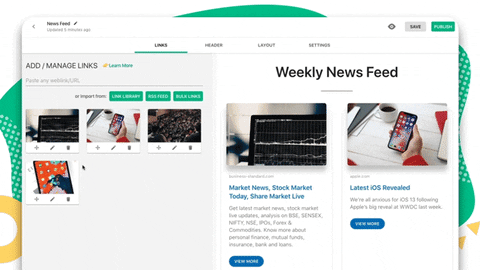 Copy and paste links to the YouTube videos you want to share with your audience and elink will automatically generate a thumbnail and a descriptive text regarding each video.
Step 3: Give your elink a title!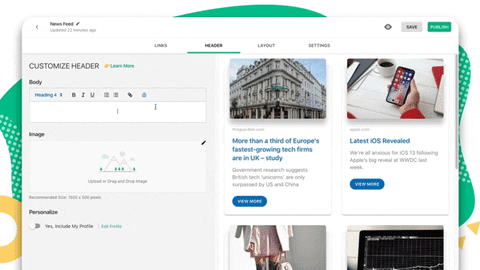 Give your curated web page a catchy title (Ex- Top Youtube Videos of the Week). Choose "Header 1" template to add a header image and short introductory text. This is your opportunity to engage your audience. You can even add your brand's logo and tagline to make it more personalized.
Step 4: Publish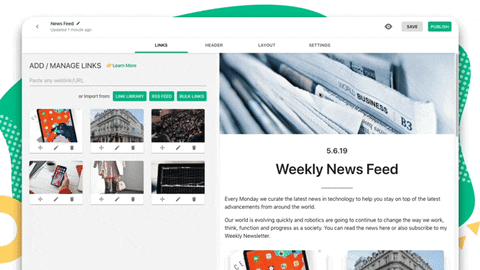 That's it, you've created your elink web page now hit publish!
Step 5: Copy elink Code to embed your Youtube videos collection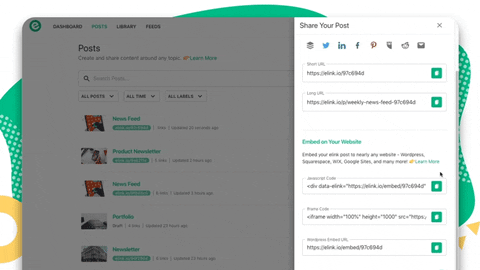 Now to export this YouTube embed to your website, go to your dashboard and click on the embed button next to your elink collection. Copy the WordPress Embed URL and add it to your WordPress website.
🎥Watch this video to learn more 👇
WordPress Classic Editor
WordPress Gutenberg Editor
Go to your WordPress and open up a page or post that you wish you to embed your elink on. Click over from the visual tab to the text tab. Copy and paste the code here. Publish your post or page and you'll see your elink appear on your website/blog!
This is what your elink might look like !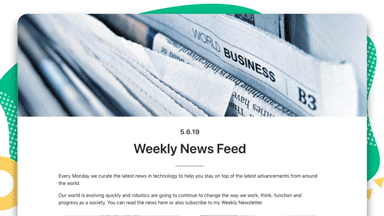 PRO TIP:
You can update your embedded elink in real-time with elink's Chrome Extension without going to elink's dashboard. Whenever you are browsing YouTube and find something that is 'share-worthy,' click on the elink.io Chrome Extension button and it will allow you to add that video to the top of the elink on your website!
What video collection will you be adding to your WordPress site or blog? Comment below!
Further reads :
Don't want to forget this information?
Pin it for future reference!