If you add news feed to a WordPress website, it'll be one of the smartest ways to update your content on a daily basis. Let's see how awesome and easy it is to add news feed to WordPress website in under 5 minutes!
So what exactly is a news feed?
Business Dictionary defines news feed as:
"A continuous transmission of data, consisting of news updates, to websites through a syndicated news service provider. Subscribers receive the news feed, also known as a web feed, as summaries or links that refer the user back to the original news source."
In layman terms, a news feed is an aggregation of web content, where users can read summaries that contain links to the original piece of content. Often the best news feeds are visually appealing with an image and interesting commentary that causes readers to engage with it.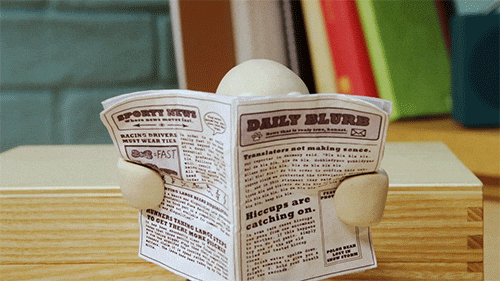 The basic premise of a news feed is that instead of visiting multiple web pages to check for new content, a user can quickly glance through all of his/her favorite content at once and then decide which links to follow to read the complete content. Internet users can end up saving a lot of their browsing time and effort by subscribing to a news feed.
HOW TO ADD NEWS FEED TO A WORDPRESS WEBSITE
A news feed not only helps save time and effort for the reader, but it also saves time for the website owner too. If you're a business owner, marketer, blogger, freelancer or professional (lawyer, chef, doctor, etc.) and run a website, you likely wish you could update your content more frequently.
Related : 30 Awesome Curated Newsletter Ideas For 2020
We know how hard it can be to come up with interesting content on a daily basis. You have that daily pressure of making your website look active. However, there are hundreds of things demanding your attention! Updating your WordPress website may end up taking a backseat. This is especially true when you don't have all the resources in the world at your fingertips to help you create content.
Now imagine this….
What if you could curate and add news feed from different sources?
You likely already keep up with the very latest news, industry updates, opinion pieces, videos, etc. within your industry. Imagine handpicking the best articles and web content around the web and turning those web links into a visual collection that you can embed on your WordPress website or blog.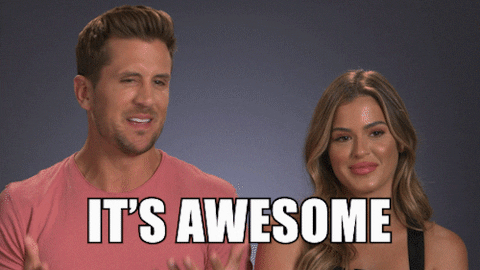 In your collection of visual web links, each of them would redirect your reader to the original piece of content. Now imagine taking a few minutes to add your commentary underneath the pictures (web links) about the importance of the information and why your readers should care about it. Once you're done you publish and share it with your world! BAM!

How to Create Fresh Website Content by Spending 5 Minutes a Day
The best way to curate and add news feed to your WordPress website is with elink.io. It's a tool where you simply add web links, and it will automatically convert them into a visual board that you can embed on your WordPress website. You can add any type of content: videos, music, podcasts, articles- basically anything on the web with a link!
Step 1: Choose a Template
You can either start building your elink from scratch or choose from a variety of awesome pre-made templates. Don't worry, you can change the layout of your elink at a later stage too by choosing between 17 responsive email newsletter templates that are all unique and visually appealing.
Check out elink's responsive templates
Step 2: Add a Variety of Web Links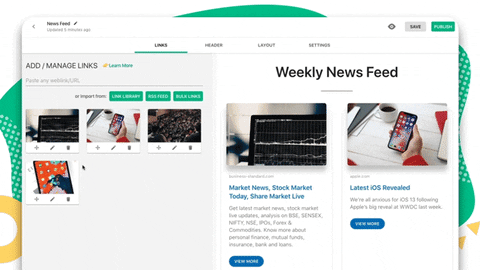 Copy the links to various articles, websites, products, videos, etc. you want to add to your feed and paste them into the template one by one. elink.io automatically makes the link visual by giving it an image and a short description. It's a great idea to add your own commentary in the description below explaining to your audience why they should care about the content you are sharing.
Step 3: Give Your News feed a Title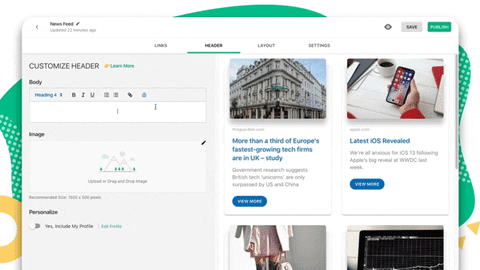 Add a quick title and intro to put your personal touch and add commentary on the importance of the information you are sharing. Adding notes to each visual web link is a great way to engage your audience and have them understand the importance of the content you're sharing.
Step 4: Publish & Embed Your Content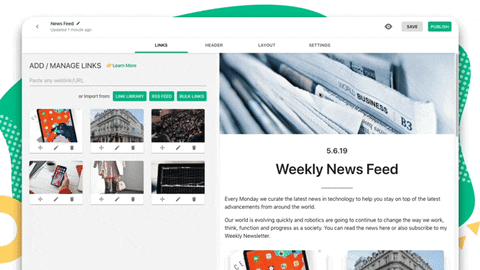 Once you're done, click on publish and voila! Your content is ready to be added to your WordPress website!
Next, go to your dashboard and click on the share icon next to your elink collection.
You'll see two options
1. Embed Code that you can use on any website builder and
2. WordPress Embed URL
Copy the code/link according to your requirement and paste it on your website using elink's chrome extension plugin.
You can watch this video tutorial to see how to do all this procedure in detail:
THE LAST STEP & THE MOST IMPORTANT
Download elink's Chrome Extension.
Whenever you are browsing the web and find something that is 'share-worthy,' click on the elink.io Chrome Extension button and it will allow you to add that link to the top of the embed on your WordPress website!! You can browse the internet, your social media feed, etc. and add fresh content to your website in seconds!
It's the fastest way to add a news feed to any website! As you go through your daily 'internet' life, elink's Chrome Extension will be your lifesaver and help you publish content quicker than you can share this blog post with others!
What are your thoughts about adding a news feed to your WordPress website or blog? What topics will you be adding, that you think your readers will be interested in learning about? Let's chat, comment below and share your thoughts!
Further reads : 
Don't want to forget this information?
Pin it for future reference!