Do you know how many WordPress Gutenberg plugins are out there? 100? 1000? 10,000?? Well, there are over 50,000 WordPress plugins out there, all ready to enhance your WordPress experience. While one might think that there are thousands of awesome plugins to choose from, it can lead to a paradox of choice.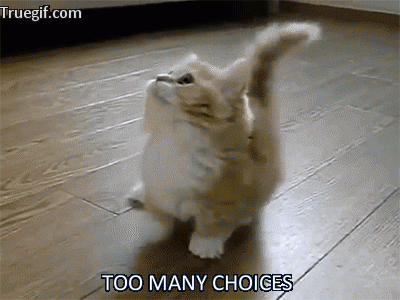 The Paradox of what you ask? Well, as it turns out, having too many choices at your disposal is not always a good thing. The phenomenon of too many choices was examined scientifically in American psychologist Barry Schwartz's 2004 book, 'The Paradox of Choice.' In the book, Schwartz states that having too many options leaves us feeling depressed and isolated, as we become overly concerned with our potentially missed opportunities!
Schwartz further adds that removing, rather than adding to, consumer choices improve ones' happiness. Customers can be more happy with their choices if they are presented with a streamlined selection of the best-matched products, as opposed to how happy they might have been had they chosen a different product altogether.
We are taking Schwartz's advice to heart. We decided to sort through all the noise on WordPress and present to you, a streamline, hand-curated selection of WordPress Gutenberg Plugins to help improve all aspects of your WordPress website.
Related : Key features in WordPress New Editor
The list of top 10 WordPress Gutenberg Plugins to consider in 2020:
From SEO, content marketing, and page builders to customer contact forms, security, and e-commerce- we have got it all covered in our list of WordPress Gutenberg Plugins. Once you go through this list, we are sure you'll never have to Google WordPress Gutenberg plugins ever again! So without spending any more time talking about it, let's dive in…
elink.io is an all-in-one content generator that provides the ultimate web content generator plugin for WordPress. Create fast content by bookmarking your favourite links, creating link collections, and sharing those beautiful visual link collections as website content, email newsletters or single web pages. elink also has a good range of formatting options and once set up, it is incredibly simple to use. It merges flawlessly with MailChimp to allow the user to convey a newsletter that looks more costly than it is. Cost-wise it offers by a far the best option.
The elink plugin allows you to embed weblink collection pages for press pages, a news feed, product pages, resource pages, blog article content and much more inside of elink's platform. All of these features work immediately with no developer help needed! Ahhh…go ahead and breathe that sigh of relief:)
elink is an all-round plugin for anyone who is a marketer, runs a website, or is a lone-ninja and who can't afford to slow down content creation for their WordPress Website. It's a must-have tool!
Read more: 11 WordPress Widgets to Make Your Website Even Better!
It's heartbreaking when you pour your heart and soul into writing the perfect piece of content yet see only a handful of people consuming your content. More often than not, we blame ourselves and think that our content is below-par. However, in most cases, it's not the content, but the distribution of content that sabotages your WordPress blog growth. If this sounds like your situation, Yoast SEO is a must-have plugin for you.
Yoast SEO boasts of 3+ million users worldwide, making it one of the most trusted SEO plugins out there. Yoast SEO offers a lot of features to help improve your content and make it search engine friendly. Features like the ability to add focus keywords, meta description, rich snippets and XML sitemaps help in optimizing your content and increase your chances to appear on the 1st page of Google. This, in turn, makes your content more discoverable and you get the recognition you deserve. We highly recommend this tool!
Key Features offered by Yoast:

The interface is perfect and easy. If you are at all familiar with the ideas of SEO, you might not have a problem using Yoast.
This Plugin will highlight areas inside your content that needs improvement, With a single toggle.
The stoplight-type shading coding is brisk and simple to perceive how a page's SEO and readability are estimated to industry standards.
Brought to you by the same team that's behind the largest WordPress resource site, WPBeginner, the most popular lead-generation software, OptinMonster, and the best WordPress analytics plugin, MonsterInsights, WPForms is a drag-and-drop form builder for your website. Whether you need to add a contact form for customer inquiries, use forms to capture email addresses (leads), or add a payment/donations form to your WordPress website, WPForms can help do just that and more.
WPForms claims to be the most basic WordPress form builder in the market and portrays the comfort it offers to create a WordPress form.
With WPForms, you don't need to employ a WordPress developer or even apply one line of code to make a WordPress form. You have the option to make a form in only minutes regardless of your need to make a simple contact form or a complex one.
Since the builder is so easy to use, you can easily create contact forms, email subscription forms, online order forms, payment forms, surveys, polls, and all other types of online forms with just a few clicks. It also integrates with all popular marketing and payment platforms, making it easy for you to configure payments without the need of a developer.
Used by over 4 million WordPress users, Woocommerce is one of the leading e-commerce plugins out there. If you want to sell anything to your audience by creating an online store, Woocommmerce should be the go-to tool for you. From physical products and digital downloads to subscriptions, content and even appointments, you can sell anything with WooCommerce.
Some key features offered by Woocommerce:
Allows user-generated content (UGC, for example, photographs and recordings transferred by your clients along with reviews).
Send automated email invites approaching clients for a purchase survey.
Customize messages for every customer with built-in factors.
Limit emails to specific classifications of products.
Limit emails to clients with specific customer roles.
Great Tool for utilizing a responsive email format with custom hues.
Since it is an open-source platform, users can modify and customize anything and everything. You can add unlimited products and users, and take unlimited orders. There's an entire ecosystem of Woocommerce plugins out there- from payments and shipping to marketing and accounting. You can set up anything without the need for an in-house development team. All-in-all, it's an all-round plugin for literally everything e-commerce.
Imagine putting in so many hours, days, weeks, months, or even years into building your website and it all gets taken away from you in a matter of seconds! Awful, right? Security is a big aspect of doing anything online, the one we often forget or don't care about until something goes south. To prevent any malware, bots, and hacks to your WordPress website, Wordfence is the go-to plugin.
Wordfence includes an endpoint firewall and malware scanner that was built from the ground up to protect WordPress. Their "Threat Defense Feed" arms Wordfence with the newest firewall rules, malware signatures, and malicious IP addresses it needs to keep your website safe. Additional features like leaked password protection, file repairs, two-factor authentication, and many more make Wordfence, the most comprehensive security option available.
This security Plugin additionally provides:
With monitor visits and hack attempts not shown in other analytics packages in real-time; their IP address, including origin, Live Traffic, the time of day and time spent on your site.
Country blocking available with Wordfence Premium membership.
Exceptionally configurable alarms can be conveyed through email, SMS or Slack.
The world's highest-ranking and most popular scheduled backup plugin, with over two million currently-active installs, UpdraftPlus is another must-have WordPress Gutenberg plugin. Since WordPress users are majorly non-coders, a simple fluke in code can cause the entire website to crash or worse, delete all their content. Thus, having a backup of all your work can be magical.
Just go to the UpdraftPlus plugin page and add it to your WordPress website. Now, with a single click, you can backup all your website data into the cloud directly to Dropbox, Google Drive, Amazon S3, UpdraftVault, Rackspace Cloud, FTP, DreamObjects, Openstack Swift, and email. The paid version also backs up to Microsoft OneDrive, Microsoft Azure, Google Cloud Storage, Backblaze B2, SFTP, SCP, and WebDAV.
Whilst other security measures are essential, backups are the ultimate insurance: they mean that, if the worst were to happen, your website (plus all related files and databases) stay safe, and can be restored in no time. Thus, having a backup plugin like UpdraftPlus is essential to any WordPress website.
Unlike other Plugins, UpdraftPlus offers:
restoration and backing up options.
Backs up to more cloud alternatives than any others.
Enables you to set up automated backup schedules, for overall comfort.
Is quicker, spending fewer server resources.
Has been tested on more than 1 million websites.
If you are a heavy user of Google Analytics and use it to track your website traffic, you should be using the Google Analytics Dashboard by ExactMetrics. This plugin adds a Google Analytics dashboard directly to your WordPress website, thus allowing you to access all information right from your WordPress dashboard. The plugin includes reports and data on:
Sessions, organic searches, page views, bounce rate analytics stats
Locations, pages, referrers, keywords, 404 errors analytics stats
Traffic channels, social networks, traffic mediums, search engines analytics stats
Device categories, browsers, operating systems, screen resolutions, mobile brands analytics stats
If you need a quick look at analytics, having this plugin installed right inside your WordPress dashboard is a blessing!
CSS Hero can spare you a great deal of time and effort with regard to design customizations. If you are not a developer, changing the layout and color scheme of your website can be quite challenging. CSS Hero 3 is the definitive WordPress plugin to easily customize the look of your site, with an easy and intuitive point and click interface. With CSS Hero, you can control any aspect of your WordPress website and can even preview and edit how it will appear on different screen sizes and devices.

Also, If you're a designer, artist or engineer, then you will find CSS Hero quite great. It functions amazingly with all famous WordPress themes and systems. You can easily make changes to a small theme, and afterward, export it to be used on a customer's site with minimum time. CSS Hero can spare you a great deal of time and effort concerning design customizations
CSS Hero allows users to change font styles and typography, play around with different color schemes, adjust margins and padding, store snapshots of your edits without having to push them live, store different versions, and then choose the one you prefer to go live with. In case you mess something up, you can always undo the changes!
Launching a new product and need a "coming soon" page on your website? Or maybe you are making changes to your current WordPress website and need your site visitors to know that you are in maintenance mode? SeedPod is one of the best plugins to create beautifully Coming Soon Pages and skyrocket your email list or limit access to your website while it is under construction. The Powerful SeedProd Builder and built-in design controls let you customize virtually any aspect of the page meaning that you can build an amazing custom coming soon page in minutes- change text, fonts, colors & layout in an instance.
With more than 800,000 dynamic users, SeedProd is the most famous support mode plugin for WordPress. SeedProd makes it overly simple to construct a maintenance page and gives you a chance to begin collecting your users' email addresses from the very beginning.
Choose from over 500,000+ background images, 750+ Google fonts & 50+ themes and make an awesome looking coming soon or maintenance page in minutes! If you need to collect emails from your "Coming Soon" page, you can easily connect any 3rd party email service provider like MailChimp, ActiveCampaign, ConvertKit and More to your page or save emails directly to the WordPress database.
Shared Counts is a WordPress social media share buttons plugin. Sharing buttons increase traffic and engagement by helping readers share your posts and pages to their friends on social media. Apart from the utility, they also act as social proof as the plugin also displays the number of times a piece of content is shared.
Buttons included in the plugins are:
Facebook Share Button
Pinterest Pin Button
Yummly Button
Twitter Tweet Button
Email Sharing (with reCAPTCHA support to prevent abuse)
Share Count Total
Print Button
LinkedIn Share Button
Although there are many plugins for social sharing, this free plugin provides you the much-needed flexibility to change the button layouts and works perfectly with any WordPress Website.
Final Words:
Since we have done all the hard work of researching through the deep dark corners of the internet and compiling a list of only the best WordPress Gutenberg plugins, you don't need to spend any more time wandering. There are a ton of tools in this list that will help you with almost anything you could think of. These WordPress Gutenberg plugins will drastically enhance the website experience for both you and your site visitors. If we missed out on any WordPress Gutenberg plugins, do let us know by tweeting us @bit_ai!
Related : 10 Easy Steps To Master The WordPress Gutenberg Editor
Top 13 Squarespace Plugins You Must Have!