Have you ever wondered how you can add a newsfeed to your Wix website? We're going to teach you a magic trick so that you can set up a beautiful newsfeed on any topic, across a variety of publications, in minutes.
Creating a new website can be a daunting task for a lot of us, and on top of it adding engaging new content is even more challenging. With such a vast amount of information found online, it is necessary, rather crucial, to keep adding fresh content to keep your viewers hooked.
Regardless of whether you run a large website or are a solo blogger or a member of a small team who runs their own website, you'll need help and resources to update your content more frequently. As many content marketers and businesses understand creating fresh content is a never-ending task.
Fortunately, there is an easy way to showcase topical information and news content from trusted sources onto your website. Regardless of whether you're running an e-commerce website, business website, food blog, marketing related blog, etc.
If you've made your website on Wix, you're in luck as we are going teach you how to add engaging content on your Wix website with the help of a Newsfeed.
Wait, What Exactly is a Newsfeed?!
Before we dive into how to create newsfeeds, let's explain what the heck a newsfeed is. Newsfeeds are services by which news is provided on a regular or continuous basis for distribution or broadcasting.
Newsfeeds are a quick way to add content on your website. This helps you have a constant flow of new content on your website and provide a quick way for viewers to read the latest news about certain topics without wandering off to different websites.
Read more: How to Create Press Coverage Pages for Your Wix Website
Why You Should Add News Feeds to Your Wix Website?
As you may already know, there are around 1.94 billion websites on the internet in 2019
That's right, over 1.94 billion!!!
That means your website is competing with millions of websites, all striving to create content for their websites. That is a lot of tough competition, as every website is racing to create awesome content and hook as many viewers as they can.

As the number of consumed content increases, it puts small teams, bloggers, and professionals under immense pressure to attract their audiences and satisfy this ever-lasting need to create valuable and fresh content!
However, creating interesting, fresh content on a daily basis without help can be a big hurdle to overcome. So what's the solution?
Engaging News Feeds to the Rescue !!
Adding an awesome news feed to your website is the fastest way to update your content in a more frequent manner.
What if I tell you that you can curate your own news feed from various sources where you can handpick the best articles and web content to display on your own website. Sound great, right? Imagine creating a news feed filled with awesome content that is automatically updated with a click of a button. Just take out a couple of minutes to add your commentary underneath the content, and BAM… you have fresh new content at your disposal!
Want to know how to do just that? Keep reading…
How to Manage Your Website Content by Spending 5 Minutes Per Day
One of the best ways to curate a news feed and add content to your website is with elink.io. It's a tool where you simply add web links and it will automatically convert them into a visual content board that you can embed on your website.
Once your content has been added to your website, use elink's Chrome Extension every day and save interesting content to your website. The best part is that as soon as you save the piece of content to your elink content board, it will reflect on your blog/website INSTANTLY.
Let's show you how it all works in minutes.
5 Easy Steps to Creating and Adding a News Feed to Your Website:
Step 1: Choose a Template
Select from one of the many news feed ready templates. All of the templates are responsive and look great on all devices. They have been designed to blend in seamlessly with your website to make your awesome feed look beautiful.
Step 2: Add a Variety of Web Links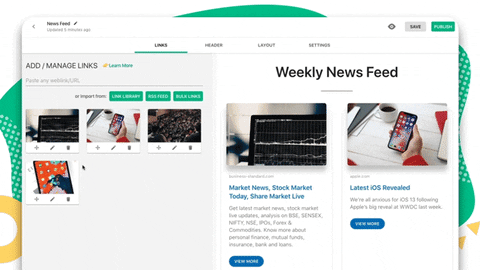 Copy the links to various articles, websites, products, videos, etc. you want to add to your feed and paste them into the template one by one. elink.io automatically makes the link visual by giving it an image and a short description. It's a great idea to add your own commentary in the description below explaining to your audience why they should care about the content you are sharing.
Step 3: Give Your News Feed a Title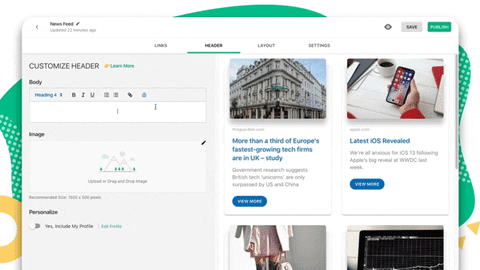 Add a quick title and intro to put your personal touch and commentary on your news feed. It's a great way to engage your audience and have them understand the importance of the content you're sharing.
Step 4: Publish & Embed Your Content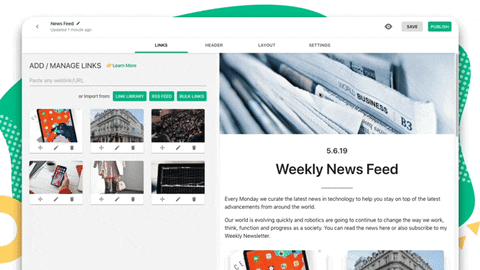 Once you're done, click on publish and voila! Your news feed is ready.
Now to export this feed to your website, go to your dashboard and click on the share button next to your elink collection.
Copy the javascript or iFrame code and add it to your website the same way you would if you added a YouTube video.
Save the changes, and you'll see your news feed has been added to your website!
Read more: 9 Newsfeed Examples for Your Website
How to Embed Your Newly Created News Feed for Your Wix Website
If you have your website on Wix, you'll need to follow these steps to add your newly created news feed on your Wix website.
Get the embed code from Elink.io
a) Click on the post tab to find the press page elink you want to embed on your Wix Website.
b) Click the Share icon next to the elink you want to add to your website.
c) You'll see two options:
Option 1:  Embed Code that you can use on any website builder 
Option 2: WordPress Embed URL.
d) Copy the code or link according to your requirement and then paste it on your webpage using elink's chrome extension plugin. You can watch the video to learn how to do that!
Boom and that's it!
With these simple steps, you can add your elink News Feed for your Wix website and publish fresh content for your viewers.
THE LAST STEP & THE MOST IMPORTANT
Download elink's Chrome Extension.
Whenever you are browsing the web and find something that is 'share-worthy,' click on the elink.io Chrome Extension button and it will allow you to add that link to the top of the newsfeed on your website!
It's the fastest way to add content to your website. As you go through your daily 'internet' life, elink's Chrome Extension will be your lifesaver and will help you publish content to your website on the go.
How to add Elink chrome extension
1. Make sure you're using a Chrome Browser.
2. Click on this 👉 link to go directly to elink's extension.
3. Click on Add to Chrome.
4. You will then see a small popup asking for permission and click on Add Extension.
5. Once downloaded, you'll see a page from elink.io that briefly describes how you can use elink's Chrome Extension.
Save weblinks from the Chrome Extension:
Check out this video to get a full understanding of how elink's chrome extension works, or look at the steps below.
Go to any website, article, or digital resource you want to save.
There are few ways to save content to your elink posts using the Chrome Extension:
Click on the elink icon in your Chrome browser.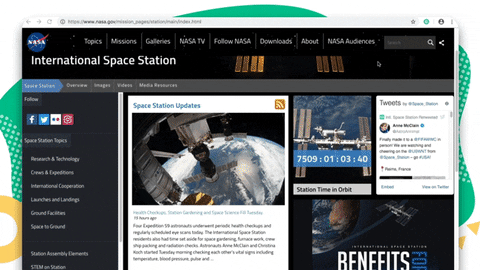 Or right-click on a particular image on a page and select '

Save this picture with this link

.'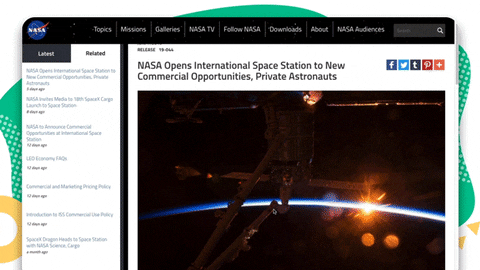 Or right-click the page and select 'Save this page.'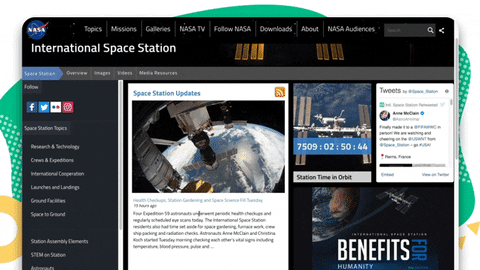 Or right click on a link on a page and select 'Save this link.'
All of your links will automatically be saved to your Link Library that you can search and filter to view and access content anytime.
You also will have the choice to add any new web content to a new, published or post in draft status.
What's Next?
Adding a news feed for a Wix website can help you get rid of all your content woes, leaving you time for the more important stuff. So, what are you waiting for? Get started by making a beautiful elink news feed, add it to your website and keep your viewers hooked onto something new every single day!
Further reads : 
24 Essential Wix Apps for Websites in 2021!
Best Website Widgets That Can Drastically Improve Your Website!
9 Best Wix Integrations for Your Website
Best News Aggregator Websites (And How To Build Your Own)
Create an Awesome Looking Wix Portfolio in Minutes with elink!
News Curation: What, Why & How to do it?
The Best Plugin to Create a Press Page for Your WordPress Website
How to create a news page for any website
Don't want to forget this information?
elink it for future reference!