There are 4.39 billion internet users in 2019, an increase of 366 million (9 percent) versus January 2018. With more than half of humanity online, having an online presence is no longer a "nice-to-have".
Being online and having a presence is vital to your professional life. It's not sufficient to exist in the "real world". Having an online presence is a must for people to take notice. If you 're a creative- a graphic designer, a photographer, videographer, etc- this becomes all the more important.
Creating an online portfolio puts you on the world map and allows you to showcase your work or business at its best. An online portfolio puts you, your work, and your business in front of potential employers, recruiters, and clients gives them a chance to discover your amazing work. Naturally, you have to put in intense effort and time to create your online portfolio. You can't just "wing" it. In order to leave a good impression on prospective clients or recruiters, creating an online portfolio that looks stunning and stands out is a must. You can use an online portfolio builder like elink to make that process easier for you, which we will be talking about later in our article.
But first, let's discuss briefly what an online portfolio is and how to create an online portfolio for your Wix website quickly. Since Wix is one of the most popular content management systems out there, we will discuss how to embed an online portfolio on your Wix website specifically. Read on…
What is an online portfolio?
An online or digital portfolio is the modern-day equivalent of a resume, a business card, and a lookbook all in one. It is your chance to showcase your work to the entire world and get recognition for it. An online portfolio should contain your best work and should be created in a way that is easy to understand and navigate.
Read more: 9 Best Wix Integrations for Your Website
Why create a Wix Portfolio?
Wix is one of the most popular website design (or CMS) platforms out there with over 110 million users in over 190 countries worldwide! With 45,000 new sign-ups every day, Wix is showing no signs of slowing down.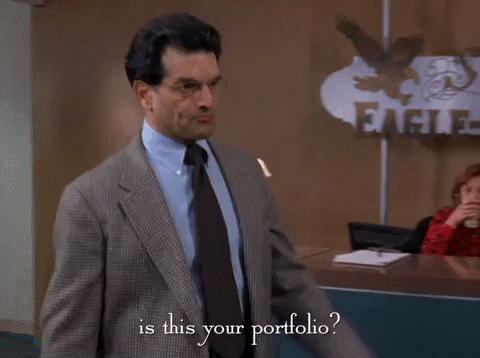 With excellent support, easy to navigate software, and amazingly quick onboarding, Wix is truly an amazing website builder and the perfect platform to host your online portfolios.
Read more: How to Create Press Coverage Pages for Your Wix Website
Creating a Wix Portfolio can be Time-Consuming!
Adding an online portfolio page to your Wix website can be hard, especially if you are not a developer. First, you would have to ask your developer to create a new webpage for you and give them all the content you want to include.

This will eventually lead to a constant back and forth and getting the page "just right". Moreover, every time you create a new awesome project and want to add it to your portfolio, you have to update the portfolio with the help of the developer.
If you do not have access to a developer and are using a content management system like Wix for your website, creating a new portfolio page can be time-consuming. Adding all those text boxes and images and aligning them in a way that looks professional and visually stunning is exhausting.
Create an Awesome Looking Wix Portfolio in Minutes with elink!
Forget worrying about coordinating with your developer, messing around with complex text buttons, and diving deep into design mockups as we have an awesome tool for you that does it all!
elink.io is a web app that allows anyone to create a beautiful looking online Wix portfolio page in minutes!
elink.io works by letting users choose an online portfolio template and simply add links to any type of content- links to your Behance projects, designs on Dribbble, freelancing projects, websites, cloud files, social media profiles (Facebook page, Twitter account, YouTube channel, Instagram etc), or any other content you would like to share with your audience.
Check out elink's responsive portfolio templates!
Traditionally, your portfolio is often scattered over multiple destinations like Fiverr, DeviantArt, Behance, Dribbble, Upwork, and similar platforms. With elink, you can bring all your work under one roof using any of elink's 30+ portfolio templates! Just copy and paste your links and elink will generate an awesome and professional-looking portfolio page for you in minutes!
You can then easily embed this page on your Wix website, send it as a newsletter, or share it on social media as a single web page!
With a total of 30+ mobile-responsive and aesthetically pleasing templates, you will never run out ideas on how to make your online portfolio stand out and test different designs to figure out which template your audience prefers the most.
Read more: 24 Essential Wix Apps for Websites in 2021!
How to Create and Embed your Portfolio Template on your Wix website?
The process of embedding your elink portfolio template to your Wix website is insanely easy! Just follow these four simple steps to create and embed your digital portfolio templates on your Wix website:
Step 1: Create a New Post
You can either choose to build your elink online portfolio from scratch or can use one of our awesome pre-built online portfolio templates. Either way, it's extremely easy to create an online portfolio in minutes!
Each template is responsive, so you don't have to worry about the appearance of your links on different devices with varying screen sizes. The best part is, you are not stuck with your layout. Come back at any time even and give it a new look. Even after it has already been published!
Step 2: Add your links
Next up, copy and paste links to your Behance, Dribble, client websites, or other sources you want to share with your audience and elink will automatically generate an image, a title and a short descriptive text regarding each link.
The best part is that you can change those titles and descriptions to make them SEO friendly and concise enough to get the viewer's attention.
You can even change the link image by uploading a new one or zoom in or zoom out of the current image to display the best possible view.
Step 3: Select Header and add a catchy image, title & introductory text
Here you can customize your header and description using Heading Sizes, Bold, Italics, Hyperlink, Justification, Bullet points, Numerical list. That intro text is a great way to build authority, get your audience engaged with your content and it's great from an SEO perspective.
Step 4: Design and Customize
It's important to add your own design elements to the content you create. In addition to header images, header text formatting and visual weblink formatting, elink allows you to:
Change the primary color.
Update your heading font style
Choose your body font style
Update your Call-to-action button text on templates
Choose a font that is highly visible and blends in well with your overall website experience.
Step 5: Publish!
That's it, you've created your online portfolio and it's time to hit publish!
After publishing, go to your dashboard. You can click on the "embed" button to embed the online portfolio on your Wix website by copy and pasting a code. The portfolio would appear seamlessly on your Wix website and will feel like a part of your website. Alternatively, you can even share this online portfolio as a newsletter or as a stand-alone web page on social media.
PS: You can make live changes to your elink even after you have hit "publish".
Over to you!
Everyone should create an online portfolio and showcase their creativity and hard work. However, it doesn't have to overwhelming. We, at elink, have made sure that creating a Wix portfolio is as easy as copy-pasting a bunch of links and clicking "done"!
With our visually appealing and responsive templates, you can create an online portfolio in under 10 minutes with ease. So what are you waiting for? Try elink for free today and build your Wix portfolio in minutes!
Further reads:
How to Add a News Feed to Your Wix Website in Minutes
How to Write an About Me Page (15 template examples included)