Whether you are going to build a website or have one already, it is undoubtedly a priority for you to advertise it, and digital marketing should be at the forefront of your thoughts.
It's a rapidly evolving field, which is why you must remain informed and up-to-date on the new resources available to you and modify your website as per the most recent trends in the market.
If you're looking for the best blend to bring to your Wix website, Wix integrations are everything you need to get your website out into the world. From monitoring the effects of your web promotions to capturing details about your visitors' engagement, Wix marketing integrations do it all.
Have you ever thought about what does the term marketing integrations stand for? Well, wait no more!
What Are Marketing Integrations?
Did you ever find yourself working on a project where you had to shuffle between multiple applications and software? Maybe you had to import data from several different sources or rewrite the same content repeatedly.
While few people have the time or energy for this kind of job, some find it tedious and too time-consuming. However, it is essential to conduct these repetitive tasks for the survival of your company.
What if there was a way to link the software to the applications you use in a way that ties them together successfully? All the data would reside in a centralized location with no manual entry needed, even though the program itself doesn't necessarily come with such applications. Sounds interesting, right?
Well, there's some good news! There's a solution, and it's called integrations.
Integrations may sound like a complicated term altogether to comprehend. So, let's ease out this idea with the aid of a simple example.
Let's say you want to use an adapter cord to plug your laptop into your TV so you can watch re-runs of your favorite shows on Netflix. So if your laptop is the software, you're going to use a cord, or integration, to watch the show on your TV or smartphone. The TV or smartphone here is the application.
Now let's answer the most commonly asked question: Why integrations?
When the organization expands and develops, integrations solve and simplify your need for new software. By merely adding ties to third-party applications to boost device capabilities and include additional features you need but cannot create inside your program.

They encourage you to allow your enterprise to execute a much wider variety of activities on your software by enhancing collaboration ties through your applications while developing its features. This is extremely useful when the organization grows as your needs are likely to evolve.
What are the available options for Wix integrations? We've curated a list of the ten best Wix Integrations to cater to all of your needs.
List of Popular Wix Integrations to Market your Website
There are various kinds of Wix integrations, each with unique features to satisfy particular criteria better. If you are looking for the right mix to add to your website, here's a list of the most effective Wix marketing integrations that'll ease out the process for you.

elink is one of the best Wix integrations and a must-have tool for all Wix website owners. With over 50+ fully responsive grid style and carousel layouts, elink allows website owners to build curated pages around any web content and embed it on their Wix website in minutes. You can build press pages, eCommerce pages, resource pages, knowledge base pages, news feeds, etc.
Simply add links to the web links for images, articles, products, videos that you want to create a page around on elink and elink will build you a beautiful responsive page that you can embed on your Wix website. Updating your page with new content is super easy with elink's chrome extension or the web app.
Key Features of Elink and Wix integration:
elink.io can help you develop web pages around news stories, clients, ebooks, PDFs, cloud files, tools, press mentions, etc.
It will help you keep the pages of your website up to date. Just drop all of your web links into the content editor of elink, and it will create a beautiful visual tile that automatically shows an image, title, and summary.
Elink comes with over 50 pre-built layouts to choose from which you can further customize to match your website theme.
Elink also helps you build newsletters for your website subscribers.
Elink has a full-fledged bookmark manager to save all your link in the most organized way with folders and smart search built-in.
To check out more on this wix integration view this video tutorial.
Read more: 24 Essential Wix Apps for Websites in 2021!
Hubspot is a platform for inbound marketing and sales that helps you to handle your digital marketing campaign in one place, including social media marketing, content management, website analytics, SEO, and so much more. Integrating the Hubspot monitoring pixel on the website is easier than ever.
Hubspot is just the right tool to:
Track user interactions and gain a variety of other invaluable customer-based insights.
Quickly produce leads without a single line of code, with Hubspot Popups and Livechat, as well as Wix Types.
Sync your contacts to the CRM of Hubspot immediately.
Introduce you to in-depth awareness of your existing and prospective customers: what sites they accessed, what forms they sent, and what goods or services they were looking for.
The next Wix integration on our list is Google Analytics. It provides a massive amount of invaluable visitor feedback with which you can:
Track anything relevant to website traffic.
See the overall number of site visits and page views you have received, where they come from, how long they hang around, and what keywords they used to get to your site by directly linking it to your Wix website.
One of the easiest ways to perfect your promotional efforts is by Facebook Pixel if you have an eCommerce website. You should consider using this marketing resource long before you plan an ad campaign.
It automatically starts gathering intelligent data from visits to the website.
This knowledge would help you create a smart remarketing audience and the best possible custom audience, monitor general or individual conversion events, and conduct ad retargeting.
Whether a site user has visited a product listing, attached a product to their cart, or made a transaction can be easily seen.
This is a remarketing tool, which means that it helps you reach an audience that has already viewed your website. With Google Ads, you will be able to:
Begin targeting the market further by promoting them depending on their position and other criteria that you set.
You can also entirely modify your ads using text and picture messages along with the budget you want to spend.
Save time and start targeting clients who are genuinely looking for what your company provides.
Yandex Metrica is a method for website review that lets you measure the effectiveness of your advertising campaigns. This is achieved by building reports and monitoring sessions of the actions of your website users.
With the help of this Wix integration, you can see precisely where consumers come from, whether it's the traffic source or the system type.
You can also visit their age level, time spent on your web, bounce rate, and so many more helpful results.
You can again watch live video clips of browsing encounters to put yourself in your visitors' mood truly.
VWO, or Visual Web Optimizer,' is a Wix marketing integration that can be used to:
Improve your interaction
Find information for your clients.
Test ideas.
Compare two iterations of a webpage to see which one does better on your website.
Here is another method for website optimization that does a fantastic job of digging deep into a customer's experience on your website. You would be able to:
Guarantee that the CTAs are running,
Reorganize and prioritize content by heatmaps, session recordings, and
A/B checking, detect website vulnerabilities.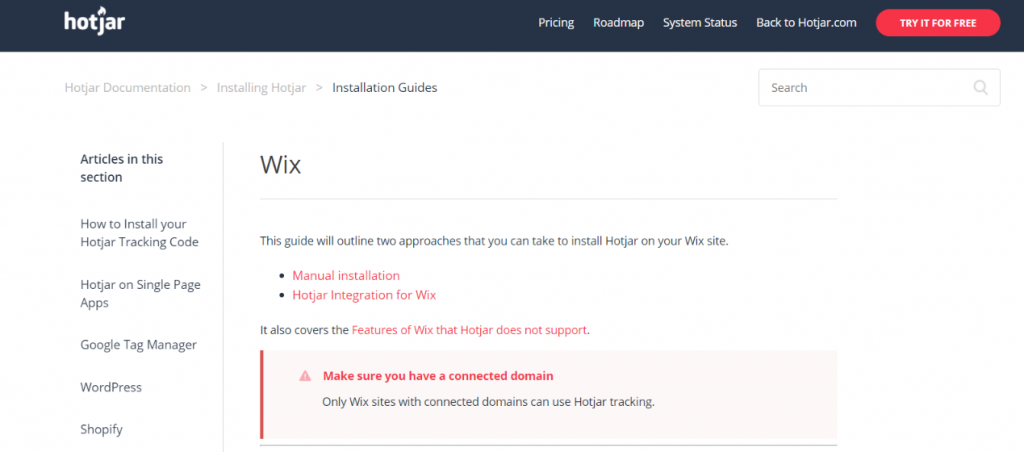 Visualize the actions of tourists to your site with Hotjar. Along with several other analytical elements, this is another marketing resource providing heatmaps. You can:
See in-depth data for heatmaps, such as how far the average user scrolled on your web.
Break the records in the form of a computer and even export them to share with others.
Enter the pages that cause tourists to leave or turn to clients through its conversion funnel feature.
Analyze your website types, as well.
Conclusion
Wix integrations can strengthen all facets of your business. Integrations help automate your processes, maximize your activities, and inspire your fellow workers.
No matter what software you use to run your company, having the right set of tools shall help you do your job effectively and efficiently. So, find the best marketplace for integration and start linking the applications right away!
Please share your experience with us in the comments below!
Further reads:
Create an Awesome Looking Wix Portfolio in Minutes with elink!
How to Create Press Coverage Pages for Your Wix Website?
How to Add a News Feed to Your Wix Website in Minutes?