There are so many DIY website platforms now that help you put a website together yourself. One such popular all-in-one website builder is Squarespace.
Squarespace has all the necessary tools to showcase you in the best possible light, make you look professional, and wow your potential clients.
But, there are still many things you can do to improve your Squarespace website, like embedding an RSS feed into it. However, adding an RSS feed to your website is difficult. Adding customized RSS feed content to your website is more difficult. 🙂
Luckily, there is a content curation tool out there that makes it super easy to embed an RSS feed into a Squarespace website. We're talking about elink.io.
But, before we tell you all about elink and how it works, let's first explore the advantages of adding an RSS feed to your Squarespace website.
3 Reasons Why You Should Embed an RSS Feed into your Squarespace Website
1. Creating Original Content Every Day is a Task
When you're publishing content online, consistency is the key. If you do not share fresh content on your website/blog regularly, people will turn to the blogs that do.
Basically, you need to create quality content regularly to keep the readers happy and engaged – which requires a ton of time, effort, and energy.
That's where RSS feeds come to the rescue! One of the most solid ways to keep your Squarespace website thriving with fresh content is by embedding an RSS feed into it.
Adding a curated RSS feed to your website is the smartest way to share amazing content quickly. Yes, you don't need to spend time creating content from scratch!
Just pick the best and most relevant websites in your niche, subscribe to their RSS feeds, embed their feed into your website, and voila! You have brand-new content on your website.
Read more: How To Add Newsfeed to Your Squarespace Website?
2. Organize the Information Overload
We're living in the times of information overload. The internet is bursting with articles, videos, studies, and much more on any topic that you can think of.
This is probably why knowledge workers spend roughly 2.5 hours every day, or 30% of the workday just searching for the information they need. 💁🏻‍♀️

Well, RSS feeds are an excellent way to solve the problem of information overload for your readers, and become their trusted avenue for information on a specific niche.
For example, if you're running a blog on climate change, you can embed RSS feeds of other popular environmental blogs and sources on your Squarespace website.
This way, the reader will eventually understand that they can head over to your website for all the information and updates regarding climate change.
3. It's Extremely Easy to Create a Squarespace RSS Feed
You probably already keep up with all the latest blogs, news, updates, opinion pieces, videos within your industry.
Now, imagine handpicking the best out of all this web content, and turning all those web links into a visual collection that you can embed onto your Squarespace website.
Each of the visual web links would redirect your reader to the original piece of content. Oh, and what if you could also customize the title, description, and image of every weblink and make it even more engaging?
Once you're done, you can embed the stunning curated page in seconds! Curious to know how you can actually perform all these magical things? Let's find out.
elink.io – The Best Way to Curate and Embed Content to your Website or Blog
elink is, by far, the best way to curate and embed content to your website or blog. This amazing RSS reader allows you to compile RSS feeds of the publications you love the most.
Users can choose from an unlimited number of RSS feeds and make sure they never miss out on new stuff from their favorite blogs and websites.
You can quickly filter and search for articles based on keywords and sources, and discover & curate content. Once your feed is populated, you can click any headline to read more about the article.
You can click further to read the entire article on the publication's website. elink has an easy to read and distraction-free interface with over 50 layouts to choose from. The best part you can change layouts with a click of a button without having to start from scratch.
Apart from being an awesome RSS reader, elink is also amongst the best content curation tools out there. You can use elink to bundle articles directly from your RSS Feed Reader and create professional email newsletters, single web pages, and web content.
elink also allows you to update the titles, descriptions, and images to add your own voice to the content you're sharing and can even update your content after it has been published!
What's more? Elink saves you your precious time by automating your content creation and publishing process. Just pick the RSS feeds of your choice, and elink will generate content for your website automatically. You can select filters and keywords to make your content more relevant and engaging.
All-in-all, elink is not only a great RSS reader but is a dream tool for anyone who creates and distributes content online.
Read more: How To Create Press Page for your Squarespace Website?
How to Create a Squarespace RSS Feed Using elink (Step-By-Step)
Step 1: Go to the RSS Feeds tab
Head over to elink, go to the ' RSS Feeds' tab that is located at the top of your dashboard. This is your RSS feed reader. Just click on the "Add RSS feed" button on right and look for your favorite publication.
Once you find it, click on "add feed". You can add as many publications as you want here.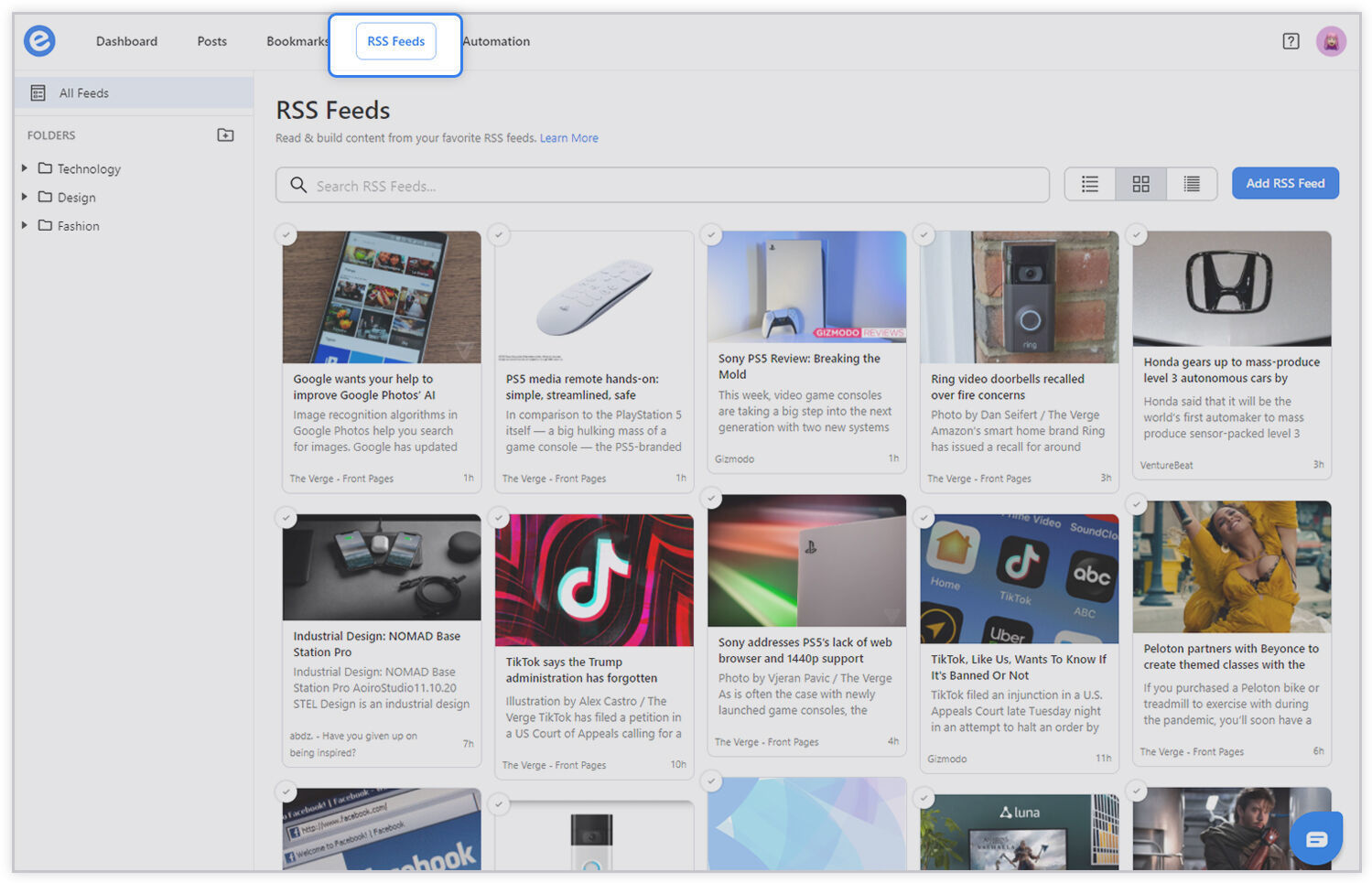 Step 2: Bundle Links
Now, click on the checkbox next to any article you want to bundle and create content from. You can add a maximum of 25 links at a time.
Step 3: Build Post
Once you've picked the articles you want to show up on your website, click on the "build post" button at the top. You will now see all the links displayed in a beautiful tile layout.
Step 4: Edit What You Want
The best part about elink is that it lets you customize every aspect of your content.
By clicking on the "edit pencil" icon, you can change the image, title, and description of any post. You can also swap the links and display them in whatever order you like.
Step 5: Add Header
We know that a compelling email header design decides whether the reader would read your entire newsletter or bail on it. That's why we've given you the option of designing your header body the way you want.
You can add images, text, bullet lists, numbered lists, buttons, social icons, and dividers in your header body. elink even lets you choose from over 6 font sizes for your header body.
What's more? You can also use elink's Canva integration and design an eye-catching banner directly in elink.
Step 6: Add Footer
An email footer is a place where the recipients would look for details about your brand. It is a place for transparency, clarity, and good design – exactly what elink provides.
You can add images, text, bullet lists, numbered lists, buttons, social icons, and dividers in your footer. Moreover, you can link the social icons with your own social media accounts in seconds.
Step 7: Choose a Layout
Head over to the layouts tab and pick a layout from the plethora of choices available. Each layout is fully responsive, so you don't have to worry about how it'll look on different devices.
Don't worry, you won't be stuck with the same layout forever. You can come back and change your layout, even after it has already been published!
Step 8: Publish and Embed!
After clicking the publish button, you'll see a sidebar showing the various ways in which you can share your RSS feed content. Since you want to embed the RSS news feed content on your website, just scroll down to the 'Website Embed' option. Copy the embed code, paste it wherever you want on your website and your content will show up on your website beautifully.
There's More! Check Out elink's Power Post Feature.
Remember when we told you that elink saves you your precious time by automating your content creation and publishing process? Using elink's power post feature, you can automatically update your website with the latest content. Let's learn how to do it step by step.
Step 1: Open up elink and click on the 'Post' tab. Then, click on the 'Create New' button and select 'Power Post' from the dropdown menu.
Step 2: Now, choose between a 'Blank post' or a 'template'.
Step 3: Now, you'll see a source section. Choose whether you want your content to be updated from an RSS Feed, RSS folder, or a bookmark folder. Once you select an RSS feed folder, you'll see its content appearing on the right-hand side. When you update the source, your elink post will be updated too!
Step 4: Now, set up content filters and include keywords of articles that you want to show up on your website and exclude keywords of articles you don't want to be shown.
Step 5: You can choose between the 'Best Results' or 'Most Recent.'
'Best results' places a priority on keywords first and then the time the article was published.
Most Recent places a priority on the time an article was published and then the keywords.
Step 6: Now, go to the 'Layout section' and choose any layout. Your content on the right-hand side will instantly change. You can quickly update the layout even after you embed the RSS news feed on your website.
Step 7: Go to the 'settings' tab and add your own voice to the content you're sharing by changing the theme color, text color, background color, font, etc. You can also choose the maximum links you want to be displayed on your post and change the SEO settings.
Step 8: Once everything is done, click on 'Publish'. A pop-up will appear allowing you to customize your URL. You won't be able to change it once it's published, so make sure that it's perfect!
Step 9: It's done! Now just copy the embed code and paste it on your website. The content on your website will automatically update without you having to break a sweat. Awesome, right?
Over to you!
Now, you have got more than enough reasons to embed an RSS feed into your Squarespace website.
Firstly, with a Squarespace RSS Feed, you'll be able to deliver a fresh stream of content every day. You will never ever have to stress about developing content from scratch every other day.
Secondly, it's SUPER easy to add an RSS feed to your website. All you need is elink.io. So what're you waiting for? Sign up on elink and take your Squarespace website to the next level.
If you've got any queries, hit us up on Twitter @elink_io. We'd be happy to help you out. Good luck!
Further reads:
9 Squarespace Integrations You Must Know About!
Top 13 Squarespace Plugins and Extensions You Must Have!
Grid Generator: What is it & How to Use it to Create Layouts?
Top 10 RSS Feed Widgets For Your Website!
How to Automate Content (And Why You Should)
Repurposing Content: What is it & How to Do It?