Have you noticed how words like "discount" or "limited offers" have this magical effect on people. These words attract customers like magnets attract metals.
And there's no escaping them. One moment you're walking past a store and then the next moment you are walking out with 4 shopping bags in your hands.
It's the same with online shopping as well. 50% off? Yes, please! 6 hours only? Bring it on! And before you even know it, the purchase is done!
And that, my friend, is how you get targeted by a flash sale. Don't know what we're talking about?
Well, in this blog we will cover everything you need to know about flash sales, their importance, and how to run one. So quit waiting around and just scroll down!
What Exactly is a Flash Sale? (Definition)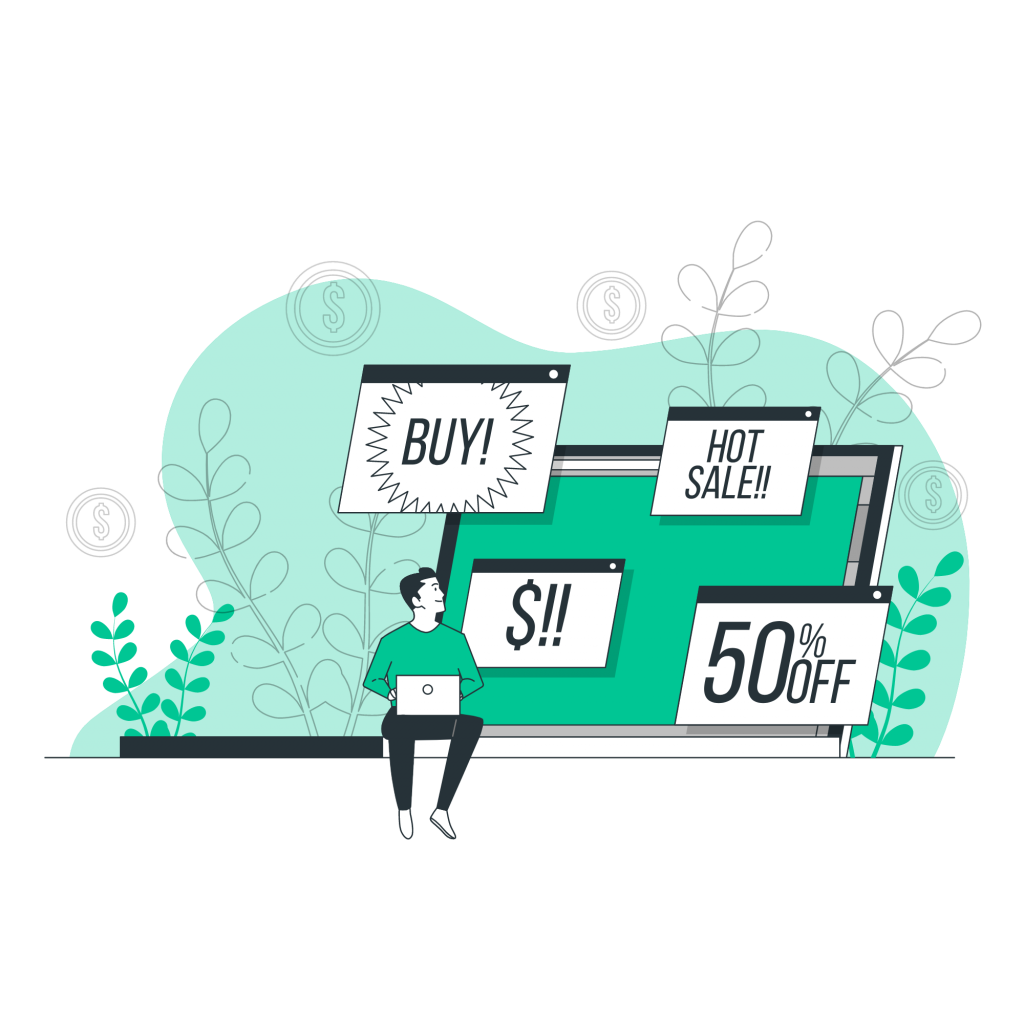 A flash sale is when a shop or online store offers discounts and promotions for a short period of time. Here, the number of products offered is limited and is provided within a small window of time.
Basically, it's a sale that's here and then gone in a flash! Makes sense?
The idea is to provoke people's impulse buying tendencies by enticing them to buy your products on the spot without too much thinking. It's also a clever marketing technique that heavily relies on your FOMO (fear of missing out).
What's in it for you? Increase in sales and revenue AND clearing off some extra stock! Now you must be wondering: Isn't that what regular sales also do for your business?
Well, newsflash: Flash sales are different from your regular sales in 3 specific ways.
The discounts and promotions in a flash sale are usually higher than your business' regular offers.
The duration of a flash sale is much shorter than your normal sales time frame.
And lastly, only a limited selection of products is up for grabs in a flash sale!
But, how useful is this technique? Does it really reap any benefits? Is it really worth a try? All these questions will be answered in the next section. So without further ado, let's dive right into it!
Benefits of a Flash Sale
Flash sales are so 'in' right now. And nobody can resist one when they see all the amazing deals. As a matter of fact, more than 64% of consumers actually wait to buy things until they are on sale. Awesome, right?
Now, if you are in the e-commerce business, then we've got some drool-worthy statistics for you:

All these numbers are pretty convincing, but you must be still wondering HOW exactly a flash sale is beneficial for your business. Well, here's how:
1. Clears Old Stock and Makes Room for New
A flash sale is a great way to clear out all the excess inventory that has been sitting in your warehouse longer than you would like. All the out-of-season, unsold, and low-demand goods can be put up at a discount rate and customers will come dashing in to buy it all.
Clearing off old stock will not only help you lower your operating and inventory costs, but also regain some of your initial costs. In addition (quite literally), it will also make room for fresh and newer in-demand products.
Read more: Best Lead Generation Software to Boost Your Sales
2. Improves Brand Visibility
A super cool thing about a flash sale is that it is a hub for irresistible offers. The time restriction and urgency involved in the whole deal converts people into customers immediately.
This urges them to share the offer with their friends, family, colleagues, and sometimes even on their social media, giving your brand double the visibility than before!
By doing so, flash sales not only increase your brand awareness and visibility but also attracts new customers in the process.
3. Boosts Revenue Quickly
According to Social Marketing Fella, flash sales generate a 35% increase in transaction rates. This means that you are selling a lot more than your average day.
Because flash sales are known for fast purchases by customers and that too in larger quantities than normal, there is a tremendous increase in revenue at a much quicker pace than your usual days.
This short-term increase in sales can boost your revenue quickly, thus helping you optimize your profits and growing your business.
4. Improves Brand Loyalty
If you want to improve your brand loyalty, then you have to show your existing customers that you care about their experience. And a flash sale is a great way to give back or reward your customers with amazing offers!
With a lower cost at a limited time frame, people feel lucky and special to get a great deal. This will make them come back for more in the future.
So, the more flash sales you have, the more likely your existing customers are going to stick around. Now, that we've seen the impact a flash sale can make on your business, don't you want to try your hand at running one?
Time to take a look at how to conduct a successful flash sale. Let's go!
How to Run a Successful Flash Sale?
If you thought that you could easily conduct a flash sale by simply announcing one, then you are wrong, my friend! There are certain steps you need to follow if you want to reap the positive benefits of a flash sale.
Don't worry, we've got it covered! Here they are:
1. Define Your Goals
The first step in any plan is to define or determine your goals, and flash sale is no exception from it. Since a flash sale can help you accomplish multiple things, you need to narrow it down to your main objective. Focusing on your goals will help you choose which products to use for the deal and how to put them out for sale.
So ask yourself what you aim to achieve. Do you want to clear off old stock? Or improve sales for poor-selling products? Or drive traffic to your website? Or improve business during low season? These are important questions that will lay down a clear path for you to focus on and also help you measure your success.
Read more: Viral Marketing: Definition, Benefits, Techniques & Tools!
2. Choose Your Target Audience
It's always best to have a target audience in mind before jumping into any sales or marketing adventure so that your goals align with their needs.
By focusing on a target audience, you can reach out to your customers more effectively by tailoring your flash sale in a way that meets their needs and wants. This will also make it easier for you to develop a message or create hype around your flash sale.
3. Select the Right Products
The next step towards creating a flash sale is to choose the right products for it. This is very important because the products you choose help to get you long-term buyers. So, you have to make sure that the products you select for your sale align with your target audience or vice-versa.
You must also select the products according to the goal you seek to achieve. For example, if you aim to create brand awareness, then you can pick your signature product or if you aim to attract new customers, then you can choose a product popular with your competitor's audience.
4. Promote Your Sale
The best way to maximize your sales numbers during your flash sale is to ensure that you actively promote it even before it begins! You can do this by reaching out through social media, emailing your target audience shortly before the sales, creating countdowns, sending web push notifications, etc. This will help create exposure and build up the hype needed for your flash sale.
Another important aspect of your sales promotion is to make sure that you phrase it right! Saying something like "Get 50% off!" or "Save 50%!" will make your audience feel like they are either gaining something or avoiding a loss. This is also where you try to play with your audience's FOMO to your advantage in order to ensure that they don't miss out on your awesome flash sale!
5. Restrict the Time
The whole point of a flash sale is to start a sale and end it in a flash! This means that you restrict or limit the time of your amazing deals. Ideally, it shouldn't be more than 24 hours. This short window of time creates a sense of urgency and rush which provokes or pressurizes the people to impulsively buy at the spur of the moment.
So, it is important that you create FOMO by limiting time. Statistics show that three-hour sales have the highest transaction rates – 14%! This means that the shorter the duration, the better it is for your sales because most people have this irresistible urge when it comes to offers especially when they see that they are time-bound.
6. Check Your Stock
The last thing you want to happen in your flash sale is for your products to be sold out too fast. There are studies that show that more than 45% of flash sale items sell out even before the sale ends. This can really have a negative impact on your brand.
So, it is extremely important that you check your stock to see if you have enough products before starting your sale. Calculate the approximate number of products you will need or get help from a logistics company to determine how much product you'll need to make your flash sale a successful one.
7. Get Ready for Delivery
Now, this step applies if you are an e-commerce business or an online store. You have to remember that your flash sale doesn't just end with an increase in revenue for your business, you have to ensure that you deliver your products as soon as possible.
That's why you need to be prepared in advance for mass shipping and delivery so that you can provide a seamless experience for your customers! Any delay in deliveries or shipping, then you can kiss goodbye to your customers, especially the new ones.
Follow these steps and you'll be able to conduct a fantastic flash sale for your business!
Elink.io: Perfect Tool to Help You With Your Flash Sale
Promotions are extremely crucial if you want a lot of people to participate in your flash sale. For that, you will need to send e-newsletters to your audience. Not just that, you need to ensure that you incorporate the flash sales to your website!
What if you had a tool that could help you with both?
That's why we present to you elink.io, an amazing all-in-one, content curation tool which helps you create beautiful and responsive webpages, and design product newsletters with just a few clicks. You can create a collection of products, embed it on your website, and simply start selling your products on your flash sale!
Just add links to articles, videos, images, etc. that you want to share as a part of your web page/newsletter and elink will automatically convert your web links into visual blocks with a picture, title, and a short description. You can further add a header, an intro text, your company logo, and tagline.
Elink allows you to choose from over 50 different templates to create and design your product newsletter or web page. This means that you don't have to think about the design aspect and you can completely focus on content.
These web pages can be updated in real-time. This is great for your flash sale because it means that you can come back any time and keep adding and removing products without having to create new pages each time.
Head on to elink without any doubt because elink has got your back!
Conclusion
A flash sale may be short-term in nature, but it definitely creates a long-term impact on a business.
With the right steps, you can reap positive results and turn this marketing technique into a money-making machine!
And now that you know everything you need to know about flash sales, it's time you put on your flashiest marketing hat and get down to business!
Hurry up and good luck!
Further reads:
30+ Newsletter Ideas For Curated Content!
Market Reach: Tips to Improve It For Your Business
What is Outbound Marketing & How Does it Work?
How to Sell Affiliate Products in Minutes | Social Media, Email Newsletter & Blog
Effective Ways to Use Social Media to Promote Your Content
Build Brand Awareness With These 9 Quick Yet Effective Ways
How To Promote Your Store On Instagram & Increase Sales