"Emails have an ability many channels don't: creating valuable, personal touches."
Email marketing is getting exponentially bigger and bigger each passing day.
And it'd be quite mindless to not leverage it to grow your business because people love emails!
Let me indulge you into some statistics about just that –
73% of millennials identify email as their preferred means of business communication.
91% of shoppers want to hear from companies they do business with via email.
And as much as email marketing automation has been of great use to direct the emails you create to the right audience at the right time, it's just as important to have an email that derives action from your customers by attracting them.
Gone are the days of plain boring texts on a white sheet!
Now you need to visually capture your audience – visuals increase the desire to read content by 80%.
And to do just that you need email template builders!
There are dozens and dozens of email template builders out there.
How do you choose one? Well, it isn't a walk in the park, but we've cherry-picked a perfect list of 11 top-performing and outstanding template builders.
We'll get to it in just a second but first, let's understand what exactly an email template builder is in the first place.
What is an Email Template Builder? (Definition)
An email template builder is a software that offers you a variety of ready-made templates for your emails.
You can customize these templates as per your company themes and establish a unified look.
The best part is if you don't have any prior coding experience, and that is why this is such a lucrative offering for so many marketers.

You can create attractive newsletters within a few clicks, all done hassle-free.
Such a strong support software, will save you time and give you results that will maximize the benefits received.
Bearing all this in mind, let's check out our list of email template builders to get you started…
11 Effective Email Template Builders You Need
1. Stripo

Pricing: $12.50/month
300+ pre-designed email templates, 10,000+ images for your emails, and an embedded photo editor, Stripo is the complete package!
All these templates that Stripo offers are neatly categorized for easy access.
They also offer a free plan for 1 user, and with this email template builder, you can export your to Gmail, Outlook, or download it in a PDF format.
Key features:
Mobile Responsive
ESP Integration
Custom Modules Library
Advanced Tools
Automated Processes
Read more: 9 Best Email Cleaners in 2021 (Paid & Free)
2. BEE
Pricing: Starting from $15/month
Bee offers over 370+ responsive templates, 500,000 stock images, and tonnes of fun GIFs and stickers to choose from. No wonder it's a customer favorite!
They are also providing a 15-day trial to send test emails, and check out the basic features of BEE.
The best part of the paid plan is that you can collaborate with multiple team members at the same time.
Key features:
Fully-featured editor
Export HTML and images
Save unlimited emails
Multiple Integrations
Mobile-friendly designs
3. Elink.io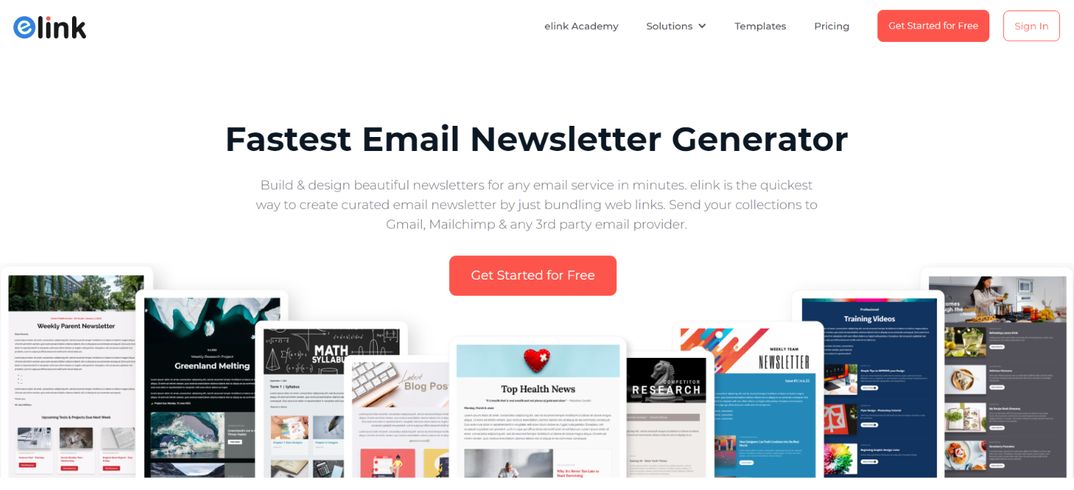 Building email templates has never been easier with Elink.io!
If you are someone who has no knowledge of coding whatsoever and needs an all-rounder email template builder to do all the heavy lifting, then trust us, Elink.io is your savior!
You can create content that is super appealing and catchy within minutes and rest assured that your customers are going to love it!
Need more reasons?
Here, let us tell you more about some of Elink's top features:
Fully Responsive Templates: All the templates are a sure-fire on every single device. Your customers will love the sleek and appealing design, no matter what device they view your email templates on.
Awesome Layouts: You can choose from over 70+ responsive layouts that can be interchanged with a single click.
Smart editor: Simply add the links you want to share and Elink will do the rest by creating modern and beautiful content with visual cards for each link that can be edited as per your unique needs.
Fast customization: Customize the look and feel of the content you are creating to match your design theme. You can change fonts, colors, button text, etc.
Shareability: You can send your email templates across nearly all 3rd party email services, like Gmail, MailChimp, Constant Contact, Aweber, and more.
And just when you thought this was all, Elink is also offering a free plan to get you started with some of its basic features!
There is literally not one reason for you to not give it a try! Nada!
4. MailChimp
Pricing: $9.99/month
For anything email marketing, MailChimp has established itself as one of the top names in the industry.
You'll love it because of its simplicity and flexibility. With better scaling, you'll be able to find additional options and features, as per your growing needs.
MailChimp also provides a free plan that has basic templates, marketing CRM, website creation, and more.
Key features:
Advanced social sharing options.
100+ templates
Integrations with more than 300 apps
Built-in editing tools
Add photos, gifs, and more to your templates
5. Postcards
Pricing: $18/month
Postcards is an intuitive drag-and-drop tool that helps you create personalized emails for your subscribers seamlessly.
With over 900+ google fonts to choose from and easy collaboration with your team, it is a great way to create templates using its content blocks.
Key features:
Unlimited exports
Long-term content management
Cloud image hosting
Export to your favorite ESP
Direct email preview
6. Unlayer

Pricing: Free
Unlayer is an absolutely free yet powerful email template builder where all you have to do is pick a template and get started! It's that simple!
They have over 100+ base kit templates to choose from. You can use their Chrome extension and directly integrate it with Gmail.
Key features:
Downloadable templates
Chrome plugin
Completely customizable
Version history
Easy to use interface
Read more: Reduce Your Email Bounce Rates using these 11 Tried & Tested Ways!
7. Chamaileon
Pricing: $20/month
A super clever name for a super clever email template builder, Chamaileon that helps you customize templates and work together, without any need for coding knowledge whatsoever.
A free plan is also available but users can export up to 5 created templates, only in HTML.
Key features:
Drag and drop email builder
Mobile responsive
1000+ built-in email blocks
Easy testing of new designs
Sleek editor
8. Mosaico
Pricing: Free
Mosaico is a drag and drop email template builder which is based on open-source software, hosted on GitHub. Mosaico allows you to realize beautiful templates, without a team of professionals and hours of testing to make it work everywhere.
It is totally free and although it has no pre-built templates available, you can easily create one using its tools,
Key features:
Responsive layout
Unique click-based design tool
Infinite flexibility
Global undo/redo system
Rapid graphic personalization
9. SendPulse
Pricing: $8/month
SendPulse offers a super-easy drag and drop tool to create responsive and highly customizable templates. You can insert social media buttons, Youtube videos, and all the other basic tools you may need to attract your customers.
It is also providing a free plan for 500 subscribers and up to 15000 emails, but you cannot export templates.
Key features:
Dynamic content
Mobile optimized emails
Drag and drop editor
130+ free templates
Spam checker
10. Moosend
Pricing: $8/month
Moosend is another great email template builder with multiple template options to choose from! You can then edit these templates as per your liking, preview them and send a test email too!
There's also a free plan available to send unlimited emails for up to 1000 users!
Key features:
Fully responsive templates
Video email marketing tools
Super customizable templates
Custom fonts
Integrations with Giphy, Google drive, and more
11. MailerLite
Pricing: $10/month
MailerLite is a super affordable email template builder with more than 60+ free templates! If you want to create your own templates, you can do so too with their drag and drop editor.
You can insert images and control the settings like the colors and fonts and create a super-professional template.
Key features:
Video blocks with animated GIFs
YouTube email embeds
Send preview
Schedule sending
Strong email editor
Time To Get Creative!
Using an email template builder will create a cohesive look for your brand and leave all the fuss of coding and formatting out the door!
The list we've provided is a perfect mix that will fall right within budget and offer you great deliverables. This list will help you in the process of selecting the best one.
We believe Elink.io is one of the most pocket-friendly, catchy, and robust email template builder tools on the list and you should surely give it a try!
And now we hand over the baton of making the final decision to you – Good luck!
Tweet us @elink_io and tell us about your experience with these email template builders, we'd love to hear from you!
Further reads:
7 Types of Emails You Must Send to Your Customers!
11 Email Verification Tools to Check Out in 2021
Email Deliverability: What is it, Why it Matters, and Tools You Can Use!
The 10 Best Email Marketing Automation Tools Out There
RSS to Email: Create Automated Email Newsletters Using RSS!