Riddle time: Love 'em or hate 'em – you can't avoid them, especially if you're a marketer.
Yes, we're talking about emails. That was a very easy one, we know. We'd try to come up with something a little difficult next time. In the meanwhile, let's talk about emails.
If you're a marketer, you absolutely can't avoid emails – whether it's the ones you get from your boss asking you about the progress of your marketing campaign OR the ones you need to send to the people on your mailing list.
We agree that the former is very important and you absolutely can't afford to miss it, but the latter might make or break your marketing efforts – which makes it even more crucial.
See, it's not enough to create a mailing list. You need to make sure that the people on your mailing list are getting what they signed up for – good, informative, valuable emails.
Now that brings up the question: what the heck should you send to the people on your mailing list? And how do you make sure that the 61% of consumers who enjoy getting promotional emails weekly – keep enjoying it?
Well, that's why we are here, folks. We'll tell you about some really cool types of emails that you should definitely send to your customers. Thank us later.
List of 7 Types of Emails You Should Definitely Send To Your Customers
1. The Welcome Email
When you go to a party (or used to, courtesy of the pandemic) – what's the first thing that sets the tone for you? The way you're welcomed, right?
What if you just go to the party and the host doesn't even greet you? He just points you towards the food counter. You certainly won't like it, even if the food is really tasty.
It's exactly the same with the people on your mailing list. They want to feel welcomed. They want to know that they're not just another name on the list.
The best way to do that? Send them a welcome email! Tell them you're lucky to have them as a subscriber, and you're excited to connect with them. Make them feel like they're a valuable part of your mailing list.
As the cliche goes – the first impression is the last impression. So make sure that your first impression aka your welcome email is THE best.
2. The Announcement Email
Something HUGE has happened in your business. You want to announce it. You need to announce it.

The most inexpensive way is to just go on the roof and shout it from the top of your lungs, but it probably won't reach many people. To be honest, it won't even reach the guy on the next floor.
So, how about using the next most inexpensive way? Announcing it via email! After all, half of the global population uses emails, so it's obviously a smart choice.
But here's something you need to keep in mind: If the announcement is really important and you NEED people to know it, you've to make sure that you make your email worth opening.
The best way to do that is by writing an enticing subject line. Write a subject line that people just can't avoid, no matter how busy they are. This way, your big news won't go unnoticed!
Read more: 11 Email Verification Tools to Check Out in 2021
3. The Free Gift Email
How many times have you picked up things you didn't even need just because you were getting them for free? Quite a lot of times, right? That's just human nature 101. We love freebies.
So, you can send out emails offering free stuff. These emails would definitely stand out in your recipient's inbox, resulting in more open rates! Not to forget, they offer instant gratification.
Also, people will be more bound towards opening your emails in the future as they'd expect something new and interesting from you every time.
To figure out what "free gift" your customers would love, you need to brainstorm and get in their minds.
If you sell a physical product, you can send a discount coupon. If you sell a service, you can send a free PDF, an ebook, or a trial version. The opportunities are endless!
4. The Special Offers Email
"This discount is just for you" – everyone loves hearing the phrase, including the people in your mailing list.
When you share special offers with your customers, it makes them feel valued. Special offers are charming and that's what makes these emails a marketer's best friend.
But, the thing is, an email talking about all the great deals and discounts that you're offering isn't enough anymore – even if you're offering a 99% discount.
You need to convince the reader why they need to spend the remaining amount. Tell them what makes your product special, why you're offering a discount and why they need to leverage the special offer.
Remember, a special offer email works – but only if you do it the right way!
5. The Testimonials Email
No one likes it when a company brags about itself. But, when someone else is talking about your company, please LOVE to listen. So, why not incorporate this social phenomenon into your emails?
We know you'd love to do it when we tell you how easy it is. Ask your current and previous customers why they love your products or service. Now, compile all these reviews into an email and send it off.
This way, you can "talk" about how awesome your product is, without actually talking about it yourself. Plus, you can build more trust in your product. It's just like killing two birds with one stone.
Bonus: You can also share case studies instead of testimonials. Basically, you can share stories of people who've used your product and how it changed their lives.
Usually, case studies are more engaging than testimonials because people LOVE to read stories. So you can leverage this love and make your emails a success!
Read more: Email Deliverability: What is it, Why it Matters, and Tools You Can Use!
6. The Exclusive Content Email
No one likes to miss out on things. We all have the fear of missing out aka FOMO. This is probably why the term "exclusive" is red-hot and the mere mention of it is enough to get attention.
When you send out an email that has "exclusive" content, your subscribers would be more tempted towards opening it, because they don't want to miss out.
That's why this type of email works SO well. It is like a window that lets your audience feel like they've got a peek at something really special.
You can use words like "Be one of the few" and "For a limited time only" to create this exclusivity.
See, if someone could do it any time, they probably won't be as interested in it. But if it's just for a limited time – it supersedes the need to carefully consider. Easy peasy.
7. The Newsletter Email
We've saved the best type of email for the last – newsletters.
If you're one of those marketers who think that newsletters are outdated or quaint – you can't be more wrong. Newsletters are still one of the best ways to keep your business on the radar of your audience.
We're not just saying that for the sake of it. We've got facts to back it up: (Source)
40% of B2B marketers said that e-newsletters are the most crucial part of their content strategy.
31% of B2B marketers say email newsletters are the best way to nurture leads.
Okay, so now that we have convinced you to give newsletters a go (Hooray!), let's find out how to rock a newsletter that people want to click through.
elink.io – The Fastest & Most Effective Way to Create Stunning Newsletters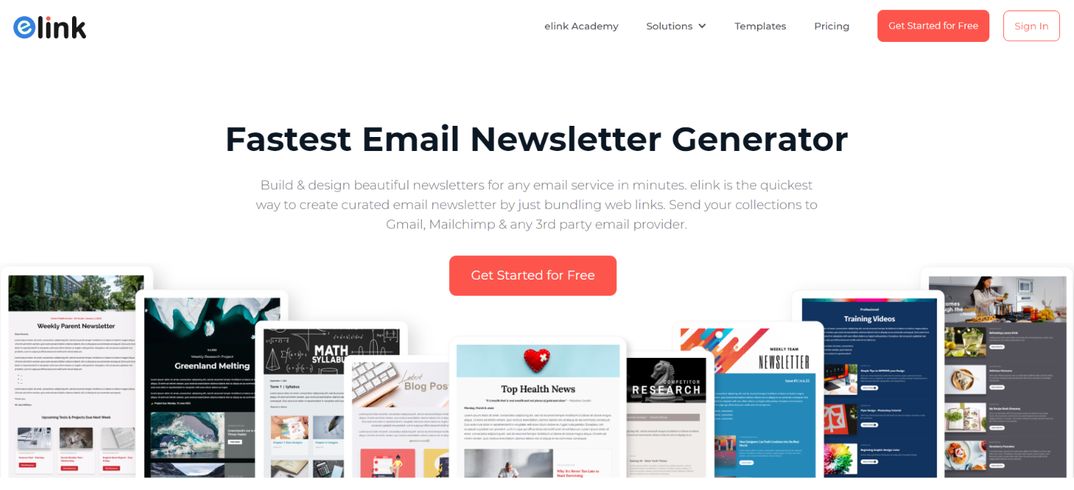 Let's be honest. You've got a lot to compete with in your subscribers' inboxes. A lot. That's why it's important for you to use a platform that helps you create beautiful newsletters that keep your audience clicking "open."
That's exactly what elink.io is – a powerful newsletter creation platform that is easy on the budget, simple to use, and comes with all the features you need to create and share a beautiful newsletter.
All you've to do is choose a newsletter template out of the plethora of fully responsive templates offered by elink and then, simply add links to the content that you want to share as a newsletter.
Yup, that's it! elink will automatically convert those weblinks into visual content and generate an image, a title, and a short descriptive text with each link. You can customize any of this information to add your own voice!
You can also hand over the heavy lifting to elink as it automates content creation for your newsletters. Just choose sources and add filters to make your content more relevant and effective.
You can then share your masterpiece via Gmail, Mailchimp, or copy the html code to any other third-party email marketing tool. Trust us, with elink the back of your pocket, creating newsletters would be a walk in the park for you.
Wrapping Up
There you go! Now start sending the types of emails we've shared with you and watch your email open rates rise.
Always remember: no matter how important the email is, most people won't open it if the subject line doesn't convince them to. So, always write awesome subject lines that grab attention.
Now, what are you waiting for? Go and rock your emails. If you've got anything to ask, just his up on Twitter @elink_io and we'd get back to you.
Cheers!
Further reads:
9 Best Email Cleaners in 2021 (Paid & Free)
6 Ridiculously Simple Email Marketing Tips For Content Marketers!
Improve Email Open Rates with these 11 Powerful Tips & Tricks!
Email Campaigns: What are they & How to Ace them with Steps!
How To Write A Gentle Reminder Email? (Steps & Examples)