Email templates for Gmail are a great way to save time and effort by helping you send beautiful emails faster. Below are some of the best Gmail html templates on the market right now. Learn how to create these html email templates and bring your Gmail newsletter game to a whole new level!
The first thing that comes to mind while talking about email is Gmail. Gmail came like a storm 13 years ago and washed away nearly all of the competitors. Yep, the Yahoos and Hotmails of the world got knocked right out of the ballpark.
Gmail has grown so much in popularity that it has almost become a synonym of email. Gmail helps more than a billion users every single day send and receive emails, making it one of the most popular email clients with a market share of around 20%.
Related Article: 30 Awesome Curated Newsletter Ideas
GMAIL IS GREAT & ALL, BUT WHAT ABOUT PRODUCTIVITY?
Did you know that email is THE most time-consuming activity of your workday? The McKinsey Global Institute found that an average employee spends 13 hours a week reading and responding to email. That's a staggering 28% of our work time. Nearly one-third of our time at work is spent in our inboxes. Let that sink in for a minute…
All the talk about technology and increased productivity seems gibberish once you actually get down to the facts.
BUT YOU CANNOT ELIMINATE EMAIL!
Email has become an indispensable part of our professional lives. From communicating with employees, clients, vendors, partners, and customers… everything involves the use of email.
Email plays a crucial role in our day-to-day business operations in the following ways:
Quarterly report sharing via an internal newsletter
Customer-centric external newsletters
Abandoned cart emails
Follow-up emails
and so on.
So the question arises- how can you not spend time on something that's so important to your business operations?
EMAIL TEMPLATES FOR GMAIL TO THE RESCUE!
What if there was an effective and time-saving way to send out those important emails? Well, today is your lucky day because there is a way out of this email madness…Gmail templates!
Gmail templates are easy to use and a lightning fast way to send out important emails and newsletters, without spending too much time in your inbox. We have a list of over 15 such fully responsive and visually appealing templates that will help you send out those emails quickly and increase your productivity 10 fold!
WHY EMAIL TEMPLATES FOR GMAIL ARE IMPORTANT
Gmail templates have a bunch of benefits that make them a must for sending out emails and newsletters:
1. It saves time
Gmail templates are basically the body of your email, ready to go. Just go in, insert your message and hit enter! Templates make it extremely fast to go send out emails and get back to work in no time. No need to compose new emails every time you want to send one out. Just pop in a template and you're good to go.
These Gmail templates are extremely useful for small and medium-sized businesses who neither have the time to compose visually appealing newsletters, nor the budget to hire a design and UX team to help them out.
2. Perfect for newsletters
Our Gmail email templates are designed to help you send out the perfect newsletter. This is extremely useful for the sales and marketing teams as an astounding 83% of them use email newsletters for their content marketing tactics. These templates are all mobile responsive, meaning that your newsletter is bound to appear good no matter which device the recipient views it on.
3. Professionally designed emails
Do you know that on average, a person receives 121 emails per day? Do you have a plan on how you or your brand is going to break through the noise and get your message across? In a world filled with constant notifications, you really don't have much time to capture your audience's attention.
The best way to capture the attention of your clients and prospects is through design. And the stats are there to prove it. According to Adobe, two-thirds of people would rather read something beautifully designed than something plain.
No matter how well-written, or extensively curated your content is, if your email looks bad, the majority would not like to read it. We have a list of 15 professionally designed and mobile responsive email templates that will make anyone look like a pro at design.
4. Consistency
Email templates help maintain consistency in your emails and gives a unique yet familiar feel to the recipient. Share your favorite templates with your team members and ensure that everyone is on the same page regarding the look and feel of the company emails and newsletters.
How to create these Email templates for Gmail
Alright then! Let's take a look at these amazing looking Gmail templates that will transform your boring emails into irresistible ones!
Email Newsletter Template #1: Sanur
Email Newsletter Template #2: Semniyak
Email Newsletter Template #3: Demow

Email Newsletter Template #4: Samui

Email Newsletter Template #5: Phi Phi

Email Newsletter Template #6: Siluk

Email Newsletter Template #7: Samui-X

Email Newsletter Template #8: Phi Phi-X

Email Newsletter Template #9: Ziro

Email Newsletter Template #10: Amaya

Email Newsletter Template #11: Phuket-X

Email Newsletter Template #12: Krabi-X

Email Newsletter Template #13: Kuta

Email Newsletter Template #14: Phuket
Email Newsletter Template #15: Keya

This is how your templates will appear in your Gmail. Awesome, right?!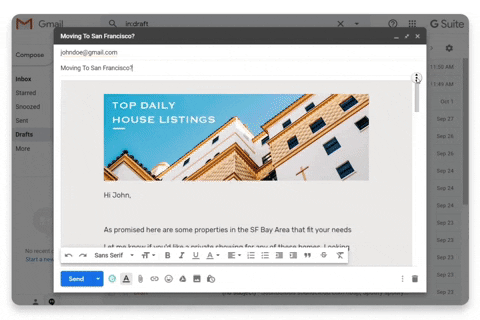 HOW TO USE THESE  EMAIL TEMPLATES FOR GMAIL
Just follow these simple steps to use these email templates in your Gmail account to send out newsletter quick and easy.
Go to elink.io and make an account. It's super easy to set-up and costs only 15-cents day!
Select any of the 17 templates for your email. Choose the best Gmail newsletter template with images to share with your audience. Don't worry; you can come back any time to update your layout. Yes, even after you have published your newsletter!
Add the links you want and elink will automatically generate a picture and a short description of the link, making it visually appealing!
Give your Gmail newsletter a title that's catchy enough to lure in your audience from the get-go! We recommend choosing the "Header 1" template to add a visual banner and short description of what the content is about. Format the text to make sure your audience does not miss out on any important information.
You can even personalize your Gmail newsletter by adding your brand logo and tagline.
Hit Publish. You'll come to your dashboard that shows your published content. Click on the newsletter button, and from there you can integrate with your Gmail account. Shoot over your email newsletter as a draft to your Gmail account.
Gmail templates allow you to send out professional looking emails and newsletters in the least time possible. Spend more time getting work done and less time in your inbox with these amazing Gmail templates.
Which one of these Gmail templates is your favorite? Comment below and let us know!
Don't want to forget this information?
Pin it for future reference!