In this blog post, we'll show you what the ideal Facebook cover photo size is and introduce you to Facebook's new cover video, and it's dimensions. We'll also help share some ideas with you on what type of content you can share on your Facebook cover photo or video to make it more attractive and engaging.
Facebook is too big to ignore!
According to Statista, there are over 2.45 billion monthly active Facebook users as of third quarter of 2019. And you thought Facebook was a fad, slowing down…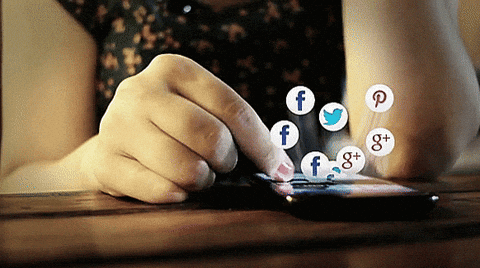 What does that mean for your business? Whether you like it or hate it, Facebook is still relevant and will continue to be in the coming future. Being the largest and most active social network on the planet, it can make or break your business depending on how you decide to leverage those 2.45 billion daily users.
Importance of Facebook Cover Photo:
The first and the most important thing you can start with is optimizing your Facebook cover photo. Your Facebook cover photo is one of the most, if not THE most important part of your Facebook page.
When someone lands on your Facebook page, the first thing anyone notices is the big, bold Facebook cover photo that takes up almost a quarter of your desktop screen. But why is it important?
You Facebook cover photo should be on point because:
It is your shot to make a good

first impression.

It represents your

brand

and your mission.

A pixel-perfect, well designed, and accurately fit cover image makes your business look

professional

.

A unique image makes you more

memorable

.

You can

show off

your design smarts and make your cover photo visually appealing.
Read more: Top Facebook Statistics Every Marketer Needs To Know
Importance of Facebook Cover Video :
What's better than a Facebook cover photo, a Facebook cover video!

Facebook has realized that video is the preferred way of consuming content by their users and has been encouraging people to upload and share more video content to drive more engagement.
In an official statement, Facebook said "By making the Facebook cover video available, we want to help you create more engaging interactions and drive a more rich experience for your audience by letting you spotlight your creative content in one of the most prominent spaces: your page cover."
A video can accomplish better results than a still photo and provides you with many more ideas to play around with. It is clearly a better medium to tell your story to your fans and visitors in a more appealing and engaging way.
Videos immediately grab attention and make your visitors stay for more time just to see the end of it, giving you time to grab visitor's attention.
What's the Ideal Size of a Facebook Cover Photo and Video?
In order to upload a Facebook cover photo that looks amazing, it's imperative to know its exact dimensions. Only then you will be able to upload a Facebook cover photo that is pixel-perfect and doesn't get distorted.
The following are the guidelines given by Facebook for the appropriate Facebook cover photo size and Facebook cover video size: 
Facebook Cover Photo Size:
For Desktop, your Facebook cover photo size should be 820 pixels wide and 312 pixels tall.
For Mobile, it is 640 pixels wide and 360 pixels tall. On mobile, the image appears to be a bit taller, showing more

of your image than it does on the desktop.
Facebook Cover Video Size:
Facebook cover video size is the same as the cover photo- 820 x 312 pixels. Cover videos can be between 20-90 seconds long.
Maximum resolution: 1080px
If you want to use the same image for both mobile and desktop, Facebook automatically adjusts the cover image or gives you the power to reposition your Facebook cover image without stretching the image to make it fit.
PRO TIP: Your Facebook Page's profile picture displays at 170×170 pixels on desktops, 128×128 pixels on smartphones, and 36×36 pixels on most feature phones.
What Type of Content Should I Share in My Facebook Cover Photo/Video?
Below are few content ideas for your Facebook cover photo/video:
Your company's tagline

: A catchy tagline can set the tone of your Facebook page and get visitors excited. A tagline can convey what your business stands for in a single line. Make it memorable!
Advertise events: Your Facebook cover photo is a great way of advertising your upcoming events, a conference or even a sale. It's a great way of ensuring maximum attendance.
Showcase your new product

: Uploading a photo or better yet, a video demonstration of your new product is a smart way to promote and gain exposure.
Show off your team

: People love to get a behind-the-scenes look at a company as it makes the company more human. Upload a team photograph from a recent event or a random office pics to humanize your brand and show the people behind it.

Drive Sales

: You can even upload a photo showing discounts on products or your upcoming winter sale to drive more revenue.

Our Company Photos:

As we said earlier, sharing company photos, especially your team, is an excellent way to humanize your brand. In this world of digitization and Artificial Intelligence (we see you Musk!), adding a personal touch to your brand goes a long way.
How to Create Facebook Cover Photos?
You can always use Photoshop by using the dimensions given above and start from scratch.
Although, if you are like the most of us who wants to stay as far away from the complexities of design software (sorry, Photoshop), you can use the following resources to create the best looking Facebook cover photo.
1. Take Help of Design Tools and Software: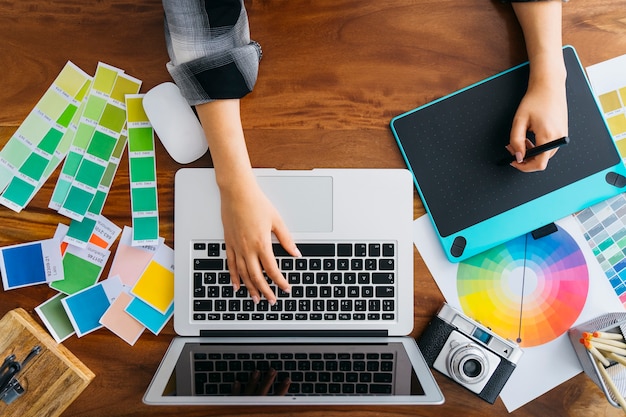 If you have a knack for design, but not the patience of complex design software, there are lots of easy to use and intuitive design tools out there that will make your life easier. Here are our top two picks:
Canva is easily our favourite design tool out there. Canva has pre-built templates for Facebook cover photos, Facebook ads or Facebook posts. Canva's templates give you many free and paid designs which you can easily customize to make it more personal.
PicMonkey

is another photo editor and design tool that you can use to create awesome looking Facebook cover photos. You can upload your own photos, use stock photos or their pre-designed templates for creating the perfect Facebook cover photo.
2. Use Stock Photographs from other free photos resource websites
There are numerous websites where you can find beautiful stock photos to use as your Facebook cover. Our picks have to be Pexels and Unsplash which have millions of stock photos in nearly any category you can think of.
You can even enhance the photos with text, your company logo or tagline by using designs tools mentioned above.
How to Upload a Facebook Cover Video?
Uploading a video as your Facebook cover is as easy as uploading a new Facebook cover photo.
Just click the camera icon on the top right corner of your Facebook cover photo and click on "change cover." You can choose a video from your video library or upload a new video to Facebook.
Best Practices and Final Thoughts:
Here are a few best practices everyone should follow to create the perfect Facebook cover photo:
Most importantly follow Facebook's guidelines regarding Facebook cover photo and video size and quality.
Make sure your Facebook cover photo or video is related to your brand and conveys a captivating message at first glance.
Use pixel-perfect, high-quality images and high definition videos if you are uploading a Facebook cover video.
Design your Facebook cover photo so that it aligns with the overall aesthetics and appeal of your page.
Double check to see how your Facebook cover photo looks on various devices– desktops, laptops, smartphones, and tablets.
Think outside the box. Make your Facebook cover photo or video unique and personal.
An engaging, high-quality Facebook cover photo can help draw visitor attention and generate a great first impression. With the ability to upload videos as covers, Facebook has opened up huge opportunities for you to get creative with your page and tell your brand's story like never before.
Make sure to follow the above-mentioned guidelines and best practices to create a visually appealing Facebook cover photo or video for your business page and attract more followers.
Do you have any Facebook cover photo tips? Share them below! We would love to hear your creative ideas and deploy them on our page too!
Good luck!
Further reads:
Don't want to forget this information?
elink it for future reference!