If you're a graphic designer, then you already know that the world of design is constantly changing. New designs, new trends, new techniques, new tools…the list goes on and on.
With so much going, it's can be quite a challenge to consistently keep up with all the latest news in the creative and design industry.
And being a graphic designer in this ever-changing world, you need to learn more, develop your skills and stay informed about the industry.
Here is where graphic design newsletters can help you out by consistently sending you curated design-related content into your inboxes.
So in this blog, we've rounded up a list of some of the graphic design newsletters to help you stay updated about all the latest design news and trends.
Ready to know about the different design newsletters? Then read on!
List of Graphic Design Newsletters!
InVision is a design workflow platform that is also known for sending weekly design newsletters with great design-related content.
Their design newsletter, Inside Design provides information about the profiles of designers making big waves in the industry, design companies and their work, and lots of resources and how-to guides about graphic design.
It also covers various design topics, offers tips and tricks for designers, and even provides comprehensive reading lists for design-related content.
Creative Bloq is an online blog that provides creative and design-related content. Their weekly newsletter delivers tips and tricks covering topics related to web design, graphic design, digital art, VFX, and more. This newsletter is also known for providing special offers and discounts to its subscribers.
If you're a professional web designer or a developer, then Smashing Magazine is an incredible choice for you. Their design newsletters offer various types of design-related content, tips and tricks for UX design, mobile design, and WordPress, and several tools and resources for designers. They also offer you a free eBook for signing up with them.
UX Design Weekly is a graphic design newsletter curated by Kenny Chen. It contains various articles, resources, tools, media, portfolios, and news that is majorly focused on UX design.
This newsletter not only helps you stay up-to-date about what's happening in the UX design field but also presents designers' portfolios, open positions in the industry, and even engaging stories.

Want to receive design lessons created by different design professionals each week? Then Subscribe to Hack Design, a design digest that offers design courses for you to learn.
Hack Design newsletter covers various design-themed topics such as responsive web design, vector interface design, mechanics of iconography, and many more.
ItsNiceThat is a popular creative blog that provides creative and engaging content online. They send out newsletters that contain all the latest design industry news, the round-up of project works over the week and the top 10 most-read articles of the week.
These newsletters are known for their emphasis on photos instead of text. Moreover, the blog also lets you edit your preferences to tailor your newsletter content.
7. The Design Kids
Are you a design student looking to kick-start a career in the design field? Then subscribe to The Design Kids newsletter. It provides all the latest interviews, tips, and resources from the world's design community, and conducts regular design-related collaborations, events, and exhibitions.
The Design Kids also offer connections, opportunities, and information on creative jobs from leading companies and studios from around the world.
Desk of Tobias van Schneider is a design newsletter that is appealing even to non-designers. Tobias is an award-winning designer who has worked for companies like Google, BMW, Red Bull, Sony, Spotify, and many others.
His weekly newsletters are known for being educational and inspirational. It contains design-related updates, insights, reading recommendations, and more. It's great if you are looking for personal experiences and stories.
Want a simple, yet informative design newsletter? Then we recommend Sidebar, a design newsletter that doesn't overload you with too much content. It provides you with just five essential links per day, on topics broadly related to UI and UX design.
Now that you are equipped with some of the best graphic design newsletters out there, what if we told you that you could create your own in just a matter of minutes!
Don't believe us? Then scroll down!
elink: The Fastest and Easiest Way to Create Newsletters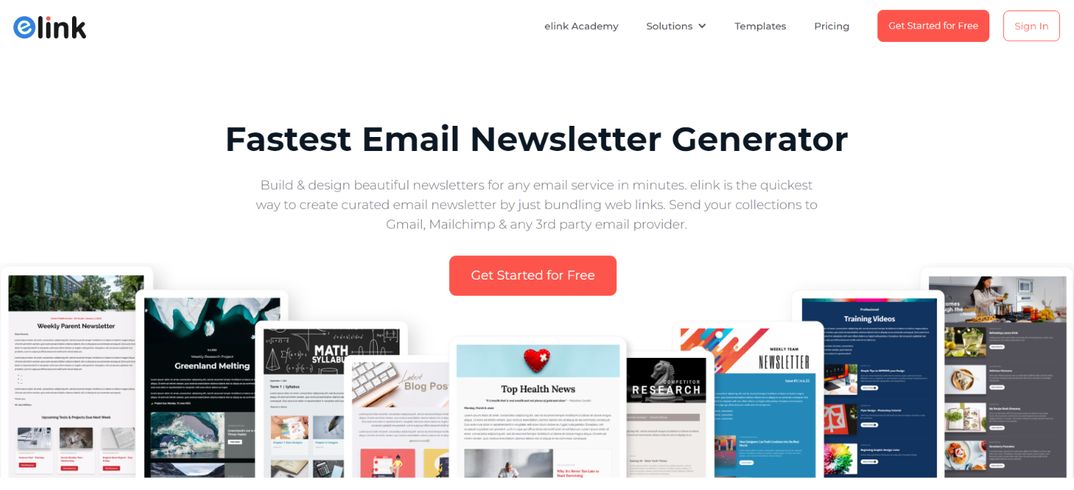 elink.io is a content creation suite that helps you create visually appealing and responsive newsletters, webpages, social bio links, and more in minutes. Just add links to the content you need to share (articles, videos, images), add a header and footer, and hit publish. elink will create a stunning web page that you can share online, embed anywhere, or share as a newsletter.
This nifty tool offers a huge collection of beautiful and fully responsive newsletter templates from which you can choose your favorite, and customize it however you want. With its prebuilt, fully responsive layouts, the heavy-lifting has already been done by elink. You can choose from the different types of layouts available, including one column, two-column, three-column, and multi-column, and share your links, PDFs, cloud files, and more.
elink has a robust editor that allows you to add elements like images, texts, bullet lists, numbered lists, dividers, buttons, and even social media icons in your header and footer body. You can even add a search bar in the newsletter and make it easy for your readers to find what they are looking for.
Moreover, elink has a robust RSS reader that lets you add RSS feeds of the publications you love. You can bundle links directly from the RSS Reader and create a stunning newsletter in just a few seconds.
Using elink's nifty automation tool, you can automate content creation for your newsletters, websites, and more. All you have to do is pick sources and add filters in order to make your content more effective and relevant. What could be better than that?
Not only that, elink.io also lets you collaborate with your team in real-time. That means you and your team can work together on bundling, creating, and sharing content. The best part? elink integrates with all major email clients like Gmail, Constant Contact, Mailchimp, and more.
Now that you know the essence of elink as a newsletter creator, let's go over how to create a stunning newsletter using this awesome tool.
Steps for Creating a Newsletter with elink
Step 1: Choose a Newsletter Template
The coolest thing about elink is that you don't have to worry about all the tricky design rules. With elink's stunning newsletter templates, you're already way ahead when it comes to designing.
Now, here's what you need to do: choose a template and customize it the way you want. We've quite a splendid collection to choose from, so take your time to find the one that fits your needs the best.
By the way, you can also create a newsletter from scratch. It's totally up to you.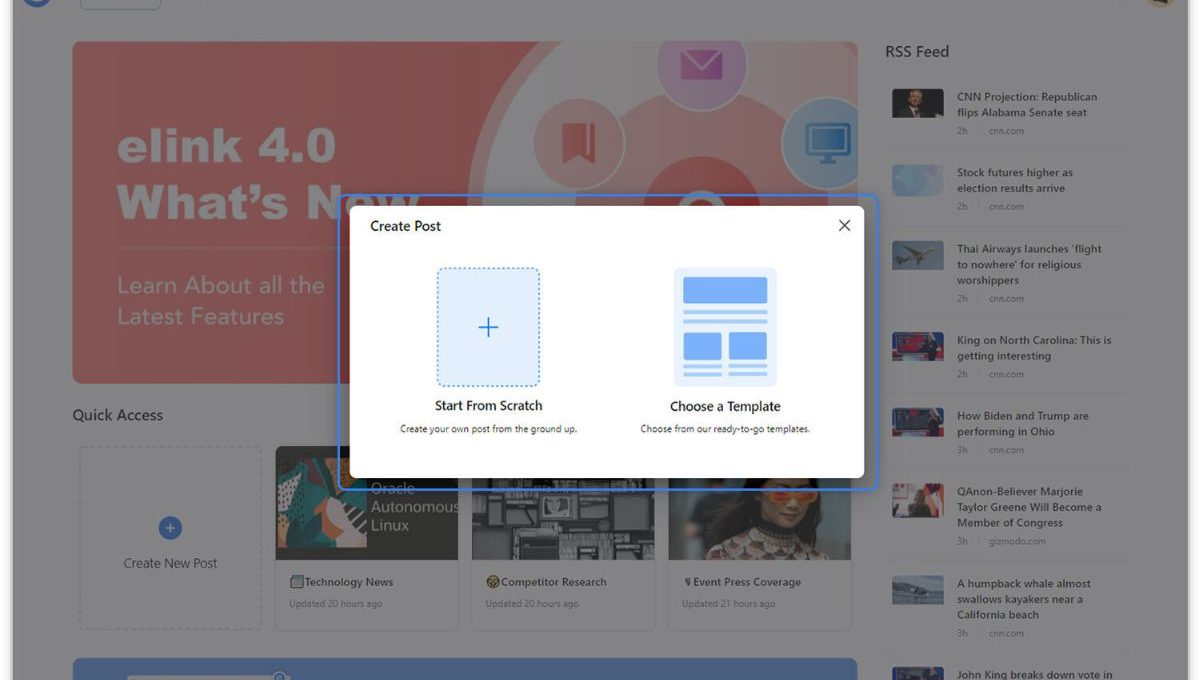 Step 2: Add Links to the Newsletter
Here comes the fun part. You can add links to the content (articles, videos, products, etc.) that you want to show up in your graphic design newsletter.
elink is so robust that it will automatically generate an image, a title, and a short description with each link. Of course, you can modify and customize any of this information if you want.
elink is also an RSS reader and a bookmark manager so you can quickly select your preselected links directly from the link library or the RSS feeds or enter them manually.
Step 3: Add Header
We know that a compelling email header design decides whether the reader would read your entire newsletter or bail on it. That's why we've given you the option of designing your header body the way you want.
You can add images, text, bullet lists, numbered lists, buttons, social icons, and dividers in your header body. elink even lets you choose from over 6 font sizes for your header body.
What's more? You can also use elink's Canva integration and design an eye-catching banner directly in elink.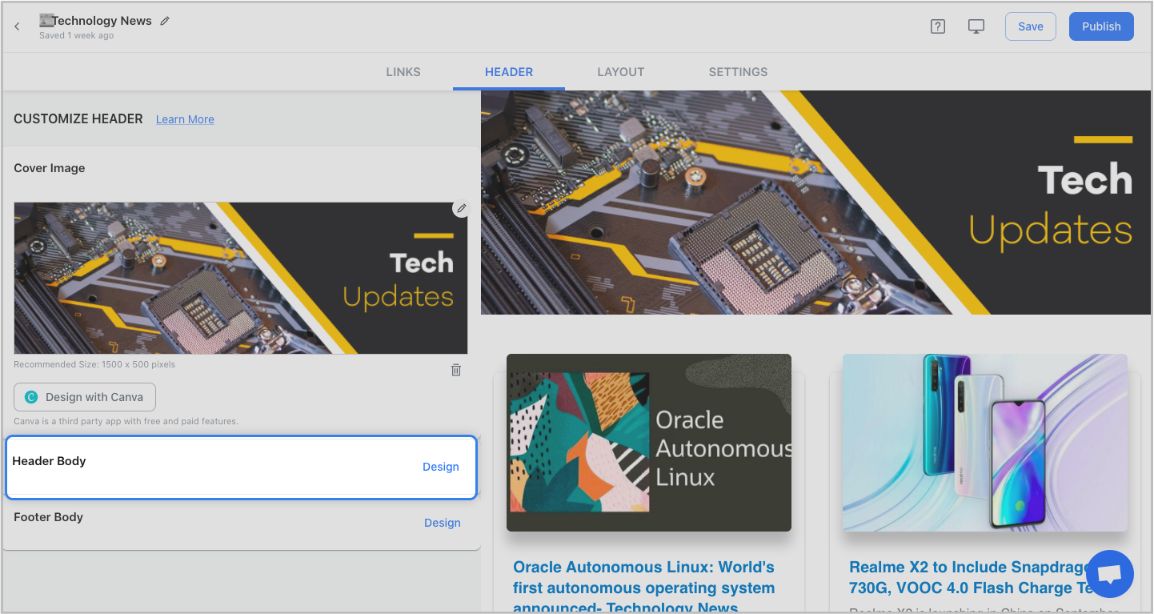 Step 4: Add Footer
An email footer is a place where the recipients would look for details about your brand. It is a place for transparency, clarity, and good design – exactly what elink provides.
You can add images, text, bullet lists, numbered lists, buttons, social icons, and dividers in your footer. Moreover, you can link the social icons with your own social media accounts in seconds.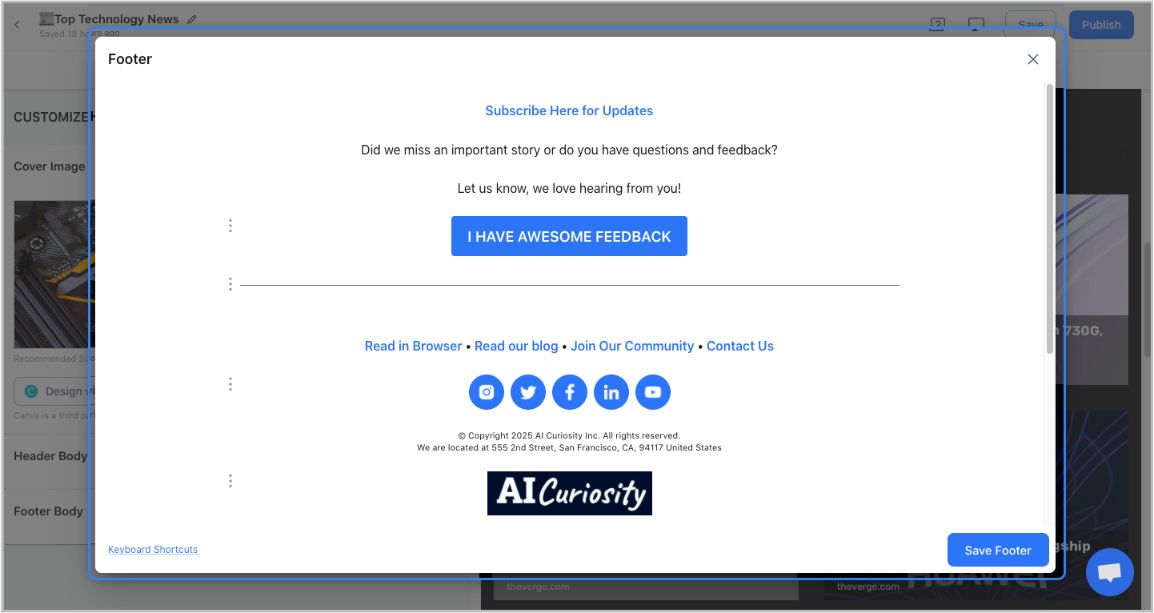 Step 5: Choose a Layout for your links:
Just jump right in and don't worry about wasting valuable time designing the layout of your graphic design newsletter. elink has already done all the heavy lifting for you. You can choose your favorite layout from all the different options with a simple click of a button and elink will change the formatting of those tiles to your chosen style.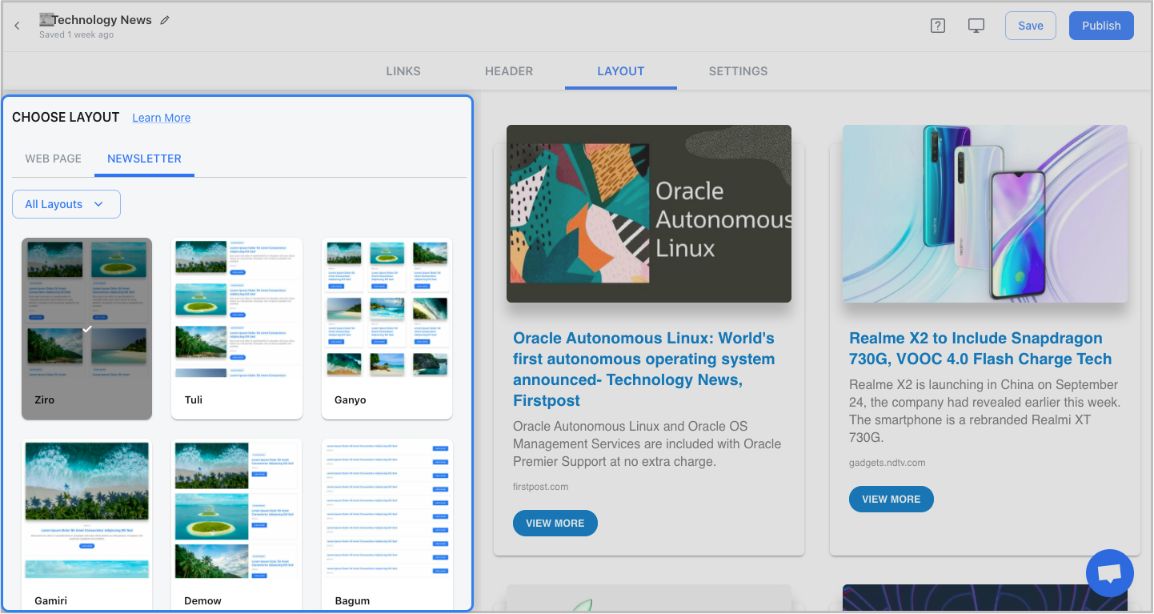 Step 6: Design and Customize
You'll get a perfect combination of colors in our templates. But, if you want to change the colors, you can do that too. Apart from that, you can also customize the font styles, button text, and more – in just a few clicks.
One of the most robust features of elink is that you can even add a search bar if you are adding a bunch of links such as resources etc.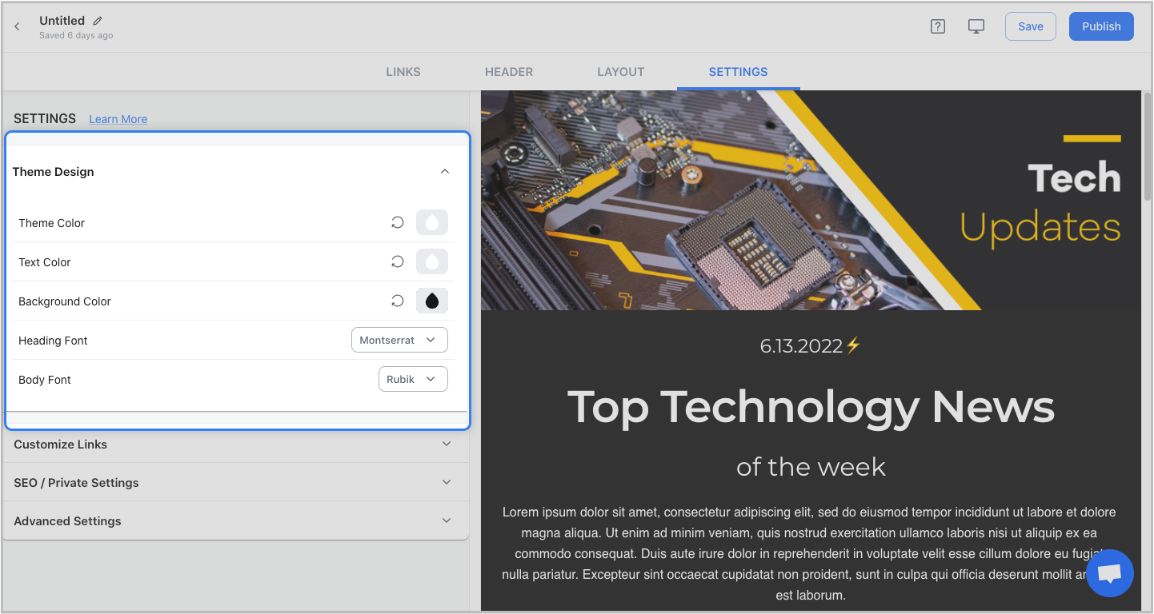 Step 7: Share Your Newsletter
Yay! You've now created a stunning graphic newsletter that is ready to be shared with the world. Now, hit the 'Publish' button on the far right corner of the screen, and a pop-up will appear, allowing you to customize your content URL.
Once you have customized the URL, another popup will appear where you need to select the 'newsletter' option. From there, you can share your masterpiece via Gmail, Mailchimp, or any other third-party email marketing tools like Get Response, Mailchimp, etc.!
Checkout our Templates!
Conclusion
Whether you are a graphic designer, developer, or just someone interested in the field of design, then it's important that you are up to date with all the changes and developments in the design industry.
By subscribing to the newsletters we have provided you with, you'll never miss out on any upcoming trends or new techniques. And if creating a design newsletter is what you want, then you can easily do that with the help of elink.
Now go out there and subscribe to your favorite graphic design newsletters! Happy designing.
Further reads:
Business Newsletter: Definition, Types, Steps to Create & Examples!
Ecommerce & Product Newsletter: Ideas, Templates & How to Create!
Nonprofit Newsletter: What is it & How to Create one in Minutes!