Technology is changing rapidly. New trends, developments, and discoveries in technology are taking place every second. Not to mention the ginormous amount of content that is being churned out each day!
This makes staying informed and up-to-date with the latest tech news, not only a daunting task but also a time-consuming one. This is where tech newsletters help you out.
They are an efficient way to get curated content and quality information about everything related to technology and the tech industry – right in your inbox.
But let's face it, even though we want creative and inventive newsletters in our inboxes, we don't have time time to search for them.
…and that's why, in this blog, we have curated a list of some of the best tech newsletters that you must check out! Ready for this list? Then, dive right in!
List of Tech Newsletters You Must Check Out!
Benedict's newsletter is one of the most-cited tech newsletters curated by Ben Evans of the venture capital firm, Andreessen Horowitz.
This newsletter focuses on technology and upcoming developments in the tech industry and covers a broad range of topics such as machine learning, virtual reality, augmented reality, and lots more.
Free subscribers get a weekly edition on Tuesday while the Premium subscribers get an additional exclusive weekly column with an in-depth analysis of the week's tech news.
If you are looking for byte-sized tech news, then TDLR is the perfect tech newsletter for you. It brings a maximum of 10 articles per edition and covers various topics such as big-tech and start-up, programming, coding, data science, and more.
TDLR displays articles on the basis of the topic and provides a short synopsis of it, allowing you to skim through the key details to find out the information you need.
Bizarro Devs is a free tech newsletter that is curated by the team at Themeisle. It is published weekly and covers a wide range of topics relating to technology.
Everything from Doge cryptocurrency to data visualizations will be included in this newsletter and it unlocks various articles, tools, and websites you might not see otherwise.
Read more: Monthly Newsletter: How to Create it in Simples Steps? (Templates Included)

Looking to stay updated about the latest tech advances? Then check out The Download. It is a free daily tech newsletter that is curated by MIT's Technology Review team.
The Download focuses on bringing up-to-date information on emerging technology, offers topics such as AI, space tech, and blockchain, and includes links to academia and news.
Want to know the latest developments and findings in AI? Then we recommend that you subscribe to Import AI, a tech newsletter curated by Jack Clark.
Import AI focuses on the latest research, recent news, and general happenings related to artificial intelligence. It provides links, summaries, overviews, and insights about AI.
The Exponential View is a weekly tech newsletter curated by Azeem Azhar from Harvard Business Review's editorial board.
It is dedicated to exponential technologies and includes topics focused on innovation, AI, cryptocurrency, robots, technology in politics, future, devices, and machine learning. It offers a short synopsis of the whole article as well.
Exponential View provides both a free version and premium version.
If you're looking for a light-hearted and conversational tech newsletter that takes a storytelling approach in discussing technology news, then Fully Charged by Bloomberg is a great option.
Eric Newcomer, a tech reporter for Bloomberg takes a personal approach in writing newsletters that keep you updated about the latest tech topics and news.
Fully Charged offers a mini list of individual links with short global technology news at the end.
Curated by Ernie Smith of ShortFormBlog, The Tedium is a great tech newsletter that provides an in-depth and entertaining look at tech topics. It focuses on web and digital culture and offers a deep look at it.
The Tedium is written in a conversational tone and has a personal approach to discussing recent tech topics and experiences. It is delivered twice a week.
Are you a hardcore technology news consumer? Then CB Insights is the tech newsletter for you. It provides you niche data on the latest tech trends, startups, venture capital, future industries, and more.
CB Insights is a highly visual newsletter that relies on the use of illustrations, graphs, infographics, charts, and screenshots to represent technology-related information.
Looking for an easy-to-read newsletter to stay up-to-date about the latest tech news, then subscribe to the Dense Discovery newsletter.
Curated by Kai Branch of Melbourne and Berlin, this newsletter is known for its visual and aesthetic approach in using GIFs and Tweets in the articles. It covers a wide range of topics and is delivered on a weekly basis.
Now that you are equipped with some of the best tech newsletters out there, what if we told you that you could create your own in just a matter of minutes!
Don't believe us? Then scroll down!
elink: The Fastest and Easiest Way to Create Newsletters
elink.io is a content curation tool that helps you send out visually appealing and responsive newsletters, webpages, social bio links, and more in minutes. Just add links to the content you need to share (articles, videos, images) and elink will create a stunning curated page for you in minutes.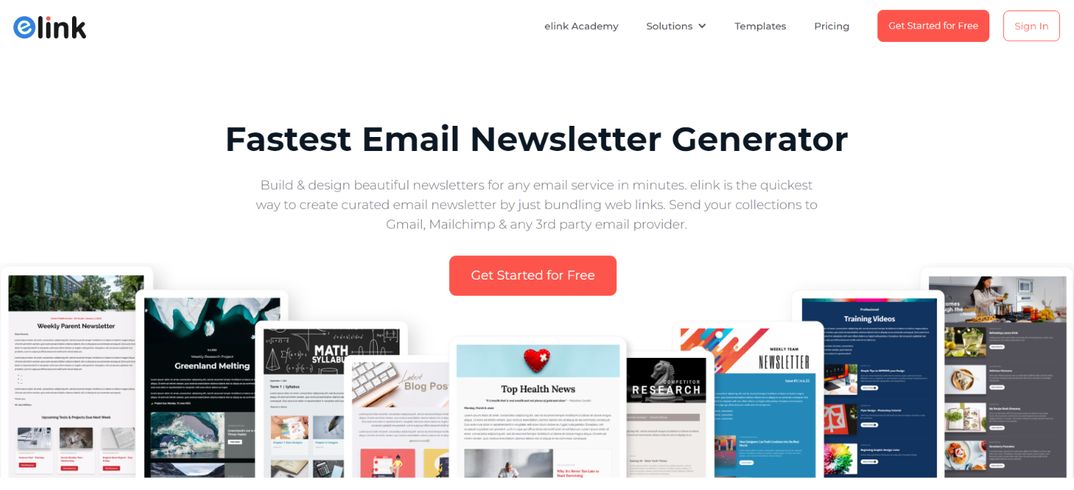 This nifty tool offers a huge collection of beautiful and fully responsive newsletter templates from which you can choose your favorite, and customize it however you want. You'll get a perfect combination of colors in our templates. But, if you want to change the colors, you can do that too.
elink has a robust editor that allows you to add elements like images, texts, bullet lists, numbered lists, dividers, buttons, and even social media icons in your header and footer body. You can even add a search bar in the newsletter and make it easy for your readers to find what they are looking for.
Moreover, elink has a robust RSS reader that lets you add RSS feeds of the publications you love. You can bundle links directly from the RSS Reader and create a stunning newsletter in just a few seconds.
Using elink's nifty automation tool, you can automate content creation for your newsletters, websites, and more. All you have to do is pick sources and add filters in order to make your content more effective and relevant. What could be better than that?
Not only that, elink.io also lets you collaborate with your team in real-time. That means you and your team can work together on bundling, creating, and sharing content. The best part? elink integrates with all major email clients like Gmail, Constant Contact, Mailchimp, and more.
Now that you know the essence of elink as a newsletter creator, let's go over how to create a stunning newsletter using this awesome tool.
How to Create a Tech Newsletter on elink?
Step 1: Choose a Newsletter Template
The coolest thing about elink is that you don't have to worry about all the tricky design rules. With elink's stunning newsletter templates, you're already way ahead when it comes to designing.
Now, here's what you need to do: choose a template and customize it the way you want. We've quite a splendid collection to choose from, so take your time to find the one that fits your needs the best.
By the way, you can also create a newsletter from scratch. It's totally up to you.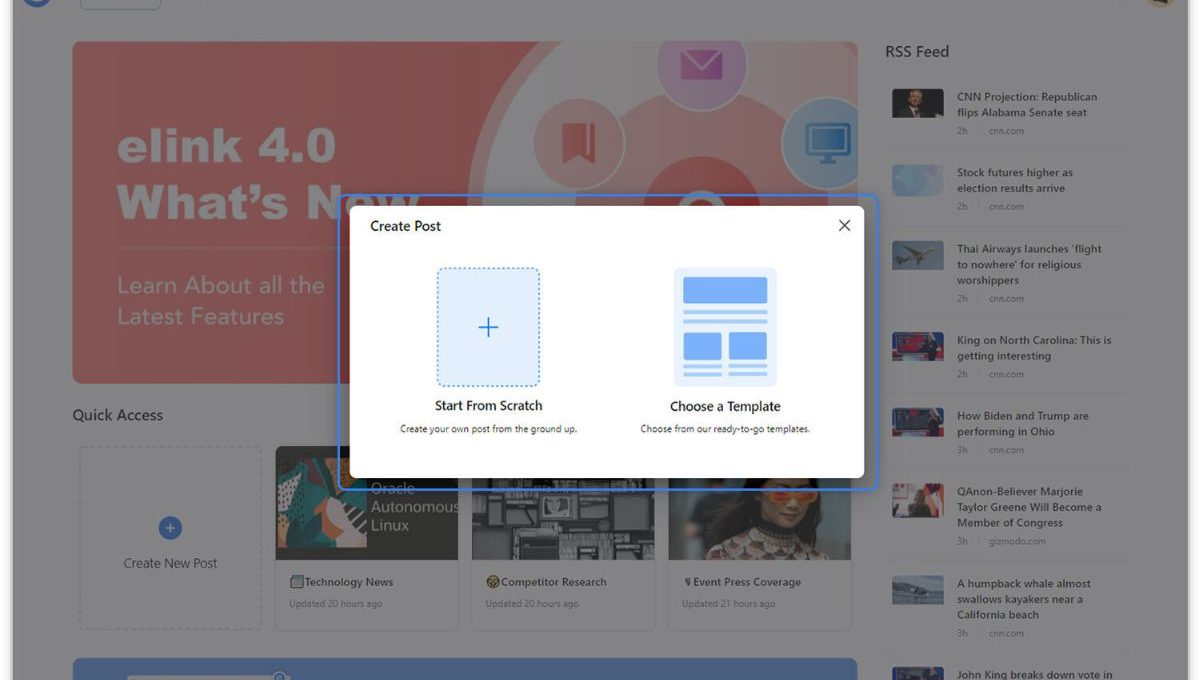 Step 2: Add Links to the Newsletter
Here comes the fun part. You can add links to the content (articles, videos, products, etc.) that you want to show up in your tech newsletter.
elink is so robust that it will automatically generate an image, a title, and a short description with each link. Of course, you can modify and customize any of this information if you want.
elink is also an RSS reader and a bookmark manager so you can quickly select your preselected links directly from the link library or the RSS feeds or enter them manually.
Step 3: Add Header
We know that a compelling email header design decides whether the reader would read your entire newsletter or bail on it. That's why we've given you the option of designing your header body the way you want.
You can add images, text, bullet lists, numbered lists, buttons, social icons, and dividers in your header body. elink even lets you choose from over 6 font sizes for your header body.
What's more? You can also use elink's Canva integration and design an eye-catching banner directly in elink.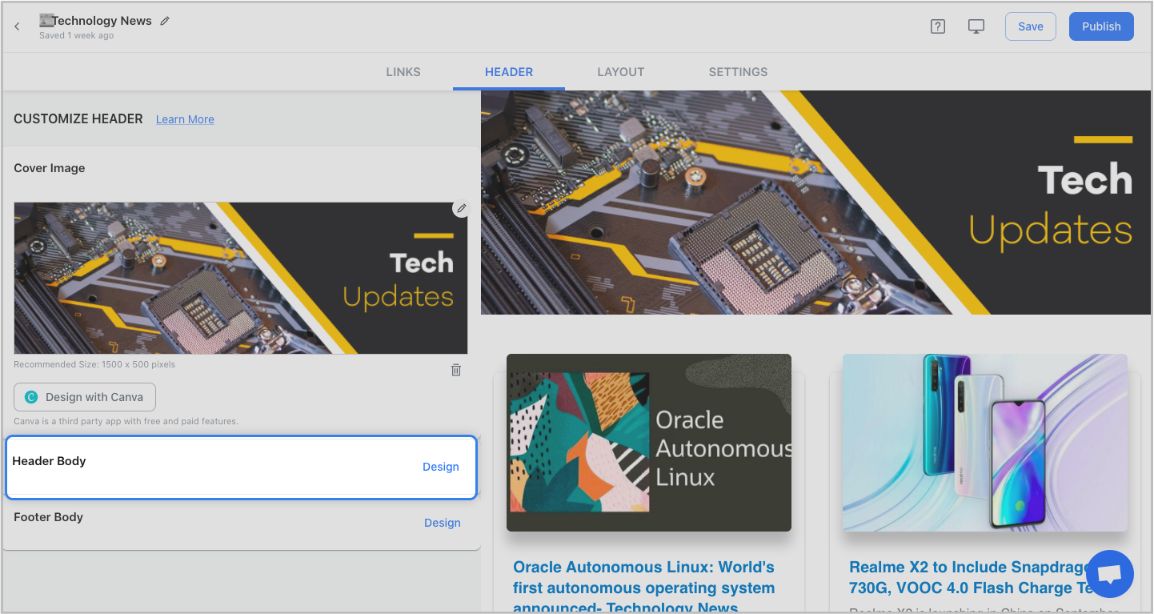 Step 4: Add Footer
An email footer is a place where the recipients would look for details about your brand. It is a place for transparency, clarity, and good design – exactly what elink provides.
You can add images, text, bullet lists, numbered lists, buttons, social icons, and dividers in your footer. Moreover, you can link the social icons with your own social media accounts in seconds.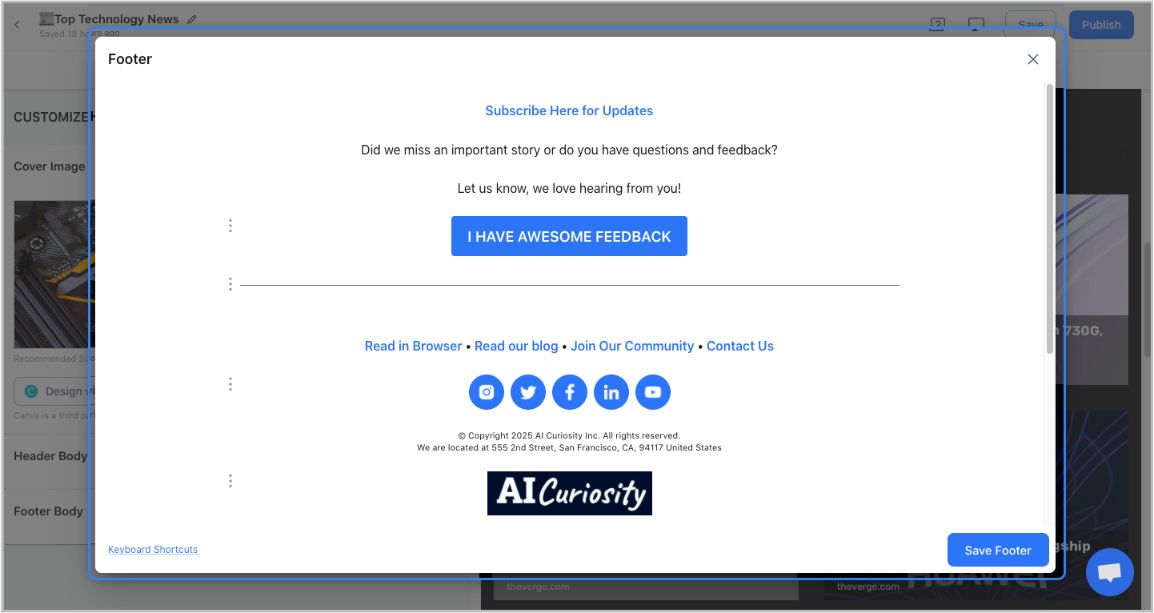 Step 5: Choose a Layout for your links:
Just jump right in and don't worry about wasting valuable time designing the layout of your tech newsletter. elink has already done all the heavy lifting for you. You can choose your favorite layout from all the different options with a simple click of a button and elink will change the formatting of those tiles to your chosen style.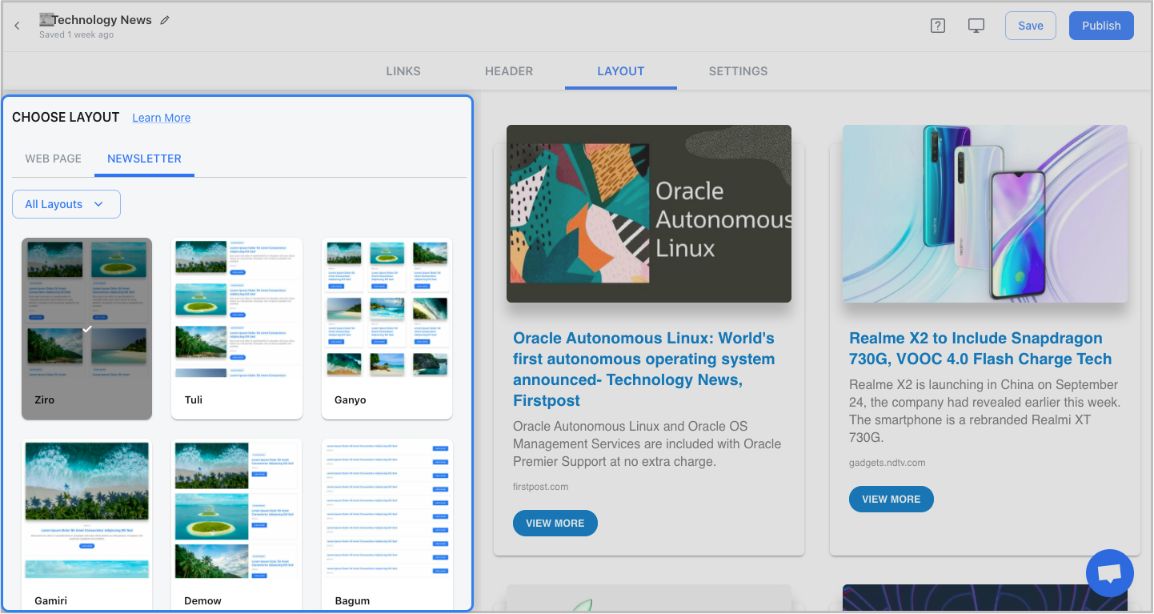 Step 6: Design and Customize
You'll get a perfect combination of colors in our templates. But, if you want to change the colors, you can do that too. Apart from that, you can also customize the font styles, button text, and more – in just a few clicks.
One of the most robust features of elink is that you can even add a search bar if you are adding a bunch of links such as resources etc.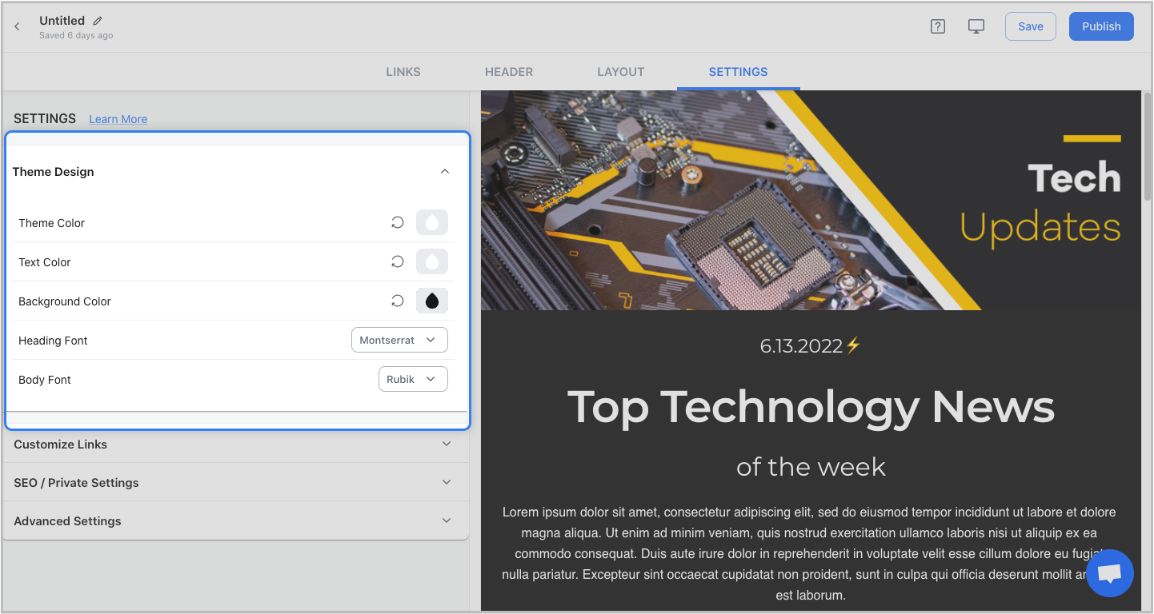 Step 7: Share Your Newsletter
Yay! You've now created a stunning tech newsletter that is ready to be shared with the world. Now, hit the 'Publish' button on the far right corner of the screen, and a pop-up will appear, allowing you to customize your content URL.
Once you have customized the URL, another popup will appear where you need to select the 'newsletter' option. From there, you can share your masterpiece via Gmail, Mailchimp, or any other third-party email marketing tools like Get Response, Mailchimp, etc.!
Checkout our Templates!
Over to You!
Whether you are a tech leader or a programmer or simply an amateur tech enthusiast, this blog has provided you with a wide variety of interesting tech newsletters to keep you informed and updated about the latest tech news and trends.
Now all you have to do is simply click subscribe and wait for your daily, weekly, or monthly newsletters! Happy reading!
Further reads:
School Newsletter: What is it & How to Create it? (Free Templates Included)
Travel Newsletter Templates You Need to Check Out!
Best News Aggregator Websites(And How To Build Your Own)
Ecommerce & Product Newsletter: Ideas, Templates & How to Create!