The fact that over 144 billion emails are being sent each and every day, despite the popularity of social media, shows that emails are still the favorite channel for business communication.
Not to mention, emails are 40x more effective than Facebook and Twitter combined at acquiring customers and they still continue to generate an estimated 4300% ROI at 33% less cost than any other lead-generating mechanism.
So yes, emails are quite the catch! It's no wonder that 93% of B2B marketers still use email newsletters for content marketing! And maybe you're one of them too! But have you ever looked at your email newsletters and thought to yourself – "this could be better?"
From time to time, your newsletters need to be amped up, and for that, you need the right tool! And it just so happens that we have the perfect one for you – elink.io!
We know that you are not familiar with elink.io, so we have created this blog to help you learn anything and everything about this amazing tool and how it can make your newsletters simply awesome.
So without further ado, let's dive right in!
First Off, What Exactly is elink.io?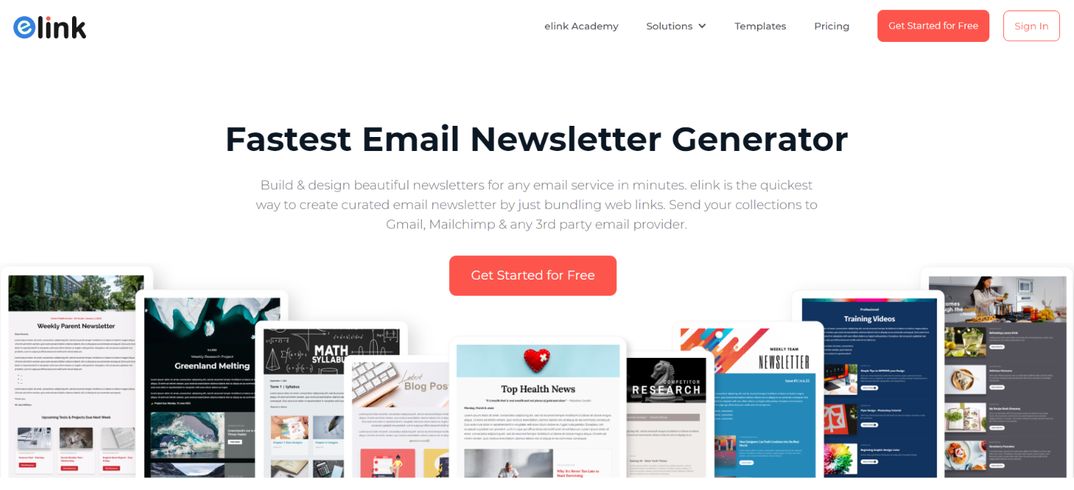 Elink.io is a newsletter creator that helps anyone create and send out visually appealing and responsive newsletters in a matter of minutes! It is easy on the budget, simple to use, fast, and comes with all the features you need to create and share beautiful newsletters, webpages, and more.
The platform offers over 50 pre-built templates from which you can choose your favorite one. All the templates are responsive and look perfect on all devices. This means you don't have to worry about the design aspect of it and you can simply focus on growing your company.
Elink lets you add your own images, text, bullet lists, numbered lists, buttons, social icons, and dividers in your header and footer body. You can even add a search bar in the newsletter and make it easy for your readers to find what they are looking for.
One of the most amazing features of elink is content automation! It lets you automate content creation for your newsletters, websites, and more. All you have to do is pick sources and add filters in order to make your content more effective and relevant.
Unlike most other newsletter creators, elink.io lets you collaborate with your team in real-time so that you and your team can work together on bundling, creating, and sharing content.
What's more? On elink, you can convert collections to email newsletters and export them to MailChimp, Gmail, and all third-party email providers that allow HTML code!

Okay, now that you know a little bit about elink, let's understand how exactly it can make your newsletters super awesome!
List of Things that elink Can do to Make your Newsletter Awesome!
1. Automate Your Email Newsletters
Even if you enjoy creating newsletters, you have to admit that constantly creating them can be quite boring and extremely time-consuming. There are so many things you could do in that time! That's why automation is a critical feature of email solutions.
Lucky for you, automating newsletters is a heck of a lot easier with elink around. It offers an amazing automation tool that does the heavy lifting for you and saves you tons of valuable time by automating content creation for your newsletters, websites, and more.
You can choose sources and add filters to make your content more relevant and effective, and voila, your newsletters will be ready without you ever having to lift a finger.
That's not all! You can also connect through Zapier and publish your content anywhere. Simply name your automation, choose the scheduling frequency (daily, weekly, or monthly) for each automation, and set up a corresponding time you want the process to start running. Once your post is created, you can publish and send it to Zapier as a newsletter.
Read More: How to create automated content?
2. Save Valuable Time with Minimal Effort
It comes as no surprise that creating email newsletters take up time, effort, and money. After all, newsletters don't just fall out of the sky, right?
With elink on your hands, you can create email newsletters in minutes as opposed to the hours it usually takes to create them. Simply add links to the content you need to share, and elink will create a stunning newsletter for you in minutes.
Elink offers over 50 pre-built templates, so all you have to do is add your content links, write an introductory text, and BAM! You've got yourself a beautiful-looking curated newsletter! Just focus on your content and elink will take care of the rest.
Simply put, you can create and distribute an unlimited number of visually appealing and fully customizable newsletters using elink – with a fraction of the effort and money.
3. Multiple Layouts
If you thought email newsletters are all about content, then you are wrong. A huge part of what makes a newsletter appealing is its layout. It's simply the seasoning that your newsletter needs.
With elink, creating the newsletter with the perfect layout is a walk in the park. You get to choose from 50+ beautiful, responsive, and newsletter-friendly layouts that can be updated anytime – even after they have been published.
Pick anything you like – single columns, two columns, three columns, multi-column, full-width, carousel, masonry, grid, and much more! And with a simple click of a button, elink will change the formatting of your layout to your chosen style. This means that you can create anything from marketing email newsletters to client-specific newsletters, sales-related, internal email newsletters, and much more!
4. Create a Compelling Header Image
One of the first things that a reader is going to see when they open your email newsletter is the email header image. It basically forms the first impression and sets the tone of your entire newsletter. It is also a deciding factor for whether your readers should read or leave. For this reason, creating an email header that hooks and holds the attention of the reader is extremely crucial for your newsletter.
If you're like us, you probably thought about Canva right now. After all, it is one of the best platforms for creating eye-catching and compelling email header designs. Not to mention that it comes with tons of modern and beautiful email header layouts to choose from.
How does elink help with this? Elink has a Canva integration and you can use it to design an eye-catching banner directly on the elink platform.
5. Search Bar
One super cool feature of elink is that lets you add a search bar to your email newsletter and this makes it easier for your readers to find what they're looking for faster.
If you're thinking to yourself about the complications of adding a search bar to a newsletter, then we have great news for you. You don't have to be a coding expert to add a search bar to your newsletters! Awesome, right? elink's robust newsletter creator simply lets you add a search bar in seconds!
The next time your reader opens your newsletter, they will find it easy to search for the information they want. This will improve the reader experience and boost your engagement, which will in turn make them more likely to make a purchase.
6. Fully Responsive Newsletters
Studies show that around 54% of emails are opened on mobile devices. This is a call for your email newsletters to be fully responsive and mobile-friendly.
Worry not, elink is well-prepared in this case. All elink layouts and templates are fully responsive – which means that your newsletter will look awesome, no matter what device your reader views it from. Elink simply looks great on all devices!
7. Dividers For Better Comprehension
If you want to communicate your message in a more effective manner, then your newsletter must be well-organized and readable. And how exactly do you do that? With dividers!
Dividers separate and split the content of your newsletter into sections with a horizontal line. This division adds subtle visual interest and also helps readers quickly grasp what's written.
With elink on your side, this becomes an extremely easy task because its powerful editor allows you to add dividers in your header and footer body in just a few clicks.
8. Social Linking
Email marketing and social media are like apples and oranges and can never be replacements for each other. But, put them together and they are a dynamic duo that can boost your engagement to the next level.
For this, all you have to do is include social media icons in your email newsletters and it's good to go. And elink lets you do just that! Using elink, you can add social media icons to your newsletters and link them with your social media handles in seconds. You can even invite people to follow your brand on social networks by displaying the 'follow us' icon in your newsletters!
This will direct your followers to your social media platforms, increase your social media presence, and help your visitors learn more about you.
Read More: How to Create a Social Bio Link Page?
9. CTA Buttons
An email newsletter wouldn't be complete without a call-to-action (CTA) button that asks them to sign up or subscribe. The placing of your CTA is very crucial – it must stand out from the rest of the newsletter and catch your reader's eye.
With the help of elink, you can easily incorporate an awesome-looking CTA button into your email newsletters. It will make your newsletter pop and encourage your reader to take action.
10. Integrated Solution
Part of what makes elink an awesome platform for your email marketing is that it integrates with nearly all the major third-party email services to send stunning newsletters. Send it via Gmail, or Mailchimp, or paste the HTML code into any third-party email provider to create and send email newsletters in a matter of a few minutes. Impressive, right?
Wrap Up
Whether you want to attract new leads and customers or recapture your old ones, email newsletters are the way to go! And when done right, they can deliver some of the best results.
With the help of elink, you can concentrate on whipping up some quality content and keep your audience on the edge and wanting more.
So do yourself a favor, elink right away, and start churning out some darn good newsletters for your audience! Cheers, folks!
Further Reads:
Create Professional Looking Newsletters Using Elink! Templates & Examples
9 Ways to Revamp Your Newsletter Using elink!
Add Multiple Links in One Link with elink!
The Best Newsletter Creator in 2022 – Elink!