Conducting research is not easy. Even today when you don't have to spend hours in a library or surf through hundreds of books, the research process involves a lot of work.
From framing a topic to conducting an analytical study and putting it all together in a structured framework, researchers often get overwhelmed by the work which may affect the research quality.
Fortunately, in the digital era that we live in, some brilliant brains have created tools and software to help ease your work and let your research process flow smoothly.
We have compiled a list of the top 13 best tools that every researcher must try. They are presented with key features and pricing as well, for you to compare and decide what works best for you.
So, let's get right into it!
List of 13 Best Tools for Researchers

Bit.ai is a smart document creation platform that makes your simple documents interactive and visually appealing. Say goodbye to black and white text editors and explore a platform much more comprehensive and convenient to use!
When you're doing research, there are so many documents that you create and it often ends up becoming a jumbled nightmare.
Bit solves that problem for you.
With Bit's organized workspaces, you never have to worry about work clutter. They are a smart way to keep all of your research work in one space for you and your team to access.
This way, all your references get stored under one roof!
Bit's smart search makes it fast and easy to find what you're looking for. You can search across workspaces, folders, documents, the text inside documents, and any type of digital content that has been added.
Bit helps you bring rich media into your documents so you can add more context and deliver your ideas in any form like images, files, videos, visual links, charts, etc.

Bit.ai is also a highly collaborative platform that lets you work seamlessly with your entire team and communicate via inline commenting. The notification section informs you about every activity done by your teammates, so you never miss out on an update!
That's not it! You even have document tracking to see who is opening your documents and how much time they spent on it.
Other notable features of Bit include:
User-friendly, minimal editor that allows rich-media integration.
70+ templates to choose from.
Highly responsive, real-time text editor.
Content library to store digital data in any form. PDFs, videos, documents, and much more.
Smart search feature to find and easily navigate through all your stored media and documents.
Organized workspaces, ping notifications, and inline commenting enabling smart collaboration.
Bit.ai is a must-have tool for researchers and authors!
Pricing:
Free document creation, digital embedding, sharing, and collaboration.
The paid plan includes rich exporting options, and much more starting from 8$ a month.
Read more: 5 Best Wiki Tools for Managing Knowledge
Researching includes collecting hundreds of links. As a researcher, you have to store every link to get inspired from or include in your research. They also make up the references and bibliography section.
Elink.io makes tracking, storing, and using links easier than ever before.
Using elink's bookmark manager, you can store any digital information such as articles, videos, cloud files, social media posts, and much more. You can save links directly into your folders or subfolders for better organization. You can even create new folders directly from the web extension and access your bookmark library.
All the content that you bookmark gets saved inside your link library. You can search, filter, and access any information in the most efficient way and can save it in one location.
You can edit the title of your saved bookmark, the description, and the image. You can choose from any image on a web page, take a screenshot or upload your own image.
That's not it! elink allows you to bundle any web links you want and turn them into a beautiful visual collection. You can share your bundled web links as an email newsletter, embed curated content on your website or blog, or create a single curated web page.
You can also download elink's browser extensions to save content on the go!
Some other notable features of elink.io include:
Digital library to store rich media files and use whenever inspiration strikes.
Create and share a newsletter within minutes.
Save, share, and integrate links.
Easy to use, beginner-friendly interface.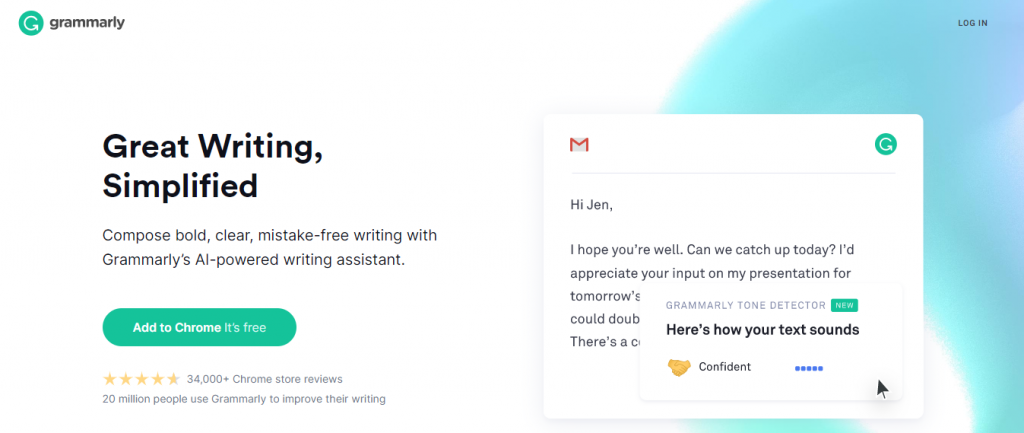 The research process doesn't end when you stop writing it. The next step is to proofread the material and make it presentable. Grammarly is a grammar check tool that takes care of just that for you.
Correcting grammar, sentence formation, and silly spelling mistakes may take hours of your time. With Grammarly's smart editor, all such errors are automatically fixed.
Apart from correcting the basic spelling errors and grammatical mistakes, Grammarly also has a punctuation checker, vocabulary enhancer, and a plagiarism checker tool. So all your post-research work can take place under one umbrella.
Some other notable features of Grammarly include:
Accessible with all the major online tools such as Word, Slack, etc.
Grammarly chrome extension enables real-time grammar check wherever on the web you are typing.
Detects the tone and reliability of the documents.
Allows setting custom goals. For instance audience knowledge level, formality level, etc.
Pricing:
The free plan includes correction of spelling and basic grammar.
Pro plan has several other features such as word choice correction, sentence formation, plag check, and much more starting at 11.66$ a month.
The research process includes a lot of planning, scheduling, and organizing tasks. Without a proper time-tracking plan, the research may lose its pace.
GanttPRO helps in achieving an organized workstation that keeps your teammates engaged and clients in the loop. It is task management that allows teams or individual researchers to plan their course of action on visually appealing charts.
You can choose from dozens of templates and work with style. With its timeline tracking features, you never have to worry about missing another deadline. GanttPRO facilitates creating an unlimited number of tasks and subtasks for collaborative activities.
Some other notable features of GantPRO include:
Dozens of templates to choose from.
Easy collaboration with teammates.
User-friendly interface.
Pricing
Free 14-trial including all features
Paid plan starts from 4.5$ /user/month
Read more: Top Must-Have tools for Non-Profits: Free and Paid
Scrivener is another great planning and organizing tool. Used by researchers, authors, copywriters all over the world, it is made for organizing content.
Researchers can store an unlimited number of articles, and categorize them into sections and sub-sections. So no piece of inspiration is ever lost!
For the screenwriters and novelists, there is a special storyboard feature called corkboard wherein they can move around cards to visualize the story.
Scrinever is equipped with a smart editor and a sidebar to keep everything organized. The outliner feature keeps a tab of synopsis along with the word count and metadata.
Some other notable features of Scrivener include:
Accessible on both desktop and mobile.
Helps build an outline for saving time in long-form content writing.
Well organized files and user-friendly navigation.
Pricing:
Free with limited access
Paid plan with access to all features at $40.84 one time fee

Typeset.io claims to be the smarter version of Word and Latex files. It is equipped with over 1,00,000 plus journal templates to choose from. So you can just copy-paste or export your data into one of Typset.io pre designed thesis templates and you're good to go. It also has a grammar and plag checker.
Typeset.io gets all post-research work done in this all-in-one software. From grammar and plagiarism check to generating an autoformatted report, downloading in various formats such as PDF, Doc, Latex, Zip file, and even publishing.
Some other notable features of Typeset.io include:
100,000 ready-made citation templates
Smart editing to improve your chances of publication
Grammar and plagiarism checker
Pricing:
Free with limited access
The paid plan starts from $8/month for a researcher
Read more: Top Competitor Analysis and Research Tools
Endnote is a smart research tool that is specially curated for managing bibliographies, references, and citations. The software allows you to directly upload full-text PDFs or references and find the most suitable journal for your paper.
Endnote lets you automatically create, format, and edit bibliographies. With its smart templates and plug-ins, researchers can save a lot of time and energy.
It is also a collaborative platform that lets you keep track of the activities of your team from a single dashboard. The inspiration digital files such as articles, book PDFs, etc can be saved on the software and shared with the team instantly.
Some other notable features of Endnote include:
Filters for the research process
Stay in touch with the team and import files in the shared library
Automatically update references
Google scholar is a scholar literature library of Google. Researchers use this to look up old articles, theses, published research papers, book abstracts, court proceedings, academic publications, and more.
Google scholar allows easy search for citations, authors, and publishers. Creating a public author profile on Google Scholar enables you to know whenever someone cites your work. The digital library also keeps its users informed about the recent developments in their concerned area of study.
Some other notable features of Google Scholar include:
Access to an ocean of information
Easy to use
Get notified and stay updated by a public author page
Pricing:
Free of cost, with access to all features
Next up is a tool that claims to bring your research to life and make an impact. It is a global network of researchers, all around the world. Connect with 6 million researchers, carry out discussions, network, and grow.
There are 250,000+ jobs in science, technology, and health to advance your career. Furthermore, there are 5000+ organizations on the platform to help you fund your next research.
Mendeley allows users to create references, citations, and bibliographies using different journal templates. It also has a library to store all your data. This data can be accessed from anywhere and is compatible with most browsers like Windows, Mac, Linux, etc.
Some other notable features of Mendeley include:
Organize and annotate documents
Network with fellow researchers
Potential finding from 5000+ organizations
Pricing:
Free with limited access
The paid plan starts from $55/ year for 5GB and $165/year for unlimited storage
Evernote is another great tool for organizing and planning your research context. This application helps you store notes, to-do lists, ideas, meeting agendas, and much more.
However, it's not a plain note-taking platform. With hundreds of templates to choose from, Evernotes makes your words organized and visually appealing. You can create different folders and tags to organize information and search for them easily, whenever you like.
Evernote automatically synchronizes all your devices. So once you log in, you can access your notes from anywhere. the application is compatible with desktop, mobile phones, and tablets.
The tool also offers a chrome extension from which you can save any page from the web or add a quick note.
Some other notable features of Evernote include:
All your data organized in one tool
Set reminders
Save anything from the web via Evernote extension and use it in your research
Pricing:
Organized notes, chrome extension, and templates are free of cost
Additional functions under the paid plan starting from $34.99/ year or $3.99/month
Researchgate is an amazing tool to get access to published researches, all over the world. It is a data hub of 135 million research papers for researchers to always stay up to date with their industry.
It is a collaborative medium where researchers can share their work, keep track of peers, and discover new ideas!
If you are a registered author on ResearchGate, it will show you the people who are accessing your work and using your citations. ResearchGate is truly a tool every researcher should be using.
Some other notable features of ResearchGate include:
Find and connect with researchers
Keep a track of your citations
Discover new ideas
Pricing
All features are free of cost.
12. ContentMine
ContentMine, as the name suggests is a mine for content that researchers use to save time and work efficiently. You can find, download, analyze, and extract information from internet sources easily via this tool.
It helps researchers find papers, citations, or any other data without having to spend hours on the internet doing so. ContentMine conducts workshops and webinars, training guides, and much more to get its users acquainted with the application.
ContentMine can also derive data from charts and graphs, helping in the Meta-analysis.
Some other notable features of ContentMine include:
Auto conduct Meta-analysis
Mine text from thousands of papers
Pricing
Get in touch with ConentMine to know it.
The last on our list is a free and reliable source of information portal. This US Census data tool is much more than just the census data. It includes videos that explain how to use the information present on the website. They are termed as data gems.
Apart from this, the website covers important domains such as consumer price index and data from the bureau of economic analysis.
Other notable areas it covers are:
Money statistics from the Federal Reserve Banks
Income statistics classified into earnings according to occupation
Employment and unemployment statistics from the labor market
Data by NAICS (North American Industry Classification System)
Pricing:
Conclusion
There are a variety of tools and software present to help ease your research process.
However, these tools mainly take care of tenous work.
The analytical process and findings are still your job.
These tools are here to make sure you can focus on your duties without having to engage in time-taking and laborious tasks.
We hope the list proves useful to you.
Do let us know which tool you used for your research by tagging us on Twitter @elink_io.
Further reads:
10 Best Evernote Alternatives for 2022
9 Best Spying Tools to Keep Eye on Competitors!
Best Free Microsoft Word Alternatives For 2022
The Best Live Chat Software For 2022
Top 9 Knowledge Management Tools
Best Content Creation Tools for Small Businesses