If you work in e-commerce, you know that there is a very thin line between offering useful content while encouraging people to visit your website and actually convincing them to make a purchase.
With the rise in the number of e-commerce sites in the past few years and with the world of e-commerce constantly changing, e-commerce newsletters are powerful tools in building your e-commerce marketing strategy.
Not only do e-commerce newsletters help you stay up to date with what's happening in the e-commerce industry, but it also provides you with new ideas, tips, and tricks for your e-commerce sites to stand out.
That's why we decided to curate and create for you a list of some of the best e-commerce newsletters that will help you improve your e-commerce marketing strategies, get users to visit your website, and build your brand online!
Ready to know what they are? The dive right in!
List of Ecommerce Newsletters You Should Check Out!
Ecommerce Magazine is powered by extensive knowledge from 50+ of the world's top e-commerce experts. This magazine aims to celebrate the people who drive the future of commerce and highlight digital innovation in the fast-growing industry of e-commerce.
Subscribe to eCommerce Magazine and get top eCommerce industry knowledge delivered to your inbox every week including interviews and business advice.
Retail Brew covers the latest news in e-commerce in a witty and humorous tone. It manages to offer deep reporting and sharp analysis while taking only five minutes to read. It's completely free.
Shopify is one of the world's most popular e-commerce platforms for online stores and retail point-of-sale systems. Their Retail Blog contains inspiring stories of all the different creative ways sellers and brands develop their businesses.
The Shopify newsletters offer a mix of practical advice, thought-leader interviews, industry news, resources and guidance on all kinds of e-commerce topics.
eCommerce newsletter is a newsletter run by Hendrik Laubscher. It offers a round-up of blogs on e-commerce, social commerce, comparative shopping engines, and business.
This weekly newsletter also summarizes all the e-commerce news and provides consulting analytics, and research services
Fit for Commerce is an e-commerce consultancy founded by Bernardine Wu. It helps e-commerce and omnichannel businesses make smarter business decisions.

The FitForCommerce newsletter offers various insights, updates, and perspectives about e-commerce related topics. It also notifies you about their latest reports, whitepapers, webinars, news, and events
Digital Commerce 360 is a leading research and media organization that helps deliver objective news, research, and competitive data about e-commerce. It has over 20 years of experience in e-commerce reporting.
Digital Commerce 360 newsletters contain links to articles and trending topics about real-time challenges, strategies, and trends within retail and B2B eCommerce. It also includes analysis reports, webinars, in-depth articles, and much more.
The E-Commerce Insider is an exclusive publication that offers exclusive e-commerce content. This bi-weekly e-commerce newsletter offers independent research on the e-commerce landscape, the latest e-commerce news, e-commerce tips, tricks, and best practices.
E-Commerce Insider also offers an up-to-date guide on best practices for a successful e-commerce implementation and pre-access to exclusive research and insights about the changing e-commerce market.
Ecommerce Bytes is an e-commerce newsletter by Ina Steiner. It has been helping online sellers and marketers to stay informed about the e-commerce market since 1999.
This newsletter contains various articles on e-commerce and related topics and offers the latest e-commerce news and industry announcements. It also rounds up user-reported marketplace issues and opinions.
Practical Ecommerce is a newsletter that is authored by multiple leading eCommerce practitioners, consultants, and journalists. It publishes expert insights and instructions to help e-commerce companies.
All the advice and ideas you need about e-commerce will be directly sent into your inbox via Practical Ecommerce newsletters. It also sends links to articles, webinars, and podcasts on a wide range of e-commerce topics.
Insider Intelligence offers different newsletters that provide information on all the news worth covering in the Ecommerce space.
Their eMarketer newsletter gives a daily briefing on digital marketing and media trends. It also includes webinar announcements, white paper offers, best practice guides, and research briefs about e-commerce.
Their Retail newsletter offers data, news, and insight about the new world of commerce while their eMarketer Tech newsletter provides information on the latest e-commerce tech news.
Now that you know the different types of e-commerce newsletters available, we bet you're wondering how to go about creating your own.
So we want to want to introduce you to an amazing tool that can help you create your very own e-commerce newsletters in just a matter of minutes!
Intrigued? Then scroll down now!
Read more: Business Newsletter: Definition, Types, Steps to Create & Examples!
elink.io: Just What You Need to Create Beautiful eCommerce Newsletters
You have a lot to compete within your subscribers' inboxes. That's why using a powerful newsletter creator like elink.io is critical to designing an email newsletter that people want to click through!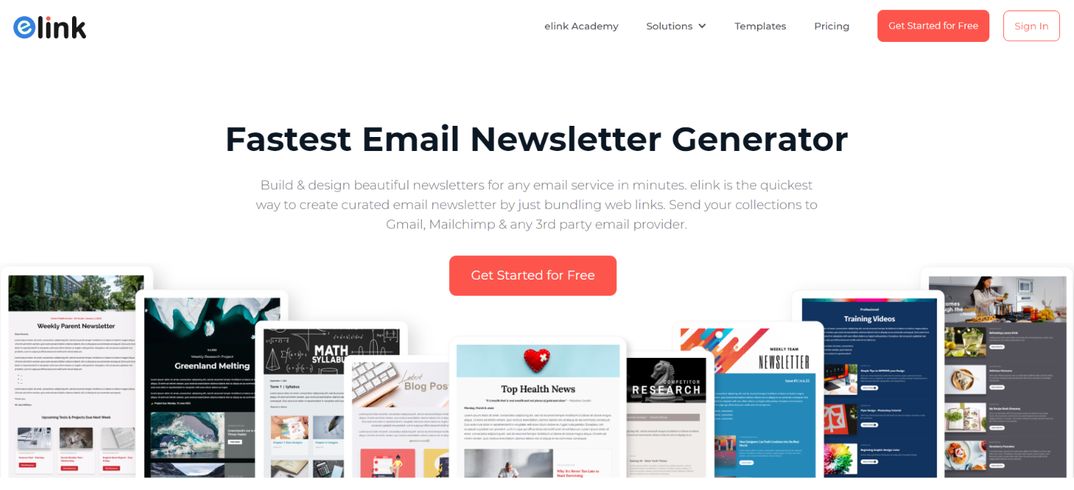 elink is a content curation platform that you need to have in your tool kit regardless of your industry. It is easy on the budget, simple to use, and comes with all the features you need to create and share beautiful newsletters, webpages, and more.
Simply put, elink is the fastest, coolest, and most efficient way to create and share newsletters on any topic in a visually appealing, smooth way. Just add links to the content you need to share, and elink will create a stunning newsletter for you in minutes.
The platform offers over 50 pre-built templates, so you don't need to think about the design aspect, and you can focus on growing your company. Moreover, you can add your own images, text, bullet lists, numbered lists, buttons, social icons, and dividers in your header and footer body. What could be better than that?
The best part? Unlike most other newsletter creators, elink.io lets you collaborate with your team in real-time. So you and your team can work together on bundling, creating, and sharing content. You can even add a search bar in the newsletter and make it easy for your readers to find what they are looking for.
There's more! elink has a robust RSS reader that lets you add RSS feeds of the publications you love. You can bundle links directly from the RSS Reader and create a stunning newsletter in seconds.
And, the most amazing feature of elink is – content automation! Using elink's nifty automation tool, you can automate content creation for your newsletters, websites, and more. All you have to do is pick sources and add filters in order to make your content more effective and relevant.
Okay, so now that we have convinced you to try elink (hooray!), let's understand how you can create a stunning eCommerce newsletter with elink.
Note: You can either choose to create a newsletter manually or using the automation feature. We are going to walk you through both these features. Let's roll!
Read more: Business Newsletter: Definition, Types, Steps to Create & Examples!
How to Create a eCommerce Newsletter on elink?
Step 1: Choose a Newsletter Template
The coolest thing about elink is that you don't have to worry about all the tricky design rules. With elink's stunning newsletter templates, you're already way ahead when it comes to designing.
Now, here's what you need to do: choose a template and customize it the way you want. We've quite a splendid collection to choose from, so take your time to find the one that fits your needs the best.
By the way, you can also create a newsletter from scratch. It's totally up to you.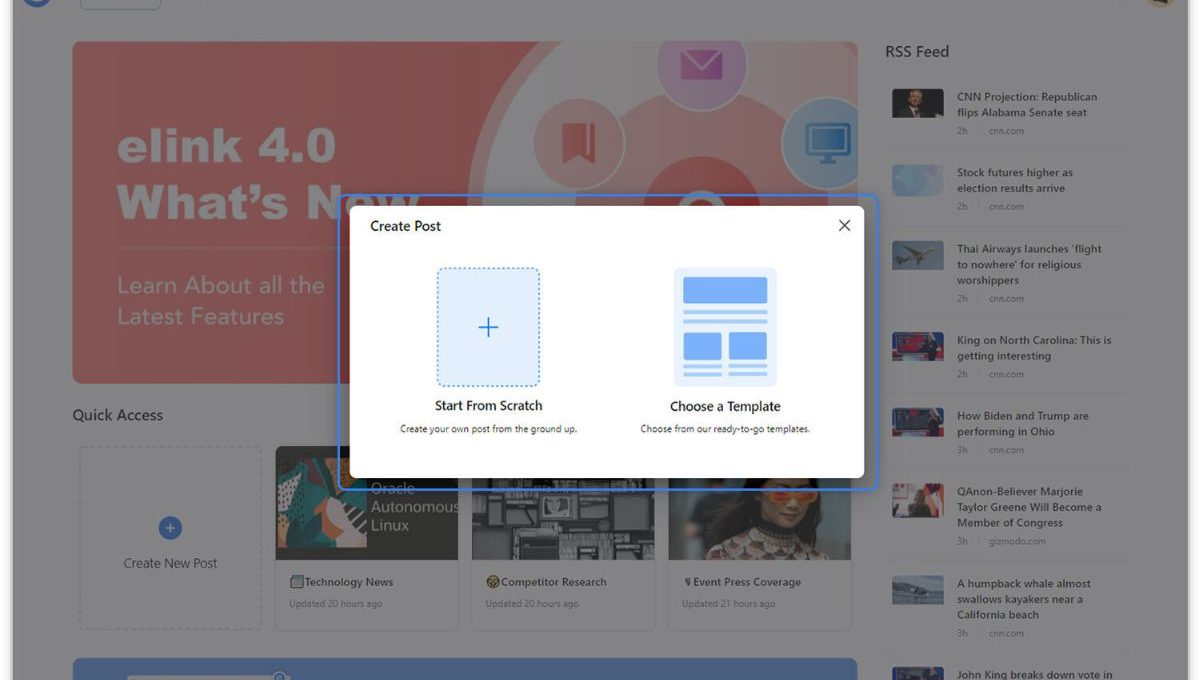 Step 2: Add Links to the Newsletter
Here comes the fun part. You can add links to the content (articles, videos, products, etc.) that you want to show up in your eCommerce newsletter.
elink is so robust that it will automatically generate an image, a title, and a short description with each link. Of course, you can modify and customize any of this information if you want.
elink is also an RSS reader and a bookmark manager so you can quickly select your preselected links directly from the link library or the RSS feeds or enter them manually.
Step 3: Add Header
We know that a compelling email header design decides whether the reader would read your entire newsletter or bail on it. That's why we've given you the option of designing your header body the way you want.
You can add images, text, bullet lists, numbered lists, buttons, social icons, and dividers in your header body. elink even lets you choose from over 6 font sizes for your header body.
What's more? You can also use elink's Canva integration and design an eye-catching banner directly in elink.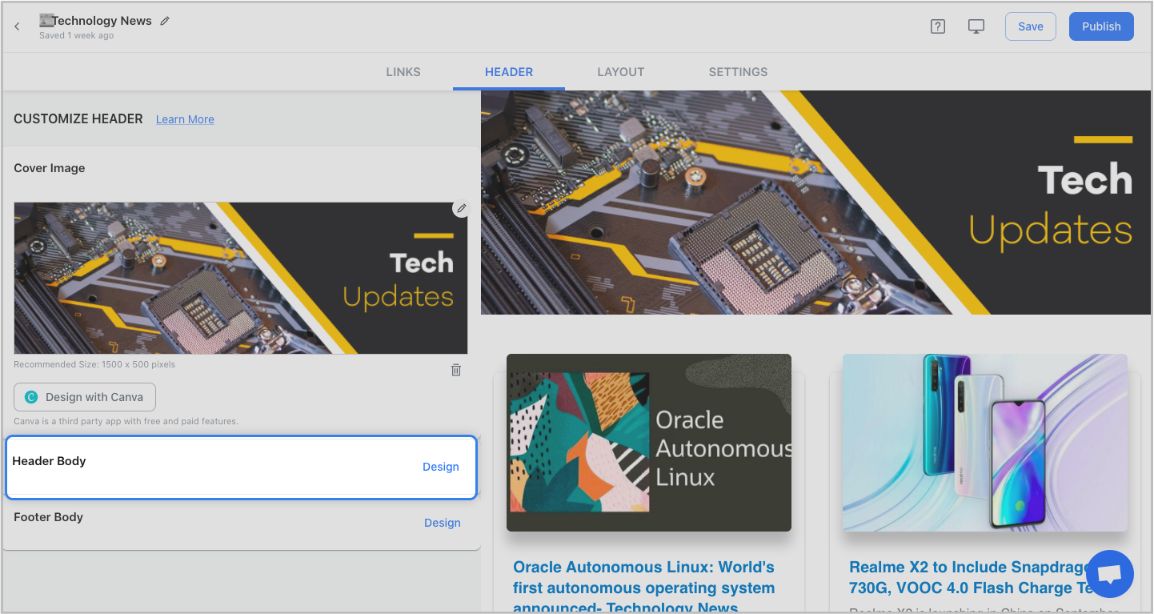 Step 4: Add Footer
An email footer is a place where the recipients would look for details about your brand. It is a place for transparency, clarity, and good design – exactly what elink provides.
You can add images, text, bullet lists, numbered lists, buttons, social icons, and dividers in your footer. Moreover, you can link the social icons with your own social media accounts in seconds.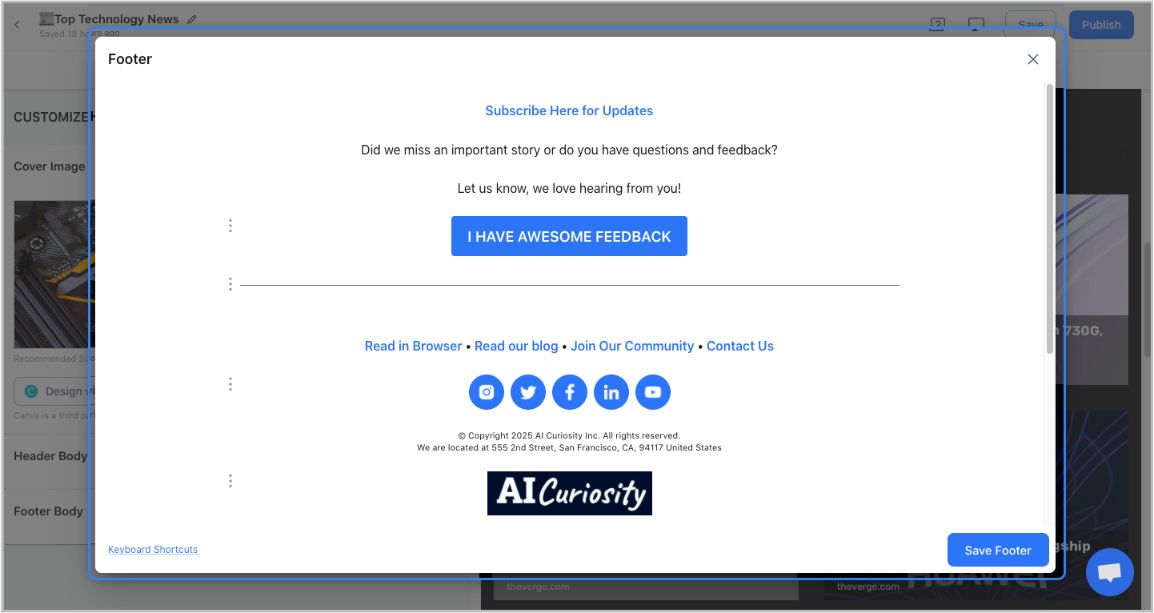 Step 5: Choose a Layout for your links:
Just jump right in and don't worry about wasting valuable time designing the layout of your eCommerce newsletter. elink has already done all the heavy lifting for you. You can choose your favorite layout from all the different options with a simple click of a button and elink will change the formatting of those tiles to your chosen style.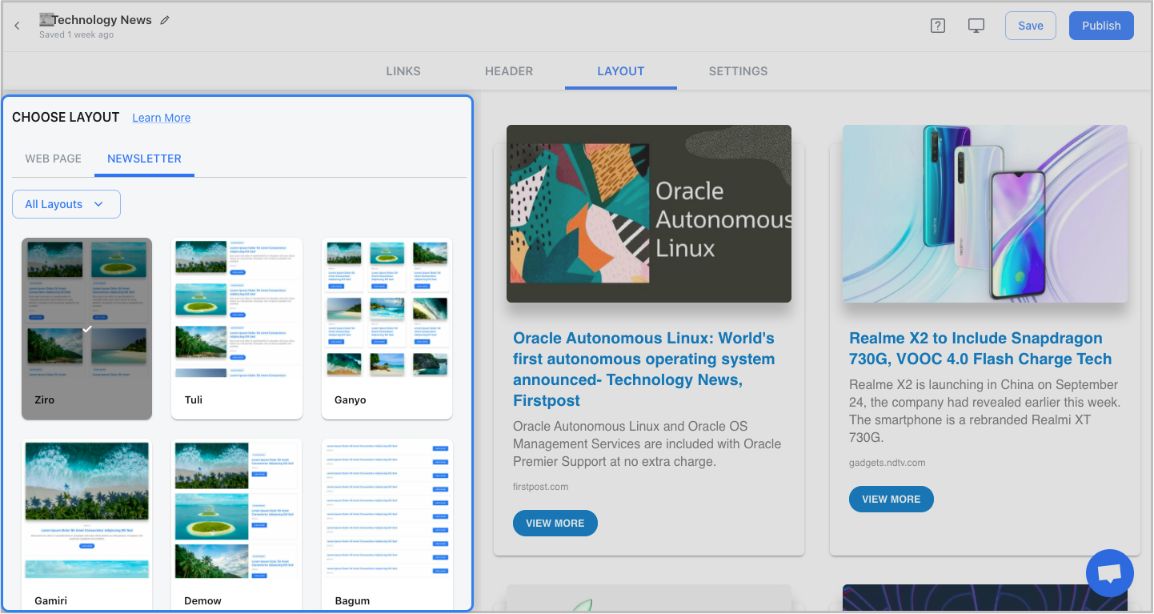 Step 6: Design and Customize
You'll get a perfect combination of colors in our templates. But, if you want to change the colors, you can do that too. Apart from that, you can also customize the font styles, button text, and more – in just a few clicks.
One of the most robust features of elink is that you can even add a search bar if you are adding a bunch of links such as resources etc.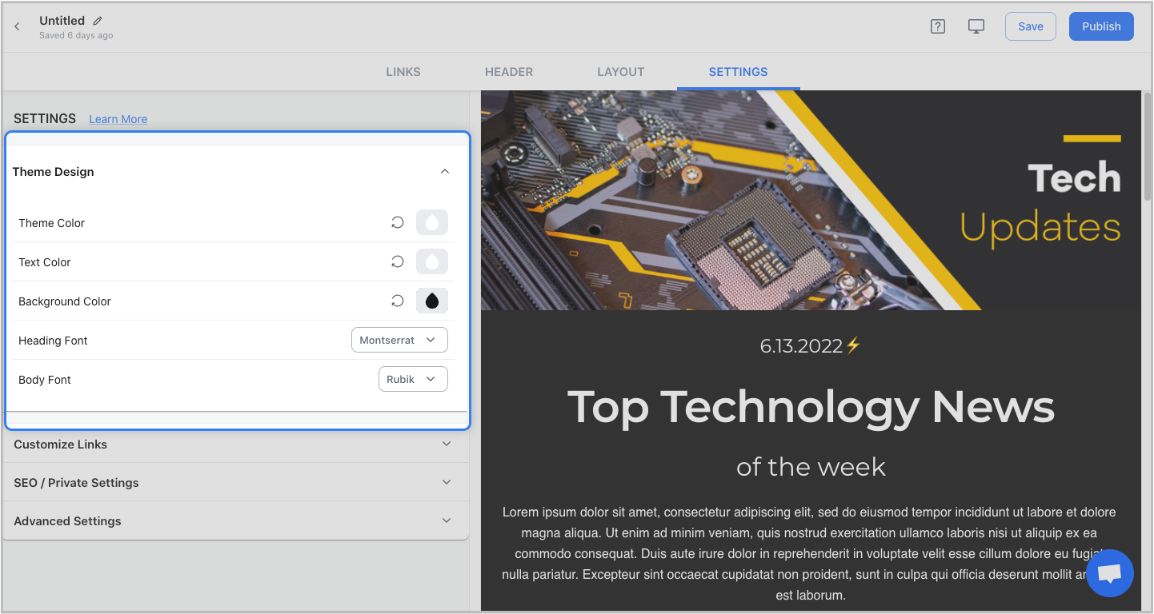 Step 7: Share Your Newsletter
Yay! You've now created a stunning eCommerce newsletter that is ready to be shared with the world. Now, hit the 'Publish' button on the far right corner of the screen, and a pop-up will appear, allowing you to customize your content URL.
Once you have customized the URL, another popup will appear where you need to select the 'newsletter' option. From there, you can share your masterpiece via Gmail, Mailchimp, or any other third-party email marketing tools like Get Response, Mailchimp, etc.!
Now here is the thing: there's isn't any specific sauce that you can add to the recipe of awesome newsletters. Nothing is ever truly guaranteed. But, there are a few tips and tricks that you can learn and implement. In fact, just pick them up and run with them right away.
Checkout our Templates!
Conclusion
So there you have it! A list of some of the best e-commerce newsletters out there to help you stay informed and updated about all the latest news and insights about the e-commerce industry.
With elink, you'll now be able to create your own e-commerce newsletters as well!
Now go out there and subscribe to newsletters you think are worth your time and create newsletters that are worth your subscriber's time!
Happy reading and happy creating!
Further reads:
7 Ways to Increase Newsletter Engagement Rate
What are Editable Newsletter Templates & Where to Find Them?
Ecommerce & Product Newsletter: Ideas, Templates & How to Create!
Nonprofit Newsletter: What is it & How to Create one in Minutes!
Travel Newsletter Templates You Need to Check Out!