Looking for a solution to manage your knowledge. Knowledge base software are the perfect solution to your problems. Read on…
Knowledge is power. We have all heard someone say it, or read the quote on the internet. It's a cliche, but for good reason. With businesses generating a crazy amount of data– company documents, customer information, email lists, social media content, online help center articles, training videos, product videos, and so on- on a daily basis, keeping this information organized and readily available is crucial. 
In a knowledge-based economy, understanding how to effectively streamline and put the information to good use is true power. 
Yet, businesses often leave money on the table, by not having the right system or processes in place to create, manage, and share organizational knowledge with their employees and customers. 
Enter, knowledge base software!
What is Knowledge Base Software? 
A knowledge base software is a tool that helps organize all of a company's knowledge in one place for easy storage and retrieval. It acts as a central repository for all data, information, and knowledge of the organization. Knowledge base software helps:
Storage and retrieval of knowledge
Improves teamwork & collaboration
Streamlines flow of data
Aggregates organizational content
Saves time and resources
Improves the quality of customer service
A knowledgebase can be used by both your customers and your employees. New employees can use a knowledge base to learn more about your company and its products (internal knowledge base) while customers can use a knowledge base to quickly find solutions to their queries without calling customer support (external knowledge base).
Read more: Top 9 Knowledge Management Tools
Our Recommended Best Knowledge Base Software
According to Ernst & Young, 40% of employees are poor or very poor at transferring knowledge. On top of that, employees spend 7–20% of their job time replicating existing solutions for others.
Undoubtedly, organizations are in great need of tools that can help them better manage their constantly growing data and reduce process redundancies.
A quick Google search about knowledge base software would give you millions of results. No need to be overwhelmed though, we got you covered!
We went through tons of these knowledge base software and came up with our top picks for the best knowledge base software:
Bit is a new-age document collaboration and knowledge base software that helps teams to collaborate, share, track, and manage all company knowledge in one place.
Multiple people can simultaneously collaborate on a Bit document in real-time, making it a great tool to create both internal as well as external knowledge bases.

Bit allows you to weave content into your documents across 80+ applications, online content, files, and more.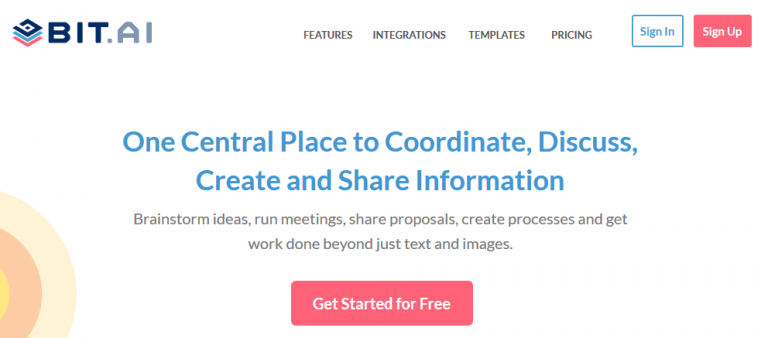 It provides a central location to store all your company media files like videos, images, GIFs, PDFs, and more, thanks to its robust content management capabilities. All of the content is easily searchable, making it readily available to anyone who needs it. 
Bit provides a common workplace for knowledge workers and experienced executives to collaborate with employees, share their knowledge, brainstorm ideas, store digital assets, and innovate together. One can use bit's pre-designed templates to write executive summaries, white papers, business one-pagers, case studies, and a lot more.
The best part is that this knowledge is safely secured in your workspaces and can be shared (or kept private) with anyone in your organization!
Key Features:
Manage permissions and information access that suits your organizational needs
Workspaces are created around projects, teams, departments, and clients to keep your documents, data, and information organized.
Smart integrated editor and pre-built templates.
Smart search across all documents and content.
Pricing: 
Free plan available
Paid plans start at Standard ($12/month), Plus Plan ($20/month), Enterprise (contact sales).
Read more: 5 Best Wiki Tools For Managing Knowledge
Helpjuice is another great knowledge base tool that can be used to create both internal and external knowledge bases. Employees can co-create knowledge base articles and store content in multiple categories. 
Customers can also find answers to their queries using the external knowledge base without the need to ever contacting a service rep. For all your articles and content, you can set access levels like public, URL based, internal, or specific users. 
The search is Google-like, and we had no problem finding content quickly. There are dozens of custom-made templates for you to jumpstart the process of knowledge base creation and onboard your team quickly. 
Key Features:
Custom branding, customization and styling tools 
Analytics that shows who searched for which information, how many times your content was viewed, what's the most common search query, etc.
Ability to set permissions. 
Pricing: 
Free plan with limited features
Paid plans start at: for 14 users ($189 per month), for unlimited users ($369 per month)
Knowledge management can be tricky, especially as more people are added to your organization. Tettra wants to solve this obstacle by helping businesses store all their knowledge in one place.
Apart from creating documents in Tettra, you can also add files from your Google Drive or Dropbox and keep all of your data in one place.
Keeping the Slack teams in mind, Tettra helps your team store operating internal updates, procedures, guides, and all of their important know-how in one place. Answering queries in Slack was never this easy as employees can quickly pull the answer from Tettra without ever leaving Slack. Smart suggestions engine lets you know which of your content pages needs to be added or removed, as well as the most popular pages your knowledge base has. 
Key Features:
Suggestion engine to keep content up-to-date
Aggregate existing files from Google Drive, Dropbox, etc
Templates available
Pricing: 
Free plan available
Paid plans start at Growing ($39/month), Scaling ($99/month)
Confluence, by Atlassian, breaks down organizational silos and facilitate the free flow of information throughout the organization. If your company already uses Atlassian's products like Jira and HipChat, Confluence can be a great addition for your team to store company knowledge. 
Teams can create, share, and manage data, all in one place. You can collaborate on spreadsheets, documents, presentations, etc, and keep similar information organized in dedicated spaces.
Powerful search makes sure that you can find what you are looking for quickly. If you need any document or content reviewed, you can quickly @ mention your teammates and chat with them right there. 
Key Features:
Track every version and changes made to a page
Countless integrations
Easy organization of information
Pricing: 
Free plan with limited features
Paid plans start at Standard ($5 per user per month), Premium ($10 per user per month)
Read more: 10 Best Confluence Alternatives In 2020
TallyFox Tallium works differently than other knowledge base software on this list. It connects users with knowledge experts, builds knowledge libraries, and allows you to work with people interested in the same topics as you are, providing an ecosystem of knowledge sharing and understanding. 
Thallium's Smartmatch Pro algorithm quickly find relevant experts to discuss and answer your questions. People and content are ranked to make it easy to find experts and validated content. Users can find high-quality answers from knowledge experts, get suggestions on topics, break information in silos, and interact with like-minded individuals.
Key Features:
Open API
Content management
Multi-media library with document preview
Pricing: 
Read more: Top Content Management Systems To Try In 2020
Next up on our list of awesome knowledge base software is BoostHQ. BoostHQ allows organizations to create, share, and centralize internal knowledge. You can organize your content by Groups, Categories, and Tags, while smart search makes content accessible at all times. 
"Employee discussions" allow employees to share their thoughts and experiences while capturing and retaining their knowledge for future reference. Powerful analytics gives you insights into what's popular in the organization and which employees are the most active contributors to the knowledge base.
There's also a BoostHQ's chrome extension which allows employees can to share links and videos, right from their internet browser on any device.
Key Features:
Q&A feature for discussions in groups.
Google Chrome extension
Comprehension checklists can be added to content to outline key takeaways.
Pricing: 
Free trial
Paid plans start at: Starter ($239 up to 100 users), Advanced($399 up to 250 users), Premium ($559 up to 500 users), Enterprise (contact sales)
And the last one on our list is Nuclino, a lightweight and simple knowledge base software for teams. To store your company's "collective brain", Nuclino separates knowledge in workspaces. 
Workspaces contain items, and the related items can be grouped into clusters. Users can store anything into workspaces- code blocks, images, videos, meeting notes, guidelines, documentation, etc. Use @ mentions to link one list to another, making it easy for everyone to search for information.
Nuclino also supports collaboration as you can tag team members and collaborate on a live document in real-time. Boards and graphs can be used to give a visual outlook of your team's knowledge base. 
Key Features:
Access rights
Format content quickly with Markdown
Version history 
Pricing: 
Free trial
Paid plans start at Standard ($5 per user per month), Premium ($10 per user per month).
Final Words 
If your company doesn't have a knowledge base setup, we'd highly encourage you to set one up as soon as possible. Creating a competent knowledge base not only helps employees to stay up-to-date but also acts as a help center for your consumers and clients.
So what are you waiting for? Empower your team by building a knowledge base today! 
Further reads :