If you are an HR professional or a recruiter, you know that you have one of the most crucial roles – to hire or recruit people into companies.
It's definitely not easy, especially when the HR industry is rapidly changing. This is why it is important that you are informed and updated about the latest news and trends in the HR industry.
But you already have a lot on your plate and the last thing you want to do is scrounge around the Internet for credible content.
That's why you need to subscribe to HR newsletters. They will provide you with all the information that you need right in your inboxes!
So here we have created for you a list of some of the best HR newsletter that you must subscribe to if want to stay informed and at the top of your industry!
Scroll down to know more!
Workology sends out 3 HR newsletters discussing all the latest trends, tools, challenges, and buzz in the HR industry. It offers special access to case studies and practitioner-focused information, HRCI, and SHRM recertification credit webcasts and courses, and access to articles and information focused on the HR and recruiting profession
Looking to upskill and become a better recruiter? Then we recommend SocialTalent, a leading e-learning platform, dedicated to improving the hiring process.
Their HR newsletter offers articles and blogs about the world of hiring, ebooks about the talent life cycle, industry reports, webinars and live broadcasts about talent management and leadership, and lots more.
Read more: Monthly Newsletter: How to Create it in Simple Steps? (Templates Included)
Get everything you need to know about the latest news and trends in talent acquisition and recruitment marketing through HR Dive's weekly newsletters.
You will also get more information on topics like recruitment technology, recruitment advertising, employee training, onboarding, mentoring, management, diversity and inclusion, and lots more via HR Dive's various newsletters.
Human Resources Executive newsletter offers daily HR news, analysis, and strategic insights. It also presents various topics such as talent management, HR leadership, and recruitment technology.

This HR newsletter also provides HR-related case studies, white papers, special reports, and in-depth analyses from industry experts, webinars, and more. It also discusses how social and political events affect the HR function.
Kickstart your day with HRMorning's newsletter, trusted by over 230,000 HR professionals. It provides the latest news, insights, strategies, and advice that help HR managers and executives stay up to date about the HR industry.
The HRMorning also delivers critical stories on retention, benefits, labor laws, and onboarding strategies. It also provides access to the HRMorning resource library which contains free quick-read guides and practical tools.
Curated by Hung Lee, Recruiting Brainfood is a weekly HR newsletter that is aimed at helping HR professionals and recruiters improve their knowledge via valuable recruiting and HR-related content.
Recruiting Brainfood offers the most insightful HR articles, industry events, useful reports, tools, videos, and even interviews and podcasts. It covers various topics such as talent management, recruitment, employer branding, diversity and inclusion, best practices in the workplace, and more!
Wavelength by Asana is a great HR newsletter to help you gain insights around hiring and maintaining company health. It offers you tips on preparing your team, empowering your employees, and contextualizing their experience via adding a personal touch. Wavelength also provides resources on inclusive onboarding and employee orientation.
The Modern Recruiter by Greenhouse is a bi-weekly HR newsletter curated and designed for busy recruiters to keep them at the forefront of recruiting. It offers the latest buzz in the HR industry, recruiting-related articles, talent tips, hiring hints, white papers, webinars, and more. What's more? It even features recruiting jobs in new companies.
SmartBrief is the leading online publisher of targeted business news and information by industry. This daily HR newsletter offers a snapshot of the latest and most relevant articles and news from ERE.net, Bloomberg Businessweek, and other leading sources.
SmartBrief also provides you with summaries of the latest topics and news to help you save time while keeping you informed about the HR industry.
Now that you are equipped with some of the best HR newsletters out there, what if we told you that you could create your own in just a matter of minutes!
Don't believe us? Then scroll down!
elink: The Fastest and Easiest Way to Create Newsletters
You have a lot to compete within your subscribers' inboxes. That's why using a powerful newsletter creator like elink.io is critical to designing an email newsletter that people want to click through!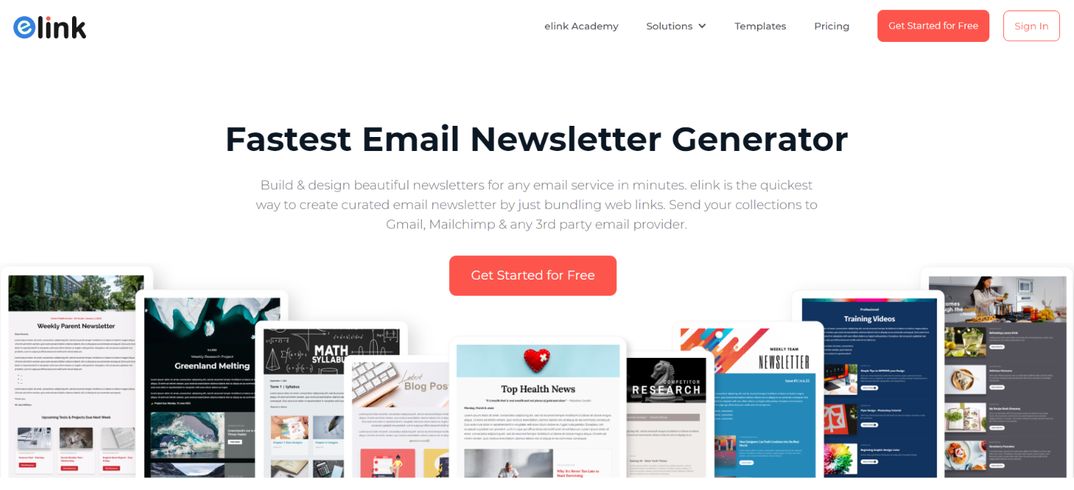 elink is a content curation platform that you need to have in your tool kit regardless of your industry. It is easy on the budget, simple to use, and comes with all the features you need to create and share beautiful newsletters, webpages, and more.
Simply put, elink is the fastest, coolest, and most efficient way to create and share newsletters on any topic in a visually appealing, smooth way. Just add links to the content you need to share, and elink will create a stunning newsletter for you in minutes.
The platform offers over 50 pre-built templates, so you don't need to think about the design aspect, and you can focus on growing your company. Moreover, you can add your own images, text, bullet lists, numbered lists, buttons, social icons, and dividers in your header and footer body. What could be better than that?
The best part? Unlike most other newsletter creators, elink.io lets you collaborate with your team in real-time. So you and your team can work together on bundling, creating, and sharing content. You can even add a search bar in the newsletter and make it easy for your readers to find what they are looking for.
There's more! elink has a robust RSS reader that lets you add RSS feeds of the publications you love. You can bundle links directly from the RSS Reader and create a stunning newsletter in seconds.
And, the most amazing feature of elink is – content automation! Using elink's nifty automation tool, you can automate content creation for your newsletters, websites, and more.All you have to do is pick sources and add filters in order to make your content more effective and relevant.
Okay, so now that we have convinced you to try elink (hooray!), let's understand how you can create a stunning monthly newsletter with elink.
Note: You can either choose to create a newsletter manually or using the automation feature. We are going to walk you through both these features. Let's roll!
Read more: Business Newsletter: Definition, Types, Steps to Create & Examples!
How to Create a Hr Newsletter on elink?
Step 1: Choose a Newsletter Template
The coolest thing about elink is that you don't have to worry about all the tricky design rules. With elink's stunning newsletter templates, you're already way ahead when it comes to designing.
Now, here's what you need to do: choose a template and customize it the way you want. We've quite a splendid collection to choose from, so take your time to find the one that fits your needs the best.
By the way, you can also create a newsletter from scratch. It's totally up to you.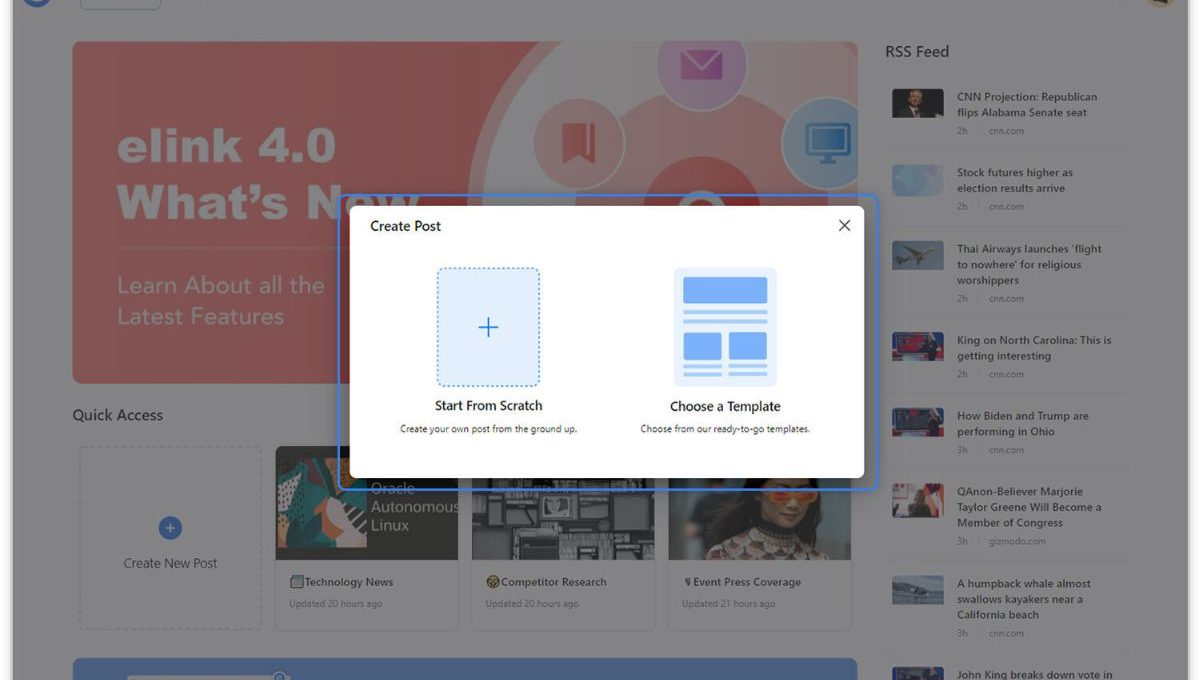 Step 2: Add Links to the Newsletter
Here comes the fun part. You can add links to the content (articles, videos, products, etc.) that you want to show up in your hr newsletter.
elink is so robust that it will automatically generate an image, a title, and a short description with each link. Of course, you can modify and customize any of this information if you want.
elink is also an RSS reader and a bookmark manager so you can quickly select your preselected links directly from the link library or the RSS feeds or enter them manually.
Step 3: Add Header
We know that a compelling email header design decides whether the reader would read your entire newsletter or bail on it. That's why we've given you the option of designing your header body the way you want.
You can add images, text, bullet lists, numbered lists, buttons, social icons, and dividers in your header body. elink even lets you choose from over 6 font sizes for your header body.
What's more? You can also use elink's Canva integration and design an eye-catching banner directly in elink.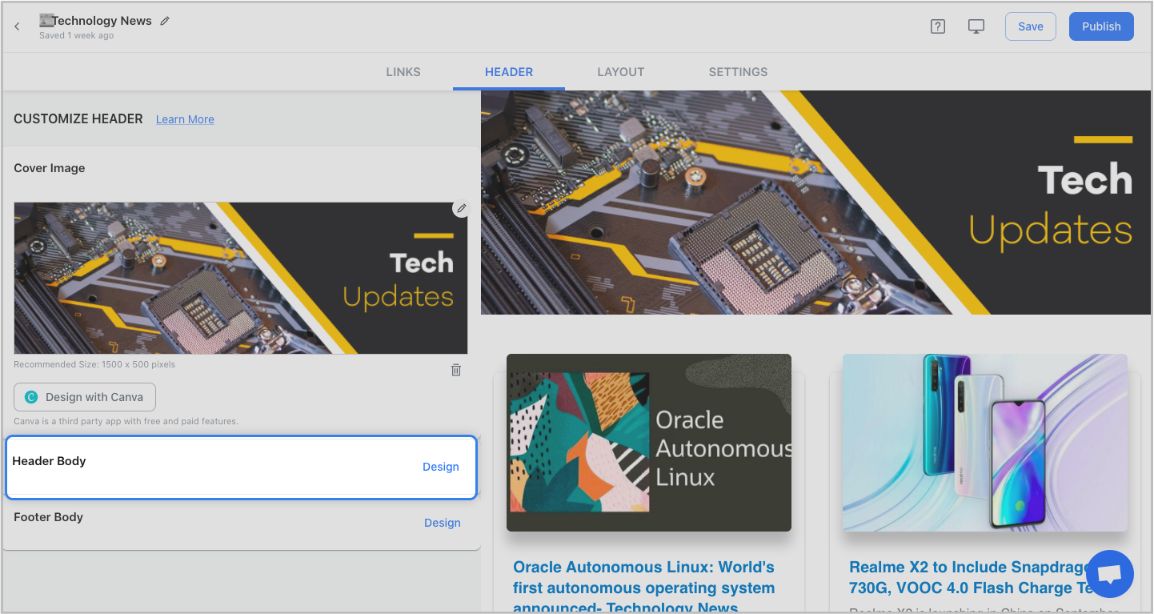 Step 4: Add Footer
An email footer is a place where the recipients would look for details about your brand. It is a place for transparency, clarity, and good design – exactly what elink provides.
You can add images, text, bullet lists, numbered lists, buttons, social icons, and dividers in your footer. Moreover, you can link the social icons with your own social media accounts in seconds.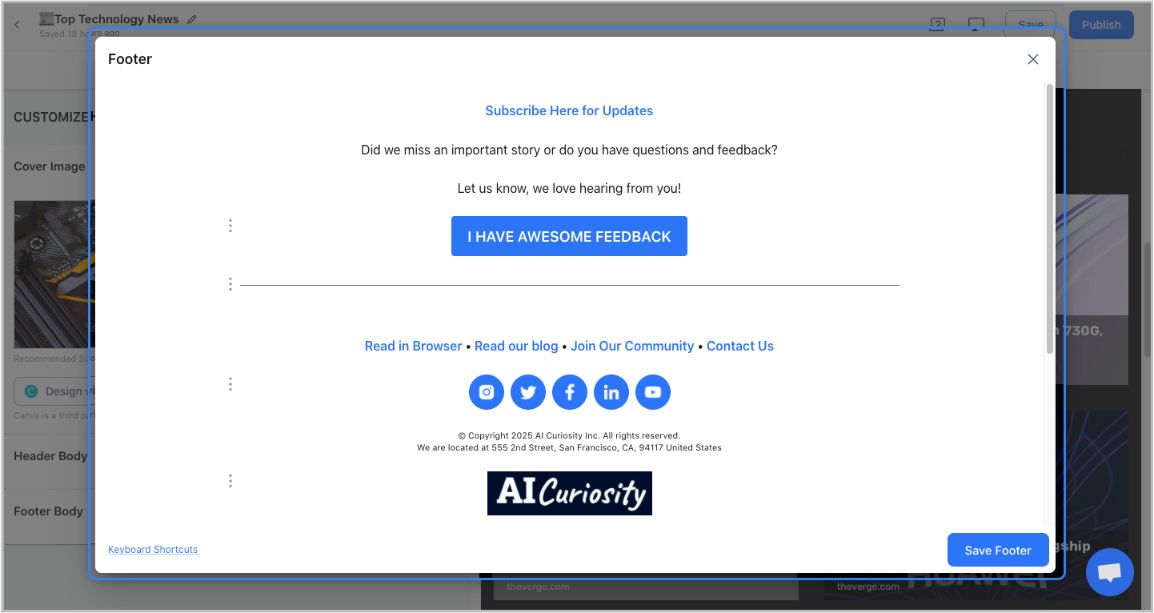 Step 5: Choose a Layout for your links:
Just jump right in and don't worry about wasting valuable time designing the layout of your hr newsletter. elink has already done all the heavy lifting for you. You can choose your favorite layout from all the different options with a simple click of a button and elink will change the formatting of those tiles to your chosen style.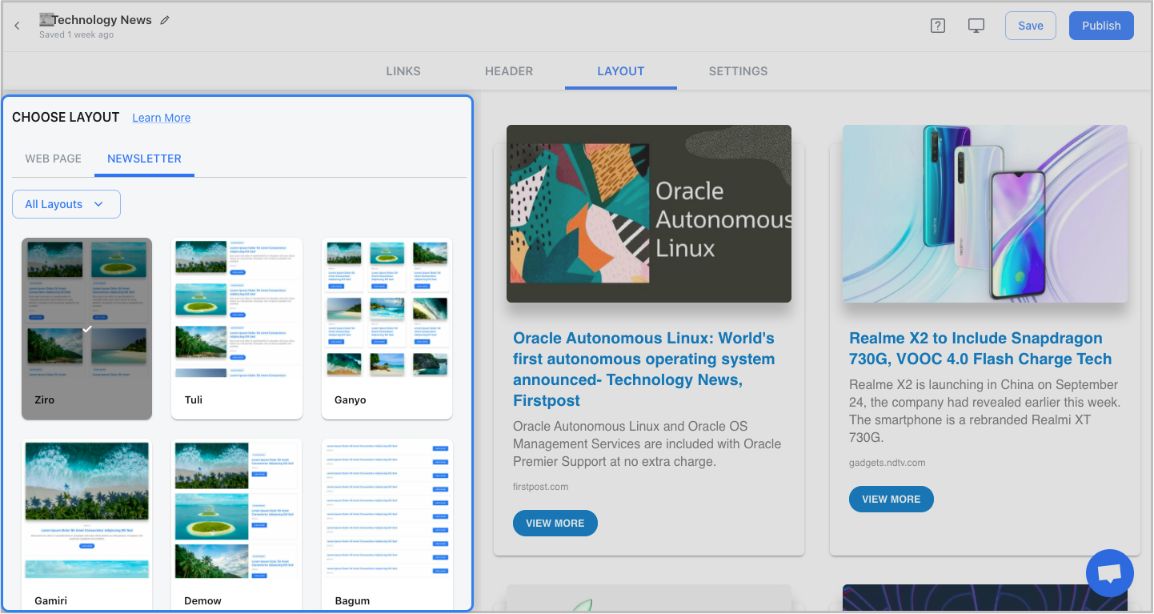 Step 6: Design and Customize
You'll get a perfect combination of colors in our templates. But, if you want to change the colors, you can do that too. Apart from that, you can also customize the font styles, button text, and more – in just a few clicks.
One of the most robust features of elink is that you can even add a search bar if you are adding a bunch of links such as resources etc.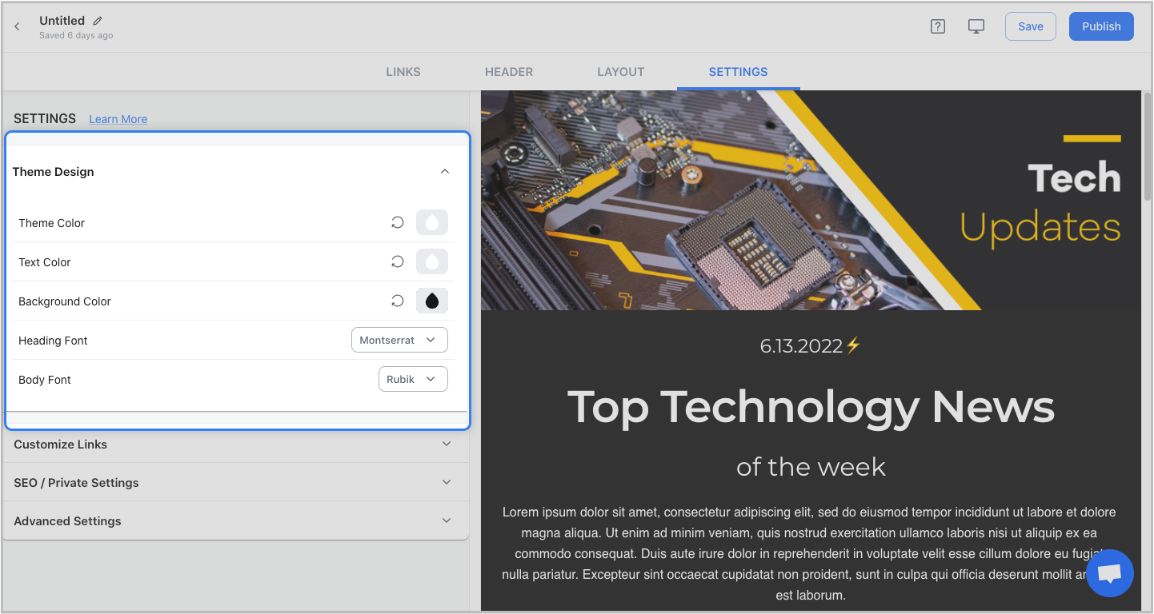 Step 7: Share Your Newsletter
Yay! You've now created a stunning hr newsletter that is ready to be shared with the world. Now, hit the 'Publish' button on the far right corner of the screen, and a pop-up will appear, allowing you to customize your content URL.
Once you have customized the URL, another popup will appear where you need to select the 'newsletter' option. From there, you can share your masterpiece via Gmail, Mailchimp, or any other third-party email marketing tools like Get Response, Mailchimp, etc.!
Conclusion
The more you know about the HR industry, the more value you can give to your organization.
With all your favorite HR topics being discussed in this list of HR newsletters that we have provided you, it will easily help you stay at the top of your recruiting game.
Now go, subscribe and stay informed! Happy reading!
Further reads:
9 Awesome Business Newsletter Templates You Must Check Out!
10 Educational Newsletters You Should Sign Up For!
9 Health Newsletters You Must Subscribe To!
9 Graphic Design Newsletters to Get Some Inspirations!