Ever since newsletters came into being, they have been an effective marketing tool for businesses and a great source of information for curious customers.
And over the years company newsletters have garnered a lot of attention for the creativity it uses to resonate with the people. Mind you, it's not very easy to make a customer look forward to newsletters.
But some companies have managed to spice up their email marketing game to bring out some of the coolest company newsletters ever.
Now if you're looking for some inspiration to help you create a killer company newsletter, then we have compiled for you some of the most successful company newsletters to level up your email marketing strategy!
Scroll down and have a look!
List of Company Newsletters to Check Out!
Check out the InVision company newsletter for a simple and eye-catching design. It has clean, crisp imagery with a CTA that pops out and a mobile-friendly design. InVision showcases its unique company voice and offers design-related content, thought leadership-based content, helpful tips and tricks, exclusive giveaways, comprehensive reading lists, and more.
Moz is a semi-monthly newsletter that offers digital marketing and SEO content information by presenting the 10 most useful articles of the month. It doesn't push its own content, but instead, offers articles that are informative and thought-provoking for better customer engagement. Moz's company newsletter has a simple, yet beautiful design work that always adheres to its strict branding guidelines.
Apple is a popular technology company that focuses on consumer electronics, computer software, and online services. Their company newsletter, instead of putting their brand name and logo forward, features the same font and layout that we see on its products. This helps the readers recognize Apple's elegant design and style.
MOOsLetter is a great company newsletter that offers expert business tips, inspirational customer stories, exclusive discounts, new product updates, and more. It uses clean designs and clear CTAs. MOO's known to integrate animated elements such as GIFs and imageries to give that extra pop to capture the attention of its readers towards the most important part of their newsletter's message.
Robinhood Snacks is a 3-minute daily newsletter that offers fresh takes on the financial news. It takes complicated and dry information and converts it into a digestible and enjoyable read. This company newsletter approaches the content with humor and puns to ensures that the readers are constantly engaged.
Unsplash is a stock image-sharing platform for photographers. Its weekly company is known for keeping a simple design with crisp content. Unsplash effectively employs visuals that include user-generated content and displays a collection of photos from its website that its users have taken.
Litmus is an email marketing solutions provider whose company newsletters offer the best practices and knowledge on email marketing strategies, information, and techniques while providing value to its customers. Rather than taking a flashy approach, the Litmus newsletter employs simple and effective visuals and designs to engage its readers.
Now that you know the different types of company newsletters available, we bet you're wondering how to go about creating your own.

So we want to want to introduce you to an amazing tool that can help you create your very own sales newsletters in just a matter of minutes!
Intrigued? Then scroll down now!
Read more: Company Newsletters: Ideas, Tips & Tricks
elink.io: Just What You Need to Create Beautiful Company Newsletters
You have a lot to compete within your subscribers' inboxes. That's why using a powerful newsletter creator like elink.io is critical to designing an email newsletter that people want to click through!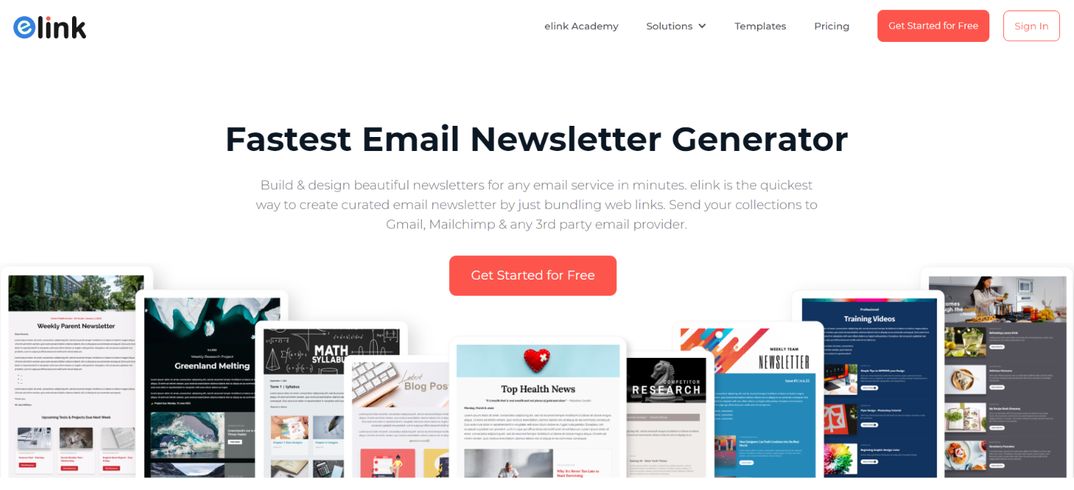 elink is a content curation platform that you need to have in your tool kit regardless of your industry. It is easy on the budget, simple to use, and comes with all the features you need to create and share beautiful newsletters, webpages, and more.
Simply put, elink is the fastest, coolest, and most efficient way to create and share newsletters on any topic in a visually appealing, smooth way. Just add links to the content you need to share, and elink will create a stunning newsletter for you in minutes.
The platform offers over 50 pre-built templates, so you don't need to think about the design aspect, and you can focus on growing your company. Moreover, you can add your own images, text, bullet lists, numbered lists, buttons, social icons, and dividers in your header and footer body. What could be better than that?
The best part? Unlike most other newsletter creators, elink.io lets you collaborate with your team in real-time. So you and your team can work together on bundling, creating, and sharing content. You can even add a search bar in the newsletter and make it easy for your readers to find what they are looking for.
There's more! elink has a robust RSS reader that lets you add RSS feeds of the publications you love. You can bundle links directly from the RSS Reader and create a stunning newsletter in seconds.
And, the most amazing feature of elink is – content automation! Using elink's nifty automation tool, you can automate content creation for your newsletters, websites, and more.All you have to do is pick sources and add filters in order to make your content more effective and relevant.
Okay, so now that we have convinced you to try elink (hooray!), let's understand how you can create a stunning company newsletter with elink.
Note: You can either choose to create a newsletter manually or using the automation feature. We are going to walk you through both these features. Let's roll!
Read more: Business Newsletter: Definition, Types, Steps to Create & Examples!
How to Create a Company Newsletter on elink?
Step 1: Choose a Newsletter Template
The coolest thing about elink is that you don't have to worry about all the tricky design rules. With elink's stunning newsletter templates, you're already way ahead when it comes to designing.
Now, here's what you need to do: choose a template and customize it the way you want. We've quite a splendid collection to choose from, so take your time to find the one that fits your needs the best.
By the way, you can also create a newsletter from scratch. It's totally up to you.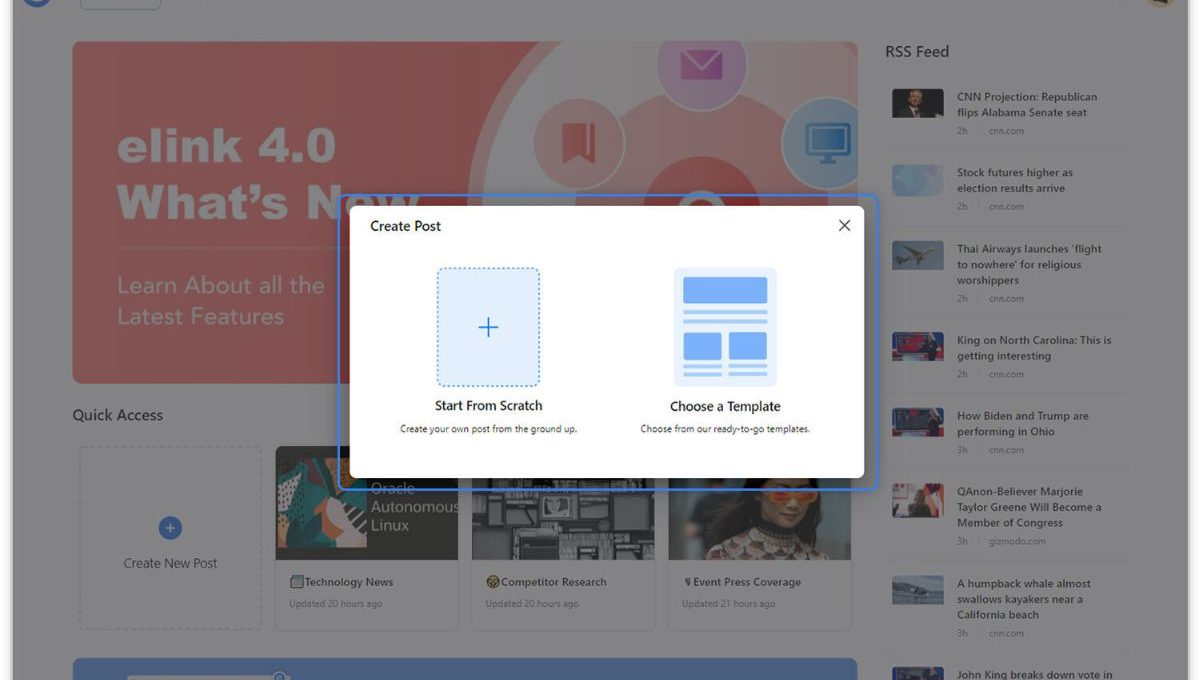 Step 2: Add Links to the Newsletter
Here comes the fun part. You can add links to the content (articles, videos, products, etc.) that you want to show up in your company newsletter.
elink is so robust that it will automatically generate an image, a title, and a short description with each link. Of course, you can modify and customize any of this information if you want.
elink is also an RSS reader and a bookmark manager so you can quickly select your preselected links directly from the link library or the RSS feeds or enter them manually.
Step 3: Add Header
We know that a compelling email header design decides whether the reader would read your entire newsletter or bail on it. That's why we've given you the option of designing your header body the way you want.
You can add images, text, bullet lists, numbered lists, buttons, social icons, and dividers in your header body. elink even lets you choose from over 6 font sizes for your header body.
What's more? You can also use elink's Canva integration and design an eye-catching banner directly in elink.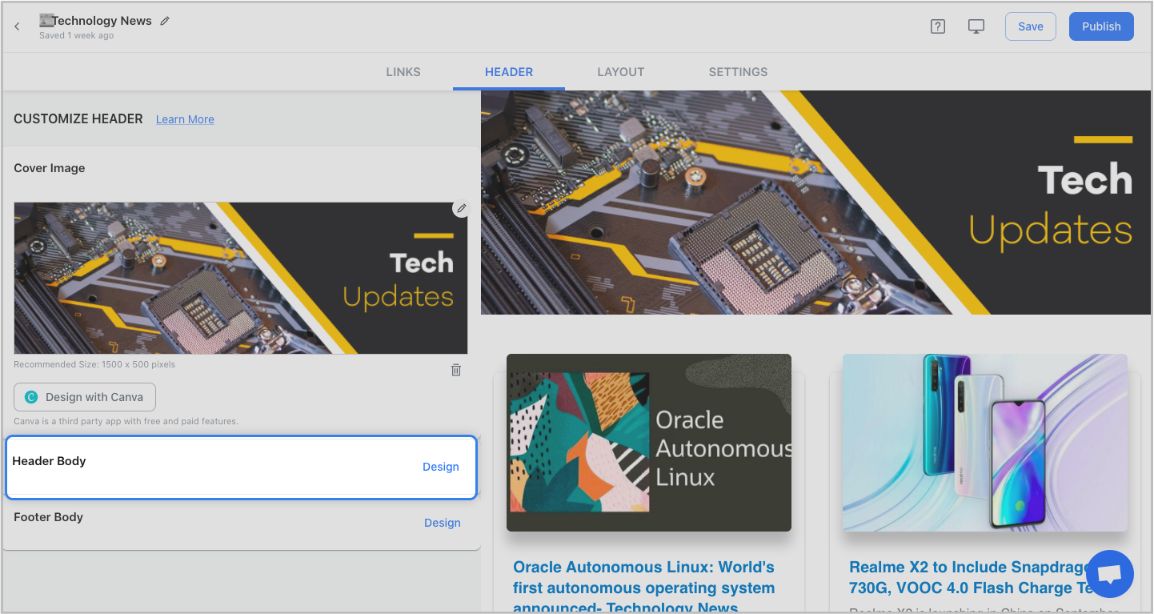 Step 4: Add Footer
An email footer is a place where the recipients would look for details about your brand. It is a place for transparency, clarity, and good design – exactly what elink provides.
You can add images, text, bullet lists, numbered lists, buttons, social icons, and dividers in your footer. Moreover, you can link the social icons with your own social media accounts in seconds.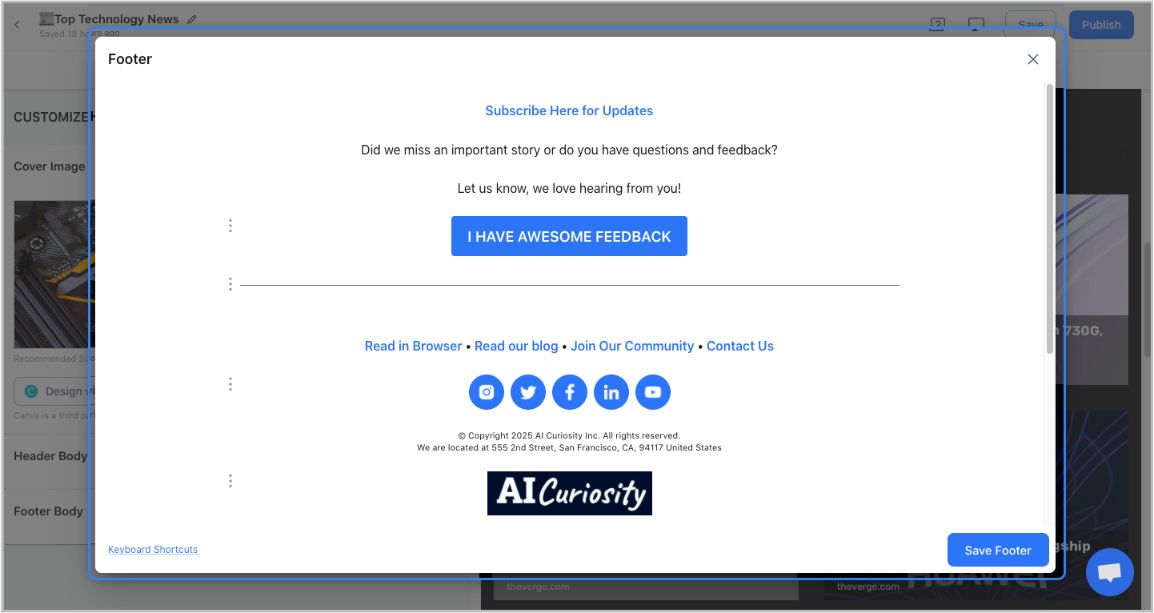 Step 5: Choose a Layout for your links:
Just jump right in and don't worry about wasting valuable time designing the layout of your company newsletter. elink has already done all the heavy lifting for you. You can choose your favorite layout from all the different options with a simple click of a button and elink will change the formatting of those tiles to your chosen style.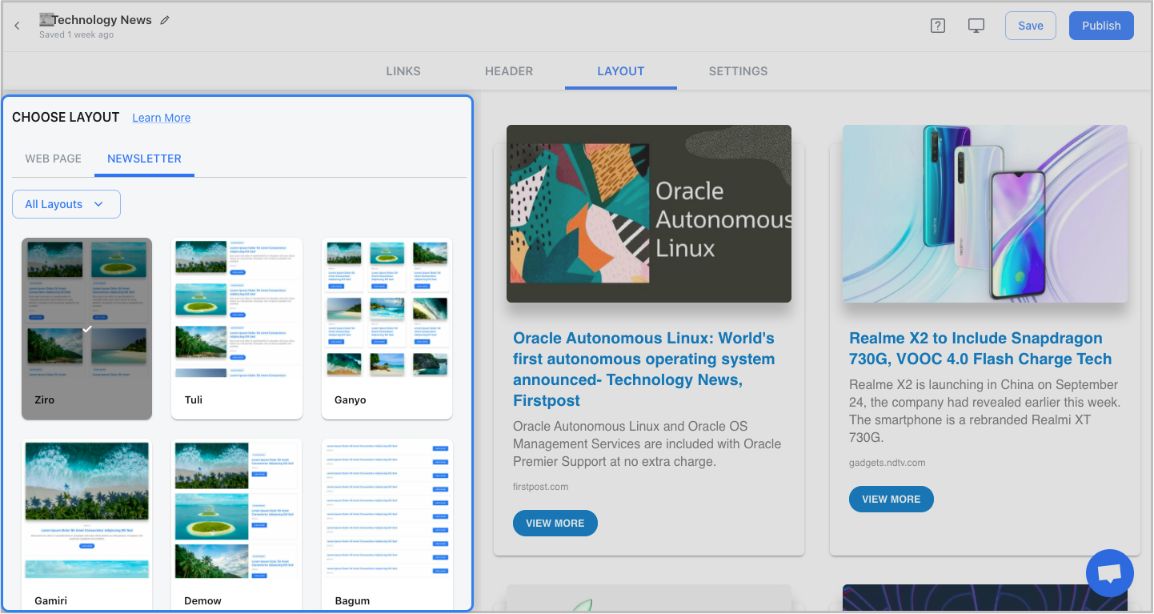 Step 6: Design and Customize
You'll get a perfect combination of colors in our templates. But, if you want to change the colors, you can do that too. Apart from that, you can also customize the font styles, button text, and more – in just a few clicks.
One of the most robust features of elink is that you can even add a search bar if you are adding a bunch of links such as resources etc.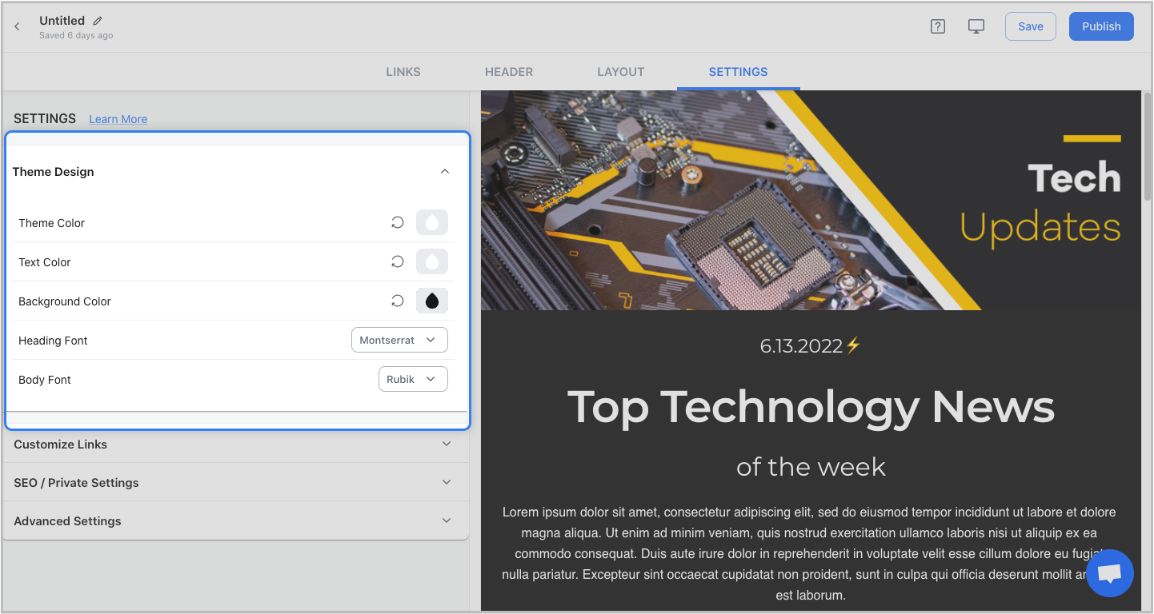 Step 7: Share Your Newsletter
Yay! You've now created a stunning company newsletter that is ready to be shared with the world. Now, hit the 'Publish' button on the far right corner of the screen, and a pop-up will appear, allowing you to customize your content URL.
Once you have customized the URL, another popup will appear where you need to select the 'newsletter' option. From there, you can share your masterpiece via Gmail, Mailchimp, or any other third-party email marketing tools like Get Response, Mailchimp, etc.!
As soon as you pick one of these options, BOOM! It is done! Now relax, have a cup of coffee while watching your content being automatically created.
Now here is the thing: there's isn't any specific sauce that you can add to the recipe of awesome newsletters. Nothing is ever truly guaranteed. But, there are a few tips and tricks that you can learn and implement. In fact, just pick them up and run with them right away.
Checkout our Templates!
Conclusion
You can now take inspiration from the list of the amazing newsletters that we compiled for you and experiment with your imagination to create killer company newsletters!
And with elink by your side, your work just got a whole lot easier!
Subscribe to your favorite company newsletter and get started on creating amazing newsletters! Happy reading!
Further reads:
What are Editable Newsletter Templates & Where to Find Them?
Ecommerce & Product Newsletter: Ideas, Templates & How to Create!
How To Create An Email Newsletter?
Business Newsletter: Definition, Types, Steps to Create & Examples!
The 10 Best Email Newsletter Services
30+ Newsletter Ideas For Curated Content!
How Technology is Revolutionizing Newsletter Creators?
Create Professional Looking Newsletters Using Elink! Templates & Examples