Google is our go-to place when we want answers or tips or just information in general, right? We all use it so much that it has become an integral part of our lives.
In fact, according to a recent survey, Google Chrome is the most used web browser in the world and holds 63.59% of the worldwide browser market share.
Heck, it's so popular that it has even become a verb in the Oxford English Dictionary!
So, what is making Google Chrome people's first choice for a web-browser?
Well first of all, with its simple design and fast browsing speed, Chrome has become a matter of convenience and, dare we say, a habit?
Besides that, Google Chrome has really powered up our productivity levels because of the plethora of amazing extensions that it offers! These extensions definitely make our time online more efficient.
But, the problem is, finding the best ones from an ocean of choices is not just confusing but also time-consuming.
That is why we have compiled for you a list of the 13 best Chrome Extensions that will take your productivity levels to heights.
Go ahead and jump right in!
List of the Best Chrome Extensions for Productivity
Let's start with the best! Here we have elink, the most powerful bookmark manager and content curation tool.
With elink's Chrome Extension, you can save any web links, articles, cloud files, etc. from anywhere online with just a single click! You can personalize the content you save by adding your own title, notes, descriptions, and images.
You can create unlimited folders and sub-folders to organize your saved links in the best possible way. You even have the option to save them via tags.

What's more? You can save content to your searchable link library or add it directly to content collections you want to share with the world as an email newsletter, a single web page, or embed it on blogs.
Elink also lets you choose from multiple templates to showcase the weblinks you've saved in the best way on any topic. You can even change the background colors, fonts, etc. of these templates.
Key Features:
Save, customize, organize and share content easily.
Create unlimited folders and subfolders to organize your links.
Create visually appealing and personalized content from your saved web links.
Pricing:
Free with limited functionality.
Pro plans start at $10/month.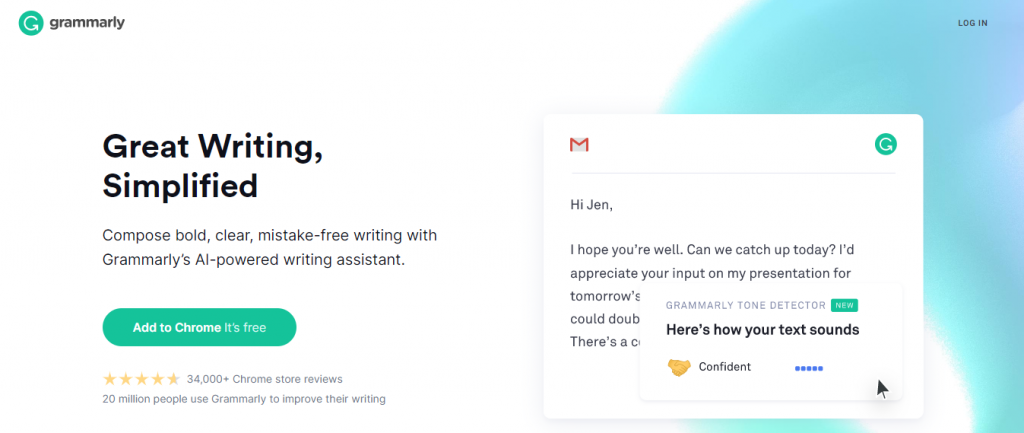 A 'your' instead of a 'you're' or 'there' instead of a 'their'- we've all made embarrassing grammar mistakes. It happens even to the best of us.
That's why Grammarly is a must-have productivity Chrome extension for your browser.
It is a writing assistant that has a spell-checker, grammar-checker, plagiarism-checker, and even a vocabulary enhancement tool.
So, not only does it check for spellings and grammar, it also gives you suggestions for better word choice, phrases, tone, and style.
It's the whole package!
Key Features
Checks and corrects grammar and spelling errors.
Offers better suggestions for word choice, phrases, style and tone.
Highly user-friendly.
Pricing
Free with limited features.
Paid plans: $11.66 a month and $12.50 a month for a business user.
The name of this productivity chrome extension pretty much says it all.
Stayfocusd basically helps you stay focused on your work by preventing you from spending too much time on other websites.
You can allot a certain duration for viewing these websites like Facebook, YouTube, and more. After the time period is over, you get locked out of the site for that day.
You can customize which day and how long you want to restrict yourself.
This Chrome extension definitely guarantees that you stay focused and be productive.
Key Features
Blocks distracting websites.
Increases your productivity.
Reminds you to stay focused.
Pricing
Stayfocusd is entirely free.
$2.42 a month for mobile devices.
Nothing is more annoying than those spammy ads that pop up all over a website when you are trying to work, which is why Adblock is a highly recommended Chrome extension for productivity.
As its name suggests, Adblock literally is an advertisement blocker. It removes all the distracting ads that retargets you to other pages and also prevents advertisers from tracking you online.
Moreover, Adblock doesn't store any of your private information.
Key Features
Blocks pop-ups and ads.
Protects your privacy.
Prevents advertisers from tracking.
Pricing
Adblock is 100% free.
Offers a paid service called Adblock Plus.
You normally see pockets on pants.
Think of this productivity chrome extension as a digital pocket that lets you store something you want to use later.
Using Pocket, you can save all the interesting content you come across on the web and view it later.
This will prevent you from getting distracted in the middle of work without missing out on that interesting article you want to read or use for later.
Pocket even allows you to access your saved links offline!
Key Features
Save content for later use.
Accessible offline.
User-friendly.
Pricing
You know how you open over 25 tabs and then struggle to find the one you need the most?
One Tab solves just that! Instead of having all those tabs open, One Tab just puts them all in the form of a list and saves them on a single tab.
You can even add these tabs into different groups for convenience. This helps you save 95% of the memory and improves overall browser speed as well.
Not to forget, it also saves your time and effort which is why One Tab is an extremely useful Chrome extension for productivity.
Key Features
Puts all open tabs in a list form.
Reduces clutter and saves memory.
Improves browser speed.
Pricing
Todoist is an all-time favorite productivity Chrome extension that lets you create to-do lists within your browser.
All you have to do is enter a bunch of your tasks or deadlines and assign them dates.
Todoist lets you keep track of your projects, manage your tasks and prioritize them according to dates. It also helps you micromanage your daily work by color-coding your tasks and creating groups and sub-groups.
You can tick your boxes as you complete each task without opening another website.
With Todoist, your life will be much more organized and productive!
Key Features
Creates to-do lists for better organization.
Helps micromanage daily tasks.
Reminder for deadlines.
Pricing
Free with limited functionality.
Premium tier stars at $3 a month.
How many times have you clicked the 'Forgot Password' option because there are just too many passwords to keep track of?
Have no fear, LastPass is here! It is an awesome password manager that lets you save all your login credentials under a single master password.
This productivity Chrome extension will autofill your username and password each time you want to login to a website.
This will save a lot of time and effort, and help you become more productive as you will no longer have to waste time struggling to remember and resetting your password.
Key Features
Saves all passwords under a master password.
Autofill login credentials.
Highly secure.
Pricing
Has a free version
Premium plan: $3 per month.
Family plan: $4 per month.
Time to see how productive you really are!
RescueTime monitors all the sites that you visit. It tracks how much time you spent on each site and later categorizes them from 'Very Productive' to 'Very Distracting'.
By the end of the day, this productivity Chrome extension will provide you your productivity scores.
Yes, RescueTime is basically judging your productivity rates. But, it is a great tool to help you set goals and prioritize your tasks for boosting productivity.
Key Features:
Monitors the time you spend on each website.
Provides productivity score.
Helps prioritize tasks for productivity.
Pricing
Free version available.
Premium tier starts at $6 a month.
Downloading an email attachment or PDF each time you have to make edits is annoying, right? That's why you need Lumin!
Lumin allows you to view and edit your files without downloading them. You can add images, texts, comments, etc. to the document and edit them smartly from your browser itself.
What's more?
Lumin also allows you to collaborate and work on the same document simultaneously with other people, which means you can see them make edits in real-time.
This is a productivity Chrome extension that you should download!
Key Features:
Edit files without downloading them.
Document collaboration in real-time.
Edit documents smartly.
Pricing
Don't scroll past this one.
We know this may be the simplest productivity Chrome extensions so far, but it really is a productivity booster.
With Google Dictionary, you can double click on any word to see its meaning or you can view it in the toolbar. This is especially handy when you are dealing with long-form content.
Key Features:
Double-click to see the meaning of any word.
Easy to use.
Pricing
Continuously switching between a mobile and a computer is a 'been-there, done-that" kind of a situation.
That's why we recommend using Pushbullet, a simple and effective tool that lets you sync your PC and mobile.
Using this productivity chrome extension, you can share files, view and respond to all your mobile notifications on your PC, and even forward calls to it!
Its universal copy and paste feature lets you copy links, texts etc. from the browser and paste it on all your synced devices.
Moreover, Pushbullet also lets you subscribe to its own channels and send you updates about it.
Key Features:
Syncs all devices together.
Allows sharing between two devices.
Universal copy and paste feature
Pricing
Free version with limited features.
Pro version for $4.99 a month.
13. Extensions Manager
Downloading all these chrome extensions for productivity is going to make your browser very crowded. You might even waste time trying to find the extension you already downloaded.
This is why you need Extensions Manager to organize all your extensions so that you are able to access them without much hassle.
Extensions Manager will sort all your Chrome extensions according to the frequency of use and even help you find it with its smart search.
It also allows you to enable or disable your Chrome extensions, thus giving you full control over its management.
Key Features:
Organize multiple extensions.
Enables smart search.
Full control over the management of Chrome extensions
Pricing
Wrapping Up
Many of us spend a majority of our time on Google, where everything is just a click away.
But, this means that you are also a click away from getting distracted. Being productive is just so hard!
But, this list of Chrome extensions for productivity will surely help you get through your work like a boss!
Did we miss out on any of your favorite Chrome extensions for productivity? Don't forget to let us know by tweeting us @elink_io!
More power to you!
Further reads:
Tools for Freelancers to Manage Work!
Top 11 Gmail Extensions for Email Marketing!
Top 10 Screenshot Extensions in 2021
Collaborative Bookmarking Tools to Manage Your Bookmarks
10 Best Evernote Alternatives for 2021
15 Must-Have Business Marketing Tools in 2021
24 Essential Wix Apps for Websites in 2021!