Let's talk about emails and email marketing!
In the era of social media, emails are still thriving. With over 306.4 billion emails being sent and received each day, email marketing is definitely one of the most sought-after channels for business communication.
After all, emails are 40x more effective at acquiring customers than Facebook and Twitter combined and it continues to generate an impressive ROI of $42 for each $1 spent. That's 33% less cost than any other lead-generating mechanism!
What's more? With email marketing, you can build a relationship with your leads, nurture them, and convert them into long-lasting customers.
Regardless of what type of business you run, an email list is one of the most crucial elements of a successful marketing strategy. It is what will help you promote your business and showcase your products and services.
If you are wondering where to start and how to build an email list, then you've come to the right place! We've got you covered!
In this blog, we will show you how to quickly and efficiently build an email list from scratch!
You will learn how to create a healthy email list from scratch that delivers an amazing return on investment, maximize your marketing value, and help you grow your customer base.
So, shall we get started? Dive right in!
What is an Email List?
As its name suggests, an email list is a collection of email addresses that are gathered by individuals or organizations to send their marketing material to several recipients.
It is basically a list of emails collected from customers or visitors so as to send information, updates, discounts, and other business-related details and content.
An email list may be collected through blogs, website visitors, subscribers, sign-up forms, social media, and many other ways.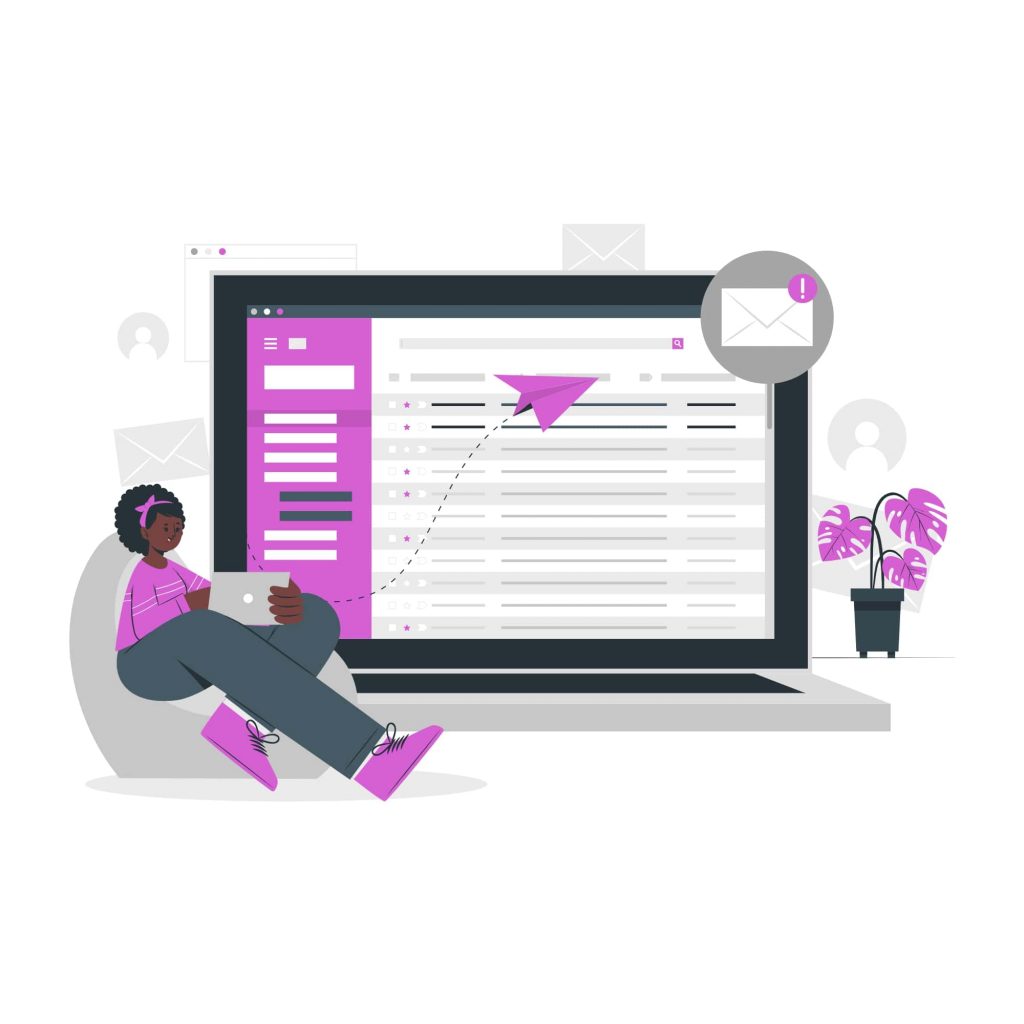 With a proper email list by your side, you can directly contact with your email subscribers, foster loyal customers, and build long-term relationships with them.

However, building an email list is not an overnight task. But with the right strategy and methods, you can easily create an email list from scratch and expand them over the years.
How to do that? Let's find out!
How to Build an Email List From Scratch in Simple Steps?
Step 1. Understand Your Audience
Let's start with the basics! One of the first things you need to do before you actually start building your email list is to understand your audience and get an idea of who they are. The more you know about your audience, the better!
Ask yourself – who exactly are you targeting? Take the time to research your target audience, their needs, and wants, and create a marketing persona that represents your ideal customer.
Step 2. Create a Webpage
After you have done your digging and identified who exactly is your target audience, you will need a place to gather all your potential email list members. This is the part where you create a website.
Even if your website isn't big enough, all you need to create an email list is to have a webpage that contains your email sign-up or opt-in form.
How do you create a webpage, you ask? Try elink.io! Whether you want to create content pages for your website, curated newsletters, or social media bio links – elink lets you do all that.
Choose from over 50+ responsive layouts, add the links you want to share, customize the content, and elink will create a beautiful content page that you can embed on your website!
Step 3. Optimize Web Pages
Now that you know how to create a webpage without much hassle, the next step is to ensure that your webpage entices your visitors to ultimately convert. For this, you need to optimize your webpage.
While there is no one-size-fits-all method to design a webpage, there are a few common elements and core features that you can include to optimize it.
Some of them are: a strong and attractive headline, support points to back up your claims, eye-catching imagery, a quick form, a visible subscribe button, or a sign-up form.
Just make sure that you don't include too much information and see what works best for your audience.
Step 4. Choose an Email Marketing Service
What you need next is an email marketing service or tool. It will help you communicate with your new email list and help you expand it.
You can start off by managing your contacts through platforms like Gmail and Outlook and then invest in robust email marketing services like Mailchimp, Hubspot, Constant Contact, Sendinblue, etc. to build your email list from scratch, create engaging emails, and push for the full potential of email marketing from the beginning.
Make sure that the email marketing service or platform that you choose has features such as landing page builder, email marketing automation, sequencing, drip campaigns, A/B testing capabilities, and more.
Step 5. Leverage Existing Contacts
If you have a CRM system, then try importing all your existing customers' contacts to kickstart building your email list. You can send emails to everyone on your contact list or use email addresses from previous campaigns or contact details from previous customers.
Step 6. Give People Incentives to Sign Up
Once you have set up a website and chosen an email marketing platform to help you with collecting emails, you need to be able to attract your customers into signing up or giving their email addresses to you.
People aren't just going to give you their email addresses, so you need to give them a reason or incentive to actually sign-up.
To grab people's attention, you can create lead magnets such as free ebooks, coupons, special discounts, webinar registration, cheat sheets, templates, free course sign-up, exclusive access to content, and lots more. Such offers give your website visitors an incentive to use their email addresses to sign-up.
You can create lead magnets that are based on your specific target audience and their needs, but usually, a combination of these offers is more likely to give you a desirable result.
Step 7. Personalize CTAs for Each Page
Your website visitors are often looking for something specific, so it's always better that you have personalized CTAs that cater to their unique needs. Studies even show that personalized CTAs have a 42% higher view-to-submission rate than CTAs that are the same for all visitors.
This means that you switch your boring old CTA buttons from the usual "Sign up" or "Register" or "Submit" or "Download" to match the demographics, needs, and wants of your audience through CTAs like – "Get free templates!" or "Check out our ebook" or "Get 30 days free trial" and so on.
You can even take it up a notch and add light-hearted and humorous elements to the CTA, such as "Count Me In" or "Let's Do This!" or "Absolutely!" and so on.
Remember, the point is to make sure that your CTA button persuades people to click through.
Step 8. Create Pop-Ups For Your Website
As much as you like to believe that pop-ups are irksome and disruptive, you can't deny that it captures attention without fail. If crafted and executed carefully with a distinct purpose, then it can remarkably contribute to building your email list.
One way to make use of pop-ups for your website is to create a surprise pop-up box that suddenly appears as you are spending time on the website or interacting with the page.
Another way is to create a visual form of a pop-up that underlines the value of your offer.
Remember, pop-ups are all about grabbing the attention of your potential lead, so you need to make sure they are appealing, relevant, and well-timed.
Step 9. Leverage Social Media
In this social-media-obsessed world, it would be a waste to not leverage social media for building your email list. Social media offers you the chance to go beyond your small circle of friends, family, and acquaintances to a wider public circle.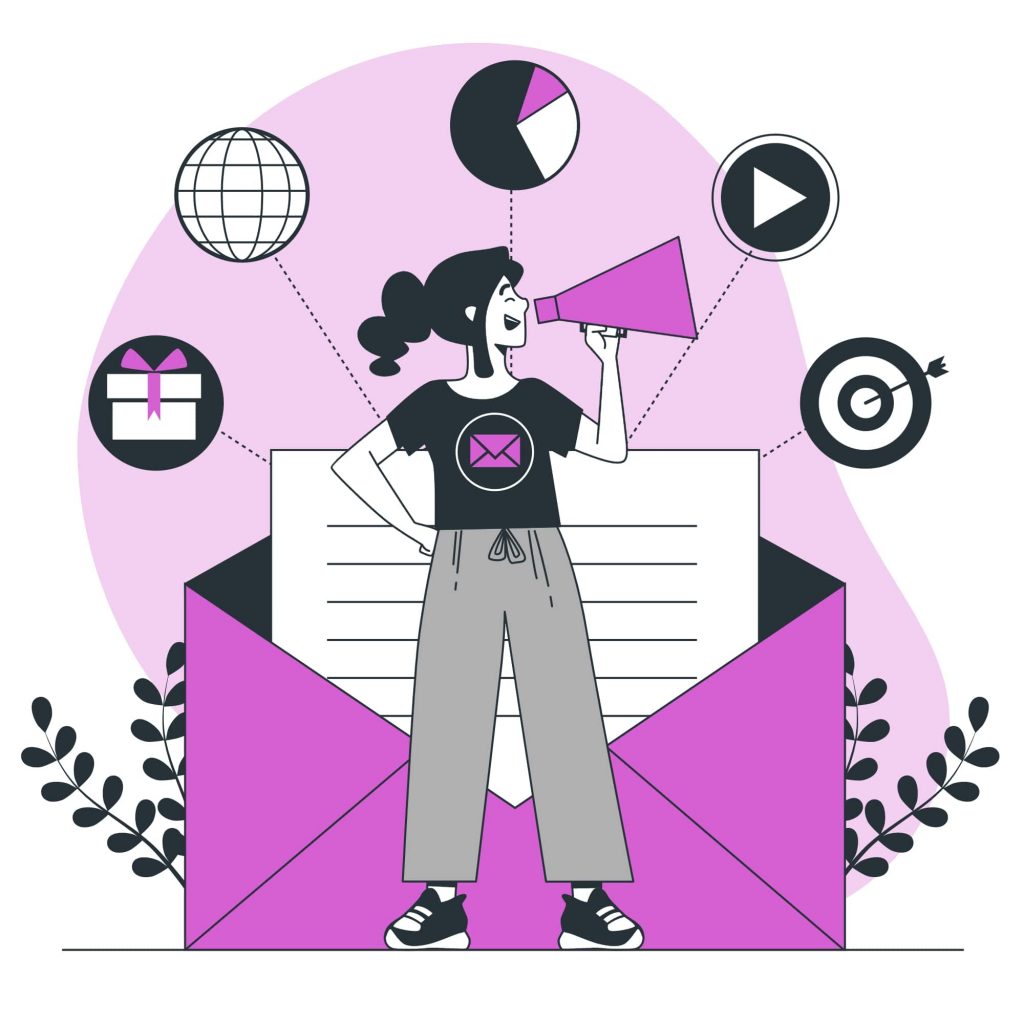 You can post a link to your landing page or website on your social media accounts such as Facebook, Instagram, Twitter, LinkedIn, Pinterest, and more to pull in a few email addresses at least.
You can also utilize the right hashtags to get an even broader range of exposure.
Make sure that you leverage the relevant social media platform to effectively target your audience with their specific needs.
Step 10. Use Content Marketing
Content marketing is a powerful marketing strategy that is focused on creating, publishing, and sharing content such as articles, blogs, videos, podcasts, and other media to attract and engage the target audience. This later helps you in inviting them to be part of your email list.
Make sure to establish your content marketing strategy by deciding how your emails will look, how often campaigns will be sent out, how email branding will be designed, how your audience will be engaged, and so on.
This will help you create targeted posts or articles with strong SEO that will boost your traffic and subscribers.
Read More: Email Campaigns: What are they & How to Ace them with Steps!
Step 11. Create A Referral Program For New Signups
Another powerful and effective way of building an email list is through referral programs. After all, what's better than having customers spread the word about your company?
Crafting and establishing a referral program means that your brand is being directly recommended by people. This is a sure-fire way to convince people to join your email list and actually engage with your brand, thereby also helping you build a solid and loyal subscriber base.
Step 12. Purchase Ads
When you are building your email list from scratch, one thing you need to keep in mind is that you can also rely on pushing or jumpstarting your list by spending a few bucks on purchasing ad traffic.
Of course, this might be an expense or cost for your company, but whatever investment you spend on building your list will eventually get back to you in the long run. So don't hesitate to purchase ads.
Some of the best sources for paid traffic includes Facebook ads, LinkedIn sponsored updates, Instagram recommendations, paid partnership, Twitter ads, and AdWords. All of these offer a certain level of targeting that promotes expanding your audience, bringing more traffic, and growing your list.
As you build subscribers, create content, and gain organic traffic, your email list will grow spontaneously. But you can jumpstart your list by purchasing ad traffic.
Step 13. Gather Subscribers Offline
Sure, everything we mentioned in this post until now might work, but don't forget that we still live in a physical world and that some good old-fashioned offline methods can also be used to build your email list.
You will always have several opportunities to meet potential subscribers and ask them to sign up. You can carry out events or fairs or host physical competitions and make sure to have a registration list where people can manually sign-up for it.
You can also manually collect business cards or encourage people you see to leave their business cards with you.
All of these methods are the perfect combination to build a wonderful email list from scratch and continue to grow and expand it in the long run!
Elink.io: The Ultimate Tool For Building The Best Email Newsletters!
Merely creating an email list is not enough if you want to nurture and establish a long-standing relationship with them. For that, you need to consistently engage your email list by sending them relevant content.
Newsletters are an excellent way to connect with your audience, improve your engagement rates, and increase the number of your sales.
What if we told you there is an amazing tool to help you create some of the best email newsletters ever? Presenting to you elink.io!
elink is the fastest and easiest way to create and send visually appealing and responsive newsletters. The tool has a collection of beautiful newsletter templates from which you can choose your favorite and customize it however you want.
To create a newsletter on elink, all you have to do is add links to the content you want to share and elink will automatically convert them into visual blocks with a picture, title, and a short description.
elink has a robust editor that allows you to add elements like images, texts, bullet lists, numbered lists, dividers, buttons, and even social media icons in your header and footer body. You can even add a search bar in the newsletter and make it easy for your readers to find what they are looking for.
Moreover, elink has a robust RSS reader that lets you add RSS feeds of the publications you love. You can bundle links directly from the RSS Reader and create a stunning newsletter in just a few seconds.
Not only that, but elink.io also lets you collaborate with your team in real-time. That means you and your team can work together on bundling, creating, and sharing content. The best part? elink integrates with all major email clients like Gmail, Constant Contact, Mailchimp, and more!
elink is everything that you need to boost your email marketing scene!
So what are you waiting for? Get elink and send out beautiful newsletters to your newly created email list right now!
Conclusion
As the famous saying goes, "Rome was not built in a day", and neither can build your email list in a day. However, that isn't to say that you can't reach there quicker.
In this blog, we've given you some simple and effective techniques and tactics that you can follow to build your very own email list from scratch!
While some methods may work better than others, it is important to remember that you choose and combine ones that will provide you with the best results. At the end of the day, it's all about acquiring new leads and building a relationship with them.
Hope this blog has helped you in learning a thing or two! Now go out there and build your own email list! Best of luck!
Further Reads:
Email Blasts: What are they & How to Use Them to Get More Leads!
Email Automation: Definition, Benefits & Tools!
9 Best Email Services for Transactional Emails!
7 Tips & Tricks For Sending Outreach Emails That Get Replies!
How To Keep Your Email Lists Squeaky Clean?