Looking for Mixpanel alternatives? We have got 5 of those!
Mixpanel is a behavioral analytics platform for websites and mobile apps that helps you understand how users are interacting with your product and where are they dropping off.
Mixpanel's platform provides online platforms to analyze, measure, and improve customer experience by providing in-depth usage statistics, event tracking, trends, and other crucial data to help make better decisions.
You can also A/B test different versions of your website, application or product and then compare it to find out the best iteration.
Mixpanel is a great tool, but it's certainly is not the only one out there. If Mixpanel, doesn't meet your requirements, is a bit heavy on your pocket, or you simply would like to look at what else is out there, we have got you covered!
List of Top 5 Mixpanel Alternatives That Are Worth Checking Out:
We have curated a list of some of the best Mixpanel alternatives out there so you don't have to spend hours on Google search results to find one. So without further ado, let's dive straight in…
Kicking off our list is free to use and the most famous website analytics tool, Google Analytics. The go-to tool for the majority of people out there, Google Analytics is used by 55.5% of all the websites, which is a traffic analysis tool market share of 85.2%!
Google Analytics provides businesses with crucial data to better understand their site and app users and assess the performance of their marketing activities and conversion efforts.
The data from Google Analytics can be easily converted into detailed reports. And with the new Google Optimize platform, users can also perform A/B testing and test out various landing pages for optimal performance.
Pricing:
Free plan available
Pro plan: Analytics 360 (contact sales)
A great Mixapnel alternative, Hotjar is a feature-heavy user analytics and conversion rate optimization tool. Hotjar makes it easy to see how users are interacting with your website or app and make changes to optimize the customer experience.
Heatmaps provide a visual overview of what your users do on your website/app by visually representing their clicks, taps and scrolling behavior. You can also see visitor recordings and see where and when your users get stuck on your website.
Having this data is crucial to optimize your conversion funnel as you can see where and when visitors are dropping off and what can be done to prevent it.

You can also involve your website visitors in your optimization process by directly asking them questions via surveys, polls, and in-app feedback forms.
Pricing:
Free plan available
Pro plan: Analytics 360 (contact sales)
Woopra provides end-to-end customer journey analytics that let's you track, analyze, and optimize every step of the customer journey. Woopra analyzes various touch points to see how visitors move through your website, marketing campaigns or product and provide detail reports regarding the same.
A great feature of Woopra is people's profiles, which provides data on the person who is interacting with your website, making payments, opening emails or using key product features. You can see information about their last visit, pages visited, social media profiles and much more!
Whenever your visitor is about to leave your website or is stuck somewhere, you can trigger real-time messaging and help them out. Users can automatically trigger emails, post Slack messages or update Salesforce fields based on user behavior.
Woopra also has one-click integrations with 50+ apps like Slack, Zendesk, Salesforce, Marketo and more to bring all your data in one place.
Pricing:
Free plan with limited features
Pro plan: Pro ($999/month), Enterprise (contact sales)
4. Kissmetrics
Another worthy Mixpanel alternative, Kisspanel is an easy to use customer analytics platform designed to help you close more sales.
Kissmetrics provides you with deep insights regarding how your visitors are interacting with your website and then engage them with highly targeted email and Facebook campaigns.
With powerful customer segmentation and precision targeting, Kissmetrics never lets a visitor slip by your sales funnel. You can trigger behavior and attribute-based automated emails to keep customers engaged. You can also measure the email campaign impact to see what strategies drive sales.
With Shopify and Woocommerce integration, Kissmetrics allows you to import shopping history, segment customers and target them with Facebook/Instagram campaigns or emails.
Pricing:
Pricing starts from $400/month.
Last up on our list is Zoho Pagesense, a conversion rate optimization platform, and a great Mixpanel alternative.
Pagesense lets you track, analyze and optimize your website based on the customer behavior and usage data. Users can create business goals to track key metrics and make use of funnel analysis to see which pages on your website cause significant drop-offs.
Heatmaps give you insight into the most used features and scrolling pattern of your users while session recordings help you provide data on individual customer behavior.
Zoho Pagesense also lets you create different landing pages so you can A/B test different versions and see which one resonates the most with your audience.
You can also create a personalized experience for every website visitor by dynamically changing your website content to suit your visitors. Pagesense integrates with a ton of 3rd party tools like Google Analytics, Kissmetrics, Intercom and more to bring all your data in one place.
Pricing:
Pricing starts from $17/month.
What's your pick?
Mixpanel is a great platform to analyze customer behavior on your website and make data-driven decisions to foster growth. However, the Mixpanel alternatives mentioned above are all equally feature-rich. You cannot really go wrong with any of the above-mentioned tools, you just have to find the one that suits your business needs.
Did we miss out on your favorite Mixpanel alternative? Do let us know which behavioral analytics platform you use for your website or app by tweeting us @bit_docs.
This blog post is written by the editorial team at elink.io
Elink content creation platform allows anyone to save links on the go and turn them into beautiful shareable content. You can bundle your links into a web page, embed it on a blog/website or send them off as a beautifully curated newsletter. With over 100,000 users worldwide, elink is one of the best tools when it comes to fast and beautiful content curation. Try it for FREE here!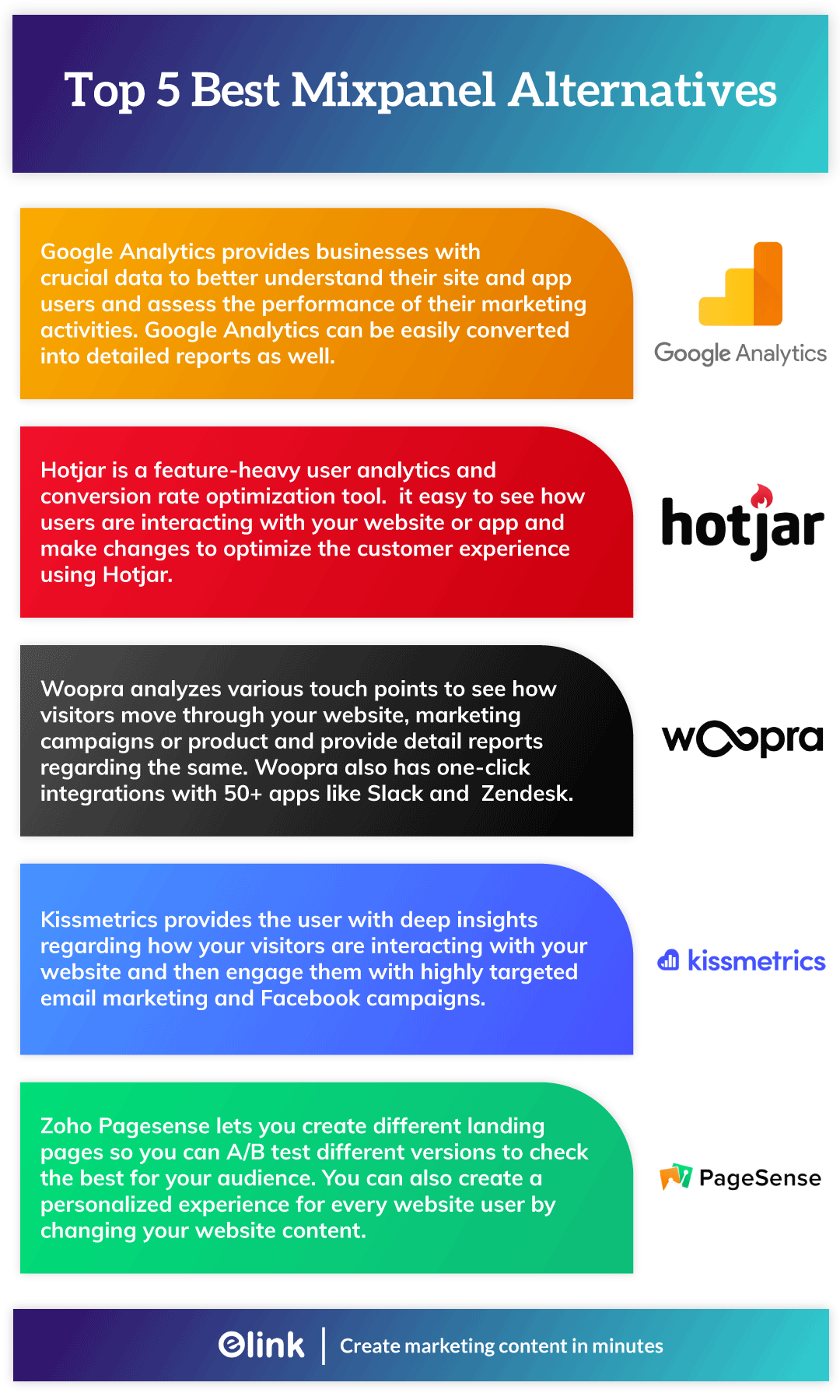 Further reads:
Don't want to forget this information?
Pin it for future reference!