Not getting results through your social media marketing? Check out these best social media analytics tools and let data guide you to glory!
In today's world, data is the backbone of all marketing activities irrespective of the industry. From finance to fashion, data is used to improve business operations and scale marketing campaigns all around the world.
Data is called the new oil and quite rightfully so. It is data that allows companies small and large to understand customer behavior and tweak their marketing strategy to deliver better results.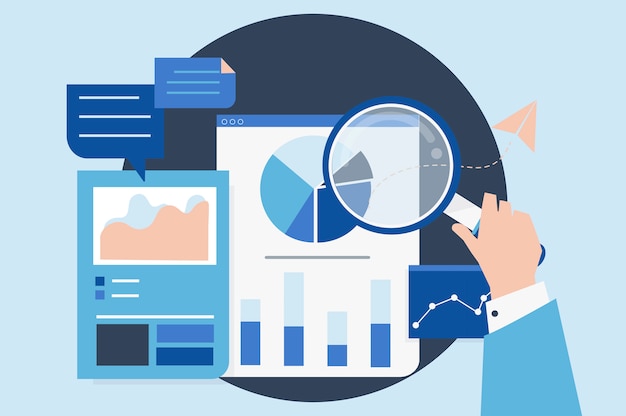 If you don't know which of your Facebook campaigns performed the best, or which tweet got the most impressions, or at what time your Instagram audience is most active, you are shooting in the dark with your marketing efforts.
There are a ton of social media analytics tools out there that can provide you with this crucial data and help you weed out poor performing campaigns.
List of Social Media Analytics Tools:
Whether you are looking for Facebook campaign data, website visits, Instagram story insights or just an overview of how your social media marketing is coming along, we have got you covered!
In this blog post, we'll take a look at some of the best social media analytics tools out there which can help you measure and analyze the effectiveness of your campaigns, but also create content, strategize, schedule, automate your social media activities. Read on..
Read more : 20 Social Media Marketing Quotes to Inspire Your Team
Kicking off our list is Mention, a social media analytical tool that lets you monitor your brand activities online. You can monitor your brand, competitors, campaigns and customers from one dashboard.
Mention crawls forums and social media platforms like Facebook, Twitter or Instagram. It alerts you every time someone talks about your brand, your products, or anything related to it. You can then easily chime in the conversation and engage with your prospect in real-time.
Boolean alerts make it easy to target and monitor a keyword or competitor in your target market and deploy strategies accordingly.
Pricing:
Free plan with limited features.
Paid plans start at- Solo ($25/month), Pro ($83/month), and Enterprise ($450/month).
If you have ever searched for social media tools, there's a good chance you have already come across Buffer. With over 4 million users, Buffer is a well-known social media management and analytics tool that allows you to manage multiple social media platforms from a single dashboard.

Users can create posts, schedule them, add them to a calendar, collaborate with coworkers, and track the performance of your content- all in one place.
Buffer can also determine which content is performing the best and thus allows you to make strategies accordingly. Buffer also has a browser extension that integrates with WordPress, Chrome, and RSS readers to help you save content on the go.
Pricing:
Free plan with limited features.
Paid plans start at- Solo ($25/month), Pro ($83/month), and Enterprise ($450/month).
Next up is Hootsuite, a similar tool to Buffer. Hootsuite also allows users to plan, create, collaborate, schedule and track content all across different social media channels.
Hootsuite analytics gives you a clear understanding of your network and enables tracking results by timeframes. You can then share your reports with teammates or clients with one-click exports in Excel, PowerPoint, PDF, and CSV formats.
Hootsuite also allows you to track how long it takes your team to respond to customer mentions and other tasks assigned to them.
Pricing:
Free plan with limited features.
Paid plans start at- Professional ($19/month), Team ($599/month), and Enterprise
Sprout Social wants to be your one platform for all your social media marketing activities- listening, publishing, engagement, and analytics.

Sprout Social can be used for all your cross-platform analytics from Instagram insights, Facebook impressions, Twitter engagement, Pinterest shares, etc. You can track everything from a single dashboard and convert your results into beautiful reports.
Sprout Social makes reporting easy by providing you with presentation-ready templates which gives a clear representation of the data and makes it easy to understand.
Pricing:
Paid plans start at- Standard($99/month), Professional ($149/month), and Advanced ($249/month)
Read more: 10 Social Media Marketing Podcasts That Will Inspire New Ideas
Buzzsumo is the complete guide to content research as it provides deep insights into what keyword or content is performing the best online.
Marketers can use Buzzsumo to find trending content- content which is most shared/liked/tweeted across various social platforms based on date/time. You can use it to find influencers, get keyword-based alerts, and track competitors.
Since social shares is a key factor in determining the performance of content, you can use Buzzsumo to determine quality content with the most shares and model your content marketing around it.
Pricing:
Free plan with limited features.
Paid plans start at- Pro ($99/month), Plus ($179/month), Large ($299/month), and Enterprise ($499/month)
Keyhole shows you when your users are most active, so you get to see your audience's best engagement days and times so you can post accordingly. A simple to use social media analytics tool, Keyhole has a ton of cool features:
Brand monitoring
Influencer outreach
Campaign monitoring
Market research
Event monitoring
Keyhole also has a unique hashtag monitoring feature that lets you track hashtags and uses AI and machine learning to predict how your hashtag will perform in the future.
Pricing:
Free trial
Paid plans start at- Professional ($99/month), Corporations ($299/month), and Enterprise ($999/month).
Read more: Benefits of Social Media Marketing for Businesses
Not specifically a social media analytics tool, Google Analytics is still one of the most widely used analytics tools on the internet. According to W3 tech, Google Analytics is used by 55.6% of all the websites, that is a traffic analysis tool market share of 85.8%!
Google Analytics allows website owners to better understand their site and app users and evaluate the performance of their marketing.
You can also use it to track your social media analytics like how much traffic is coming from which social media platform or can even track the performance of specific social media campaigns using UTM codes.
Pricing:
Coschedule is a complete marketing suite for professionals that not only allows you to measure your social media impact, but also provides you with tools like content calendar, publishing, team collaboration and more to get more done in less time.
Coschedule's social media organizer lets you plan, publish, automate, engage, and measure all your social media activities from a single dashboard. You can use templates to reduce repetitive tasks, publish content on the "best time" for maximum engagement, and monitor conversations to reach out in real-time.
With their latest Social Conversations Inbox feature, users can now message and solve customer queries from a single dashboard no matter which social platform they got tagged in, making Coschedule, one of our favorite tools on this list.
Pricing:
Free plan with limited features.
Paid plans start at- Growth ($150/month), Professional ($650/month), Enterprise (custom)
Data is a marketer's best friend, which makes Brandwatch a must-have social media analytics tool for your brand. Brandwatch keeps an eye out for you, looking for conversations around your brand so you can tailor your messages accordingly and sell effectively.
With Brandwatch's intelligent data mining, you can create personalized content and reach out to customers via topics they are most interested in.
With crisis management, you can stay on top of negative reviews and customer queries and save the day. Brands can also benchmark their performance against their competitors and improve on areas they are lagging behind.
Pricing:
Another great social media analytics tool for marketers, Agorapulse allows you to create, schedule, distribute and measure your social media marketing easily.
Agorapulse also has a social inbox to easily find, filter, and manage comments, mentions, and other important messages without leaving your dashboard.
With one-click reports, you can determine the ROI of your social media campaigns and export reports into a PPT or CSV. Agorapulse also has collaborative features so you can assign tasks to team members and get stuff done quickly.
Pricing:
Free plan with 28-day trial
Paid plans start at- Medium ($79/month), Large ($159/month), X-Large ($239/month), Enterprise ($399/month).
A similar tool to Mention, Brand24 is an online reputation management tool that lets you monitor your brand in real-time. Users can track brand mentions across social, news, blogs, videos, forums, reviews and more.
With advanced sentiment detection, Brand24 gives you data about whether your brand is receiving positive, negative or neutral mentions. You can get instant alerts for negative mentions and timely jump in the conversation before it's too late.
With Brand24's automated reports, you get daily/weekly reports on brand engagement, reach and other important KPIs.
Pricing:
Free plan with 14-day trial
Paid plans start at- Plus ($49/month), Premium ($99/month), and Max ($199/month).
Specially catered towards your Instagram and Pinterest needs, Tailwind lets you post, schedule, and analyze your social media efforts from one dashboard.

On average Tailwind members get 1.8x more likes on Instagram & 6.9x more repins on Pinterest, making it a vital tool for your Pinterest & Instagram strategy.
With Tailwind Tribes, you join over 4000+ tribes in your niche and connect with likeminded people to increase your reach.
Pricing:
Free plan with limited features.
Paid plans start at- Plus ($9/month), Professional ($799/month), and Enterprise (contact for pricing)
Influencer Marketing has quickly gone on from a buzzword to a prominent marketing channel in a span of a couple of years. In 2017, a mind-boggling 12.9 million brands sponsored influencer content was posted on Instagram.
If you are wondering how to get started with influencer marketing, start with Tapinfluence. Tapinfluence solves the most prominent problem in the influence marketing space- how to find the right influencer to work with.
This social media analytics platform gives you all the relevant data you need such as reach, engagement and the price tag behind any given influencer so you can kickstart your influencer marketing campaign in no time!
Pricing:
Paid plans start at $1999/month.
Speaking of platform-specific social media analytics tools, Followerswonk is a tool designed to improve your Twitter marketing game.
Followerwonk gives you details analysis of your Twitter marketing- Who are your followers, their location, and at what time they are most active on the platform. Followersmonk also helps you find influencers in your niche to take your Twitter marketing to the next level.
You can get all your Twitter analytics via beautiful interactive graphs and understand the data quickly. If your social media efforts are highly focussed onTwitter, Followersmonk is worth checking out.
Pricing:
Free plan with limited features
Paid plans start at- Target ($29/month), and Multitask ($79/month).
The last one on our list is Socialbakers, an AI-Powered social media analytics tool to help you take your marketing to the next level.
Socialbaker determines who your target marketing personas are, what content they like, and on which marketing channel you should be spending most of your dollars.
Socialbakers advanced reports provide you intelligent data- from organic content to paid campaigns to influencer collaborations- all in one easy to understand dashboard. The AI-powered reports also helps you spot critical trends quickly and improve your campaigns faster.
Pricing:
Free trial plan
Paid plans start at- $200 per month.
Conclusion
Social media can be a bit overwhelming. With so much going on at all times, it's easy to get caught up in trends and forget about things that really matter. By providing you with critical data to work with, social media analytics tools can steer you in the right direction and improve the quality of the content you post to wow your customers. If you use any app or tool not mentioned above, do let us know about it by tweeting us @bit_docs.
Further reads: