Data suggests that we receive about 121 emails a day. The total number of business and consumer emails sent and received per day exceeded 293 billion in 2019 and is forecast to grow to more than 347 billion by the end of 2023. Yep, emails are everywhere. Every minute of every day you receive some sort of an email, whether its payment confirmation, bill reminder, a newsletter from your favorite brand, or client-related work. We have all learned to live with this email overload, archiving what we don't need and reading what seems important.
It's only natural to think that sending out newsletters on behalf of your business is a waste of time and effort- that you will not receive the attention you deserve. However, that's quite untrue. You see, the reason we send and receive so many emails on a daily basis is that we love email!
We Love Email!
Brands love sending emails and customers love receiving them. It helps them stay connected to their favorite brands, get exclusive deals or coupons, and get entertained by the awesome content they have subscribed to. Don't believe us? Take a look at these stats:
A report by Statista indicates that 86% of consumers would like to receive promotional emails from companies they do business with at least monthly, and 15% would like to get them daily!
More than 86% of businesses surveyed indicate that they plan to increase their upcoming email marketing budgets.
Email generates $38 for every $1 spent, which is an astounding 3,800% ROI!
83% of B2B companies use newsletters as part of their content marketing program.
40% of B2B marketers say email newsletters are most critical to their content marketing success.
Told ya! Email is well at the top of the most effective marketing channel for brands and is well received by customers who prefer being in touch with their favorite business or website and get awesome content directly in their inbox.
Now, you may be wondering which email client you should use to send out your newsletter. Well, one of the most effective ways of sending out a newsletter is via Gmail.
Benefits of Sending Out a Gmail Newsletter
Been in the business for over a decade, Gmail has become our go-to email client throughout the world, knocking the likes of Hotmail and Yahoo! out of the park! With a billion users worldwide and a market share of over 27%, Gmail has become synonymous with the word email.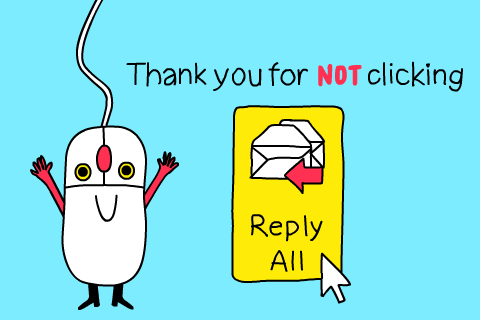 With seemingly never-ending popularity and worldwide adoption, it only makes sense to use Gmail to send out your business newsletter. But before you go out and start building your amazing Gmail newsletter, you gotta ask yourself the benefits of sending out a Gmail newsletter in the first place. Rest assured, there are many benefits to sending out a newsletter that justifies your time spent in creating one. Some of the top benefits of sending out a Gmail newsletter are elaborated below.
1. Form Better, Intimate Relationships 
Even though social media is the new kid on the block in terms of marketing, email provides a more exclusive experience to customers. Email is like following up with a friend, reminding them that you care about them. Brands use email newsletters to stay on top of customers' minds, reminding them of their awesome product/service/content and building a strong relationship, one email at a time.
Read more: MailChimp Newsletter Integration that Will Save You hours
2. Non-intrusive Communication
Email newsletters get rid of all the ads, notifications, and the usual noise of social media and provide only the content that the person actually signed up for. Unlike social media where you are barraged with content, your friends have liked or shared, and not to mention the intrusive ads you didn't ask for; emails are curated especially for you.

This content is something you actively signed up to receive and gave the brand permission to send. Since people are very protective of their email addresses, they only give it to companies who they trust, giving you the virtual nod of credibility.
3. Better for Marketing 
Newsletters are great to share and advertise your new products, services, or content with your audience. While sharing such content on social media often gets lost in the feed, constantly battling algorithms to gain more eyeballs, newsletters make sure the content you put out is actually received by your audience.
Email is widely regarded as one of the most cost-efficient digital marketing channels as the average open rate for marketing email across all industries is around 24% and the average click-through rate is around 4%. Compare it to Google's search network (average click-through rate of 1.91% and 0.35% on its display network), and social media platforms (the average CTR for a Facebook ad is a mere 0.9%). Email is definitely the way to go for promoting your products or services.
4. Serious Customers Only!
When someone signs up for your mailing list, they have already shown interest in your company. It's only a matter of nurturing the leads, keeping them hooked on your awesome content, and eventually, you will get sales. Email sign up forms can also provide vital information about your customers like their demographic and buying preferences, allowing you to cultivate relationships accordingly.
Moreover, people who are not interested in your content can simply unsubscribe, leaving you with only those fans who are actual buyers and not just casual browsers.
Read more: Curated Newsletter: The What, Who, How and Why of a Curated Newsletter
5. Increased SEO and Web Traffic
Many brands use newsletters to share their latest blog posts, articles, upcoming events, etc. with their audience on a weekly (or even daily) basis. Since battling for search engine rankings is highly competitive, newsletters can give you the extra SEO (Search engine optimization) juice and traffic your website needs this in turn will help your content rank higher in search engines. The higher your rank in search engines, the more visibility you will gain, and the better your sales are going to be.
6. Cost-Effective
When comparing with other marketing channels – be it digital or traditional, newsletters are relatively inexpensive to design. Since they are sent online, you only need a newsletter builder tool to create and design awesome newsletters. Tools like elink make it extremely easy for anyone to create a professional-looking newsletter quickly, without the need for a dedicated newsletter team to overlook the operation. Moreover, using pre-defined templates can further speed up the process, making it possible for you to create and send an astounding Gmail newsletter in under 5 minutes!
Ready to Send Gmail Newsletters?
As you can see, there are numerous benefits to sending out a Gmail newsletter. However, we haven't talked about the most important part of the whole equation- how to actually create the Gmail newsletter!
If you have read this far, you're lucky as we are going to show you a simple way to create a visually stunning Gmail newsletter in under 5 minutes! The best part? You don't have to send HTML emails (deal with messy coding) or stress about the design of your Gmail newsletter!
The fastest and easiest way to send Gmail newsletters is through elink.io.
Elink.io allows anyone to send out the perfect, well-crafted, and visually appealing newsletter in a matter of minutes! elink works by turning web links automatically into visual content blocks (including a picture, title, and description), you can edit and add your commentary, add a header, publish and send to your Gmail account as an email draft.
It's the fastest, and dare we say, the coolest way to create a professional-looking email newsletter that looks like a lot of time and effort was placed in creating it. Little does your audience know that you created and sent it to them in a matter of minutes!
Steps for Creating a Gmail Newsletter in Elink
Here's a quick look at the steps you need to follow to create an email newsletter from elink.io & shoot it off from Gmail.
Step 1: Choose a Newsletter Template
You can either choose to build your elink newsletter from scratch or can use one of our awesome pre-built templates. No matter which industry you belong to, we have a template for it! Each template is responsive, so you don't have to worry about the appearance of your links on different devices with different screen sizes. The best part is, you are not stuck with your layout- you can come back at any time even and give it a new look. Even after it has already been published!
Step 2: Add Links to Your Newsletter
Next up, copy and paste links to the articles, podcasts, music, videos, or other sources you want to share with your audience and elink will automatically generate an image, a title, and a short descriptive text regarding each link. The best part is that you can change those titles and descriptions to make them SEO friendly and concise enough to get the viewer's attention. You can even change the link image by uploading a new one.
PRO TIP: Use elink.io's Chrome Extension to quickly add links to your newsletter. It's a smart way to save relevant content across the web and start creating your newsletter as you go through your normal online life!
Step 3: Add a Header
Give your email newsletter a header image, a catchy title, and a short description. Add your logo and tagline to make it more personalized.
Step 4: Choose Over 30+ Layouts
Choose from over 30+ finest layouts (1 column, 2 columns, or multi-columns) to suit your design needs and add your personal touch to it.
Step 5: Design and Customize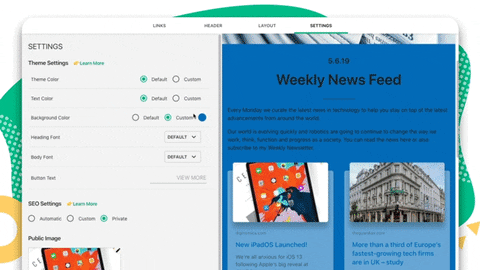 It's important to add your own design elements to the content you create. In addition to header images, header text formatting and visual weblink formatting, elink allows you to:
Change the color
Choose a font that is highly visible
Update your heading font style
Choose your body font style
Update your call-to-action button text on the template
Step 6: Publish & Export!
After publishing, go to your dashboard and select the newsletter button. From there you can integrate elink with your Gmail account and shoot over your email newsletter as a draft to your Gmail.
If you use any email marketing tool other than Gmail like Mailchimp, Mixmax, Mailer Lite, Get Response, Active Campaign, or basically anything else, you can choose the "copy the HTML code" option and paste the HTML in your marketing tool's compose area.
Watch this video to learn more:
Final Words
Gmail is the biggest email client out there and for a good reason. It works as intended, is highly secure and it's available on all devices and operating systems. It's a good idea to send out your newsletter via Gmail and avoid any hassles with deliverability or quality. The best way to send out Gmail newsletters is via elink! With over 30+ templates, elink makes it easy for anyone to create and send out a stunning newsletter quickly and easily!
So, what are your thoughts about Gmail newsletters? Do you send one already? Let us know by tweeting us @elink_io.
Further reads: