Our smartphone cameras continue to evolve day-by-day and as a result, we rely on them to capture and house thousands of our personal and professional photos. Therefore, with the rise in the Polaroid technology came free image hosting sites, because why not?!
Well, there are plenty of websites- especially free one, that let you store and share your photos, turn them into albums or share them with others. Some platforms even allow you to sell your photographic art.
The main advantage of free image hosting sites are:
Free storage space
Backups
Quick uploading
Editing
Social media sharing and much more!
The great part is that almost all of these sites are compatible with smartphones allowing you to quickly sync your work.
So to help you save some time and money, we have put up a list of top 6 free image hosting websites in one place and make the whole process less painful!
Let's dig in!
List of Free Image Hosting Websites You Must Try Out
Here is a list of the best free image hosting sites to help you store and share pictures anywhere across the world in no time!
If you are an active member of Reddit, the Reddit community, then you may be aware of Imgur. It was created as an heir of WaffleImages, which was initially designed for Reddit.
From dogs to technology to business, Imgur is one of the most visited image hosting site for people around the world to discover and share Images and GIF files.
You don't require an account to upload photos on Imgur, but if you want to build albums, add captions, and upload images via email attachments then you can create one for free. You can upload various file types like JPEG, GIF, PNG, MOV, APNG, TIFF, and MP4's.
These images uploaded on Imgur, become available to share on Imgur's social community (where you have the option to participate in the best and worst image competition) or any other social media platform. Imgur even provides you with a URL for each image to post on forums or embed it in HTML.
So, if you feel like you have a picture that could take the Internet by a storm? Share it on Imgur and get famous!
Storage Capacity: It serves 200MB space for animated GIFs, 20 MB for non-animated GIFS.

Read more: 14 Best Websites for Downloading Free Illustrations
As the name suggests, Dropbox is a platform created in the form of a virtual "box" one for each account, where you can "drop" your images and store them safely on the cloud.
This free image hosting service allows you to upload and store multiple types of image formats including videos, and provides you with shareable links of each file and folder you create.
Dropbox offers features like automatic backup and offline viewing, in case you wish to view your images later without any internet connection. But doesn't offer editing tools to change or resize your images, it's a great option if you just want to upload the original, unaltered versions of your photos.
For smartphone fanatics, the Dropbox mobile app is a blessing. It allows you to manage your content directly from your phone, and comes with the option to sync your camera roll with your box – so that your current pictures are automatically saved!
Storage Capacity: It serves 3 GB of space and an extra storage opportunity if you invite friends to join the Dropbox Community.
Read more: Best GIF Websites and Blogs You Must-Not Miss!
Flickr was the original game-changer in the world of image social networking for photography lovers, long before Instagram blew up. These days, it's still an insanely popular image hosting platform for people to create, store and share albums of their images.
Flickr not only lets you host and share images, but provides a robust set of editing tools that you can use to edit your photos as well.
It even has an API which means it integrates with a lot of social media sites like Facebook and other third-party apps like Dropbox to help you create groups, see photostreams of your friends and makes the backing up process easy.
Flicker also has an Android app that is absolutely amazing, giving you full control over your image editing and management. Don't feel shy to start exploring this community beyond the website or the app, where you can surf through other users' albums, discover new images and interact with them.
Note – Flickr is owned by Yahoo, so you need to have a Yahoo account to use Flicker.
Storage Capacity: It serves up to 1 TB of free space.
Read more: How Technology is Revolutionizing Newsletter Creators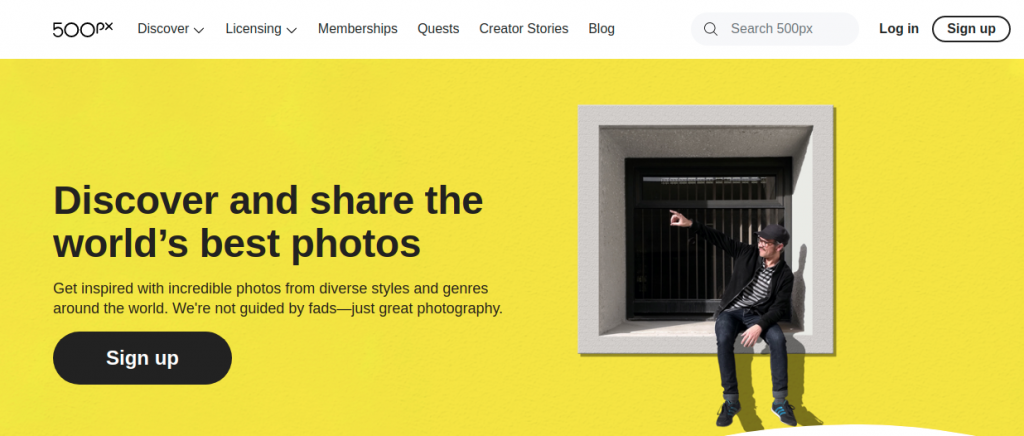 Imagine a forum where you could talk to a fellow photographer about your current shoot, share tips, or simply compliment your work. 500px might be the spot for you!
500x hosts a community of more than 12 million photographers- both amateur and professional from all over the world, connected via this niche social media.
It's aimed at serious photographers and offers a picture-focused design that showcases your image's front and center, providing an elegant and clean way to display your best picture.
You can even organize your photos into theme-based sets and stories (photos of an event) that present them in a strikingly theatrical fashion.
Joining this free image hosting platform is a great way to build a network of friends, mentors, and colleagues– to learn new skills and valuable tricks about photography. Moreover, 500px is surfed by tons of magazine editors, art curators and companies eager to find beautiful original images, which is again a win-win!
Storage Capacity: It serves up to 2000 images of free space.
Google Photos was primarily designed to create back-ups from smartphones, but it has evolved into one of the most-used services for storing premium-quality photos.
Today, these backups are automated too for all the users with a Google account. Google Photos offers a powerful way of organizing photos – for example, by location, time or date and comes with photo editing tools like Flicker.
As you work on this free image hosting platform more and more, it will identify your user patterns and learn to automatically sort your content, reducing the amount of effort you need to keep your photos organized.
The best part about using this platform is that Google continues updating it with new features. For example, if Google Photos notices a particular friend is in your picture, it will offer you to share it with them. It can even colorize black-and-white images automatically.
Storage space: It serves up to 15GB of free space to use across Gmail and Google drive.
Read more: 15 Best Social Media Analytics Tools Every Marketer Need
Pixabay is a popular deluxe yet free image hosting website and has an online community of users who post high-quality images and videos free of copyright.
However, to be a member of this very exclusive forum, you need to stick to the site's rigid image quality policy & guidelines. This means that all the pictures are examined by humans. Also, creating an account is compulsory and the mobile apps do not support direct image uploads.
Pixabay provides a large collection of free stock photos as well (claiming to be more than 1.5 million!), art illustrations, and vectors. All these photos are released under the CC (Creative Commons) license for those who want to use them for free.
Users can even explore new images, editors' choice photos, and niche images by photographers. This free image hosting website offers free stock videos to be used by creatives and brands for free! Pixabay is an awesome free platform indeed!
Note: Higher the quality of the image you submit, the more your daily storage limit increases!
Storage Capacity: It serves 100 pictures a day up to 40 MB in size, at least 1,920 pixels.
Conclusion
There you have it, folks, some of these free image hosting websites have made storing and sharing bulk photos a piece of cake, whereas some act as a great platform for amateur and professional photographers to get noticed and share their work around the globe.
So, don't let those memories fade away and be seen by no one but yourself :)!
Let us know about your favorite platform to host images that you think should be on this list in the comments section below or tweet us at @elink_io!
Further reads:
Don't want to forget this information?